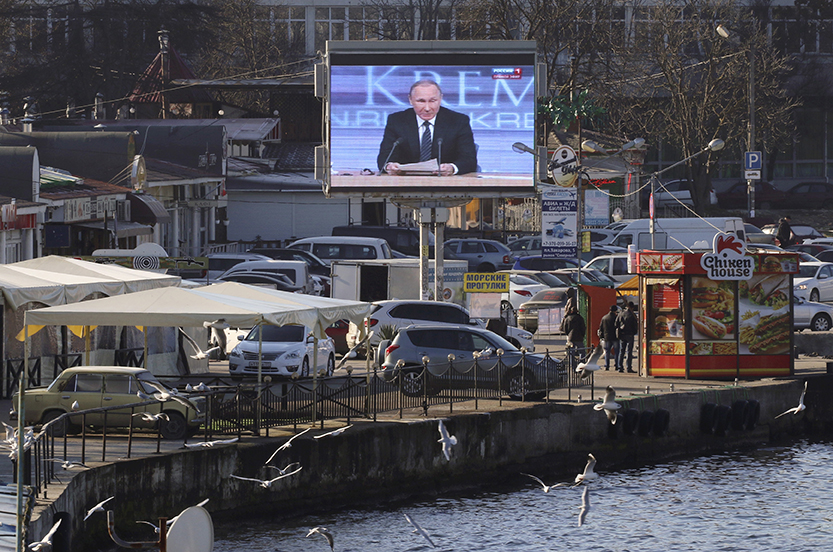 The following is an edited excerpt from Agnia Grigas' new book, Beyond Crimea: The New Russian Empire. The book examines Moscow's policies toward Russian compatriots in former Soviet republics, including Ukraine where they laid the groundwork for Crimea's annexation and the conflict in the Donbas.
Moscow's policies towards its "compatriots"—loosely defined as ethnic Russians, Russian speakers, and other minorities sharing cultural, religious, or historical ties to Russia and residing abroad—were launched in the 1990s and gained momentum in the 2000s under the leadership of Russian President Vladimir Putin. In Ukraine, Moscow's interest in the Russian minority intensified following Ukraine's attempts to turn toward the West with the 2004 Orange Revolution. Ironically, no international human rights organizations had ever received complaints from ethnic Russians or Russian speakers living in Ukraine. Russians and Ukrainians have lived together peacefully for decades: intermarrying, speaking predominantly Russian in some regions, and often sharing the same faith.

Starting around 2000, the Russian government began creating various compatriot organizations and culture centers in Ukraine and supplying them with legal, financial, logistical, and organizational support; these activities intensified in the mid-2000s. Following the Orange Revolution, Russian citizens began creating illegal and semilegal organizations in Ukraine and providing their members with paramilitary training.
For instance, Donetsk's pro-Russian separatist organization Donetskaya Respublika was registered in 2006 and its members started receiving military training no later than 2009, according to media reports and other sources. Other Russian organizations in Ukraine also became more active at this time. In 2007, a former member of the Ukrainian parliament, Vadim Kolesnichenko, became the head of the newly founded Coordinating Council of Russian Compatriot Organizations in Ukraine, a post he maintained until he absconded to Russian-occupied Crimea in 2014. In response to these growing groups, Kyiv banned some Russian politicians from entering the country.
Yet the most significant policy related to Russia's compatriots in Ukraine—as well as in Georgia and Moldova—was Moscow's "passportization" effort, which is the systemic distribution of Russian passports and citizenship to ethnic Russians, Russian speakers, and other minorities residing in particular territories of foreign states, often on the border with the Russian Federation. Soon after passportization occurred, calls for the protection of these newly minted Russian citizens from mostly imagined threats would follow.
As early as the 1990s, Russia had been handing out citizenship and passports to members of Crimea's Russian minority; those efforts were amplified in the 2000s. In addition, discharged officers from Russia's Black Sea Fleet would obtain Ukrainian citizenship and remain in the country. In 2008, the Vice Admiral of Ukraine, Volodymyr Bezkorovainiy, together with the Sevastopol prosecutor's office, announced that almost 1,600 navy personnel from the fleet stationed at the port had illegally acquired Ukrainian citizenship while maintaining Russian citizenship.
Around the same time, the Ukrainian media started covering stories like that of a librarian in Sevastopol who was systemically handing out Russian passports. Some estimates suggested that the number of Crimeans with Russian citizenship was potentially sixty thousand, though Russian officials continued to deny the distribution of passports there.
Generally, many Crimeans, especially ethnic Russians, were ambivalent about their Ukrainian citizenship, and often accepted the opportunity to gain a Russian passport, which facilitated visa-free travel to Russia. The passportization of Crimeans was a reflection of the success of Russia's soft power and compatriot policies on the peninsula and in other parts of Ukraine.
Russia's passportization activities were not unknown to Ukrainian officials, though Kyiv lacked a consistent policy response. For example, representatives of Crimean Tatars presented evidence in the early 2000s that Russian consulates in Simferopol and Sevastopol were massively handing out Russian citizenship. In 2008, Ukraine's Minister of Foreign Affairs, Volodymyr Ohryzko, confirmed in an interview that the Russian consulate general in Simferopol was providing Russian passports to Ukrainian citizens in unknown numbers. That September, Ukrainian members of parliament from then-Prime Minister Yulia Tymoshenko's bloc drafted legislation to strengthen the penalties for offenses against the Ukrainian Law on Citizenship, which forbids dual citizenship, but the law was never passed. Finally, only in February 2015, nearly a year after Crimea's annexation and the war in the Donbas, the Ministry of Foreign Affairs stated it would start introducing "sanctions" against holders of dual citizenship.
What is evident from the turn of events in Ukraine, as well as in Georgia and other former Soviet republics, is that the weakness and incoherence of these countries' policies toward their own citizens and minorities, and their lack of response to Russia's soft power and compatriot policies, enabled Russian passportization to occur, and paved the way for Moscow's more aggressive policies and territorial ambitions.
Agnia Grigas is a non-resident Senior Fellow at the Dinu Patriciu Eurasia Center of the Atlantic Council. She is the author of Beyond Crimea: The New Russian Empire and The Politics of Energy and Memory between the Baltic States and Russia. Follow her @AgniaGrigas.