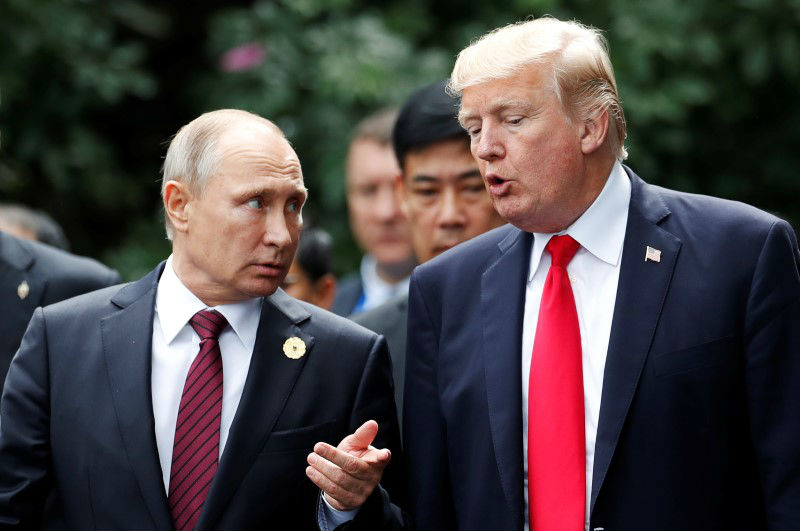 On June 29, President Donald Trump told reporters that he hasn't ruled out recognizing Russia's illegal annexation of Ukraine's Crimea in 2014. Trump is set to meet Russian President Vladimir Putin in Helsinki on July 16 and many worry that he may gamble away Crimea.
US policy on Crimea has been consistent since 2014, and was clearly articulated by the State Department spokeswoman on the anniversary of Crimea's annexation: "Crimea is part of Ukraine and our Crimea-related sanctions will remain in place until Russia returns control of the peninsula to Ukraine."
UkraineAlert asked its experts and friends the following: Will President Donald Trump give away Crimea at Helsinki on July 16? Is this a real possibility, and what would a deal look like if it happened? What would it mean for Europe (and the United States)?
Anders Åslund, Senior Fellow at the Atlantic Council: President Trump ignores US national interests and is hostile to all US democratic allies. He hides his consistent anti-Western policy under a veneer of stunning ignorance. Trump has only suggested what he may give Putin but not what he wants from Putin. What can he give away? The US Congress has demanded a final say on any lifting of sanctions on Russia, but Trump can ridicule them to make it difficult to maintain them. Trump may follow up on his statements on Crimea and say that it is Russia because the population is Russian, while leaving the consequences of this statement unclear. He can also promise to cut US support for Ukraine and undermine NATO. This Helsinki summit appears set to become a disastrous Yalta II.
Michael Carpenter, former US Deputy Assistant Secretary of Defense, Senior Director at the Biden Center, and Nonresident Senior Fellow at the Atlantic Council: By indicating he might go over Ukraine's head to negotiate the status of Crimea directly with Putin, Trump is undermining the bedrock principles of the international order: namely, the sovereignty and territorial integrity of states. Such statements are irresponsible and dangerous. This is not a matter of "gamesmanship." It's not a "strategically disruptive" policy. It's time to stop putting lipstick on a pig and call this for what it is: selling out our values to appease Putin.
Ariel Cohen, Nonresident Senior Fellow at the Atlantic Council's Global Energy Center and Eurasia Center: Crimea is not Trump's to give away. According to international law, it belongs to Ukraine. However, in order to bring Russia back from the cold, the Trump administration might use the Baltic states' model from the 1940s-1990s; the United States did not recognize the Soviet occupation of the Baltic states but didn't do much about it either. In that case, the administration would demand the full withdrawal of Russian support for the Donbas separatists, the restoration of Ukraine's territorial integrity, and would promise to work to lift Ukraine sanctions. How effectively the Trump administration can lift Congressional sanctions remains to be seen. Overall, this would be a victory for Putin as someone who expands Russian territory. The administration is also likely to demand a commitment by Russia not to use force again in the former Soviet Union and not to change borders. Whether the Russian commitment would stick is an open question.
Orest Deychakiwsky, Former Policy Advisor, Commission on Security and Cooperation in Europe (US Helsinki Commission): Any recognition by President Trump of Russia's illegal annexation of Crimea would be a travesty and an outrage. It would fly in the face of US policy and of the rules-based international order. And it would be the height of irony if it were to take place in the Finnish capital, where in 1975 the Helsinki Final Act was signed. With its invasion of Ukraine, Russia, a signatory state, has violated every core principles of the Organization for Security and Cooperation in Europe enshrined in the Helsinki Final Act, including territorial integrity, sovereign equality, and refraining from the threat or use of force.
Any deal without the full participation of Ukraine would be completely unacceptable. And the chances that Ukrainians would entertain any notion of some kind of Crimea-for-Donbas swap deal is near zero.
The reaction both in the United States and Europe (with perhaps the exception of a few outliers) would be extremely negative. Trump would be going against his own national security team, the State Department, and Congress. Let's not forget that it was a Republican-led Congress that last year passed a law that was reluctantly signed by Trump that requires Congressional approval before there can be any removal of sanctions on Russia, including for its occupation of Crimea. There would be serious push-back not only from Democrats, but from many Republicans.
Therefore, I do not believe that Trump will accept Russia's seizure of Crimea or strike any irresponsible deals. However, given the unpredictability of this president, one cannot completely rule it out.
Evelyn Farkas, Nonresident Senior Fellow at the Atlantic Council and a national security analyst for NBC/MSNBC: No president, including President Trump, is in a position to give away the territory of another state, even if it is under illegal occupation. International law and the United Nations Security Council have spoken. Crimea belongs to Ukraine. Of course, if our president were to make another statement indicating that he is sympathetic to the renegade Russian position on the issue, it would be alarming not just to the government of Ukraine, but to democratic and sovereign states worldwide. It would be a verbal gift to Putin, for which there is no reciprocal gift that the United States could receive to compensate for the damage to global perception of the United States and our willingness to stand up for international law and universal values. Let's not forget that the Russian government objective in the summit is not only to weaken Western democracies, the Transatlantic alliance, and European resolve to counter Russia, but also to bolster Putin's standing as a nationalist leader of the Russian Federation.
Edward Lucas, Senior Vice President at the Center for European Policy Analysis: The answer should be no. His staff will tell him that only firmness works with the Putin regime. But the US president does not listen to his staff. Russia is a weak country which is strongly led; the United States the exact opposite. Vladimir Putin is an expert in zaverbovaniya—the psychological recruitment tricks taught in KGB spy school. The narcissistic Mr. Trump is a sucker for flattery. This summit will not, I fear, have a happy ending.
William B. Taylor, Executive Vice President at the US Institute of Peace and former US Ambassador to Ukraine: President Trump will not give Crimea away at Helsinki on July 16. First, it is not his to give. It has been internationally recognized as part of Ukraine since the Soviet Union imploded in 1991. Crimea is still legally Ukrainian. Second, by invading Crimea, Russia violated international law and all the treaties it has signed with Ukraine and the international community since 1992. Russia has no legal claim to Crimea. International sanctions on Russia will stay on until Crimea is returned to Ukraine. Third, the United States does not recognize claims on other nations' territory resulting from illegal occupation—as the United States made clear in 1940 when Secretary of State Sumner Welles condemned the illegal Soviet occupation of the three Baltic states. A similar declaration will soon make clear that US policy has not changed.
Melinda Haring is the editor of the UkraineAlert blog at the Atlantic Council and a fellow at the Foreign Policy Research Institute. She tweets @melindaharing.