Laying aside President Volodymyr Zelenskyy's first trip to the United States and meeting with US President Donald Trump, Ukraine and its new president are having a very bad month.
At home, Zelenskyy is riding high. His record high polling numbers make him invincible. He's so secure that he hasn't given a real interview since he took office. But international opinion is beginning to crystalize and many fear that Zelenskyy is no different from the lousy heap of presidents before him.
On September 27, the International Monetary Fund unexpectedly gave Ukraine a thumbs down; it won't move forward with a planned $6 billion program. Instead, talks will continue. Also on September 27, a top reformer in the Zelenskyy government who previously fought oligarchs tendered his resignation. Only three weeks ago, diplomats, the international finance community, and Ukraine boosters were so upbeat. All systems were a go for a new IMF program.
What's behind the change?
Simply put, the reemergence of Kolomoisky and Zelenskyy's inability to check him.
During the presidential campaign, Zelenskyy swore repeatedly that he wasn't oligarch Ihor Kolomoisky's puppet. Days after he was elected, Kolomoisky returned to Ukraine after living in exile for two years and began to give a series of damaging interviews. He urged Zelenskyy to default like Greece. He called the war in Ukraine a civil conflict. The old provocateur was back.
Subscribe for the latest from UkraineAlert
UkraineAlert is a comprehensive online publication that provides regular news and analysis on developments in Ukraine's politics, economy, civil society, and culture.
Some commentators see Kolomoisky as an annoying troublemaker without any power, hence his irresponsible statements. Other see Kolomoisky as back on top of the heap, with the installation of his former attorney Andriy Bohdan as the presidential chief of staff in the key decision-making role. Sources say that Bohdan controls access to the president and has his finger on all sensitive issues. Others are quick to point out that Bohdan is more than a tool of Kolomoisky; insiders say he's an amoral arrogant wheeler-and-dealer.
Fast forward to September. Zelenskyy and Kolomoisky meet in the presidential office and publish a grinning picture. The next day the International Monetary Fund arrives to take the reform temperature in Kyiv. That same month, Valeria Gontareva, the former head of the National Bank of Ukraine who nationalized Kolomoisky's Privatbank in 2016 after a $5.5 billion hole was discovered, underwent a series of attacks on her body, home, house, and apartment. She blames Kolomoisky; he denies having anything to do with it. Then the prime minister told the Financial Times that he wanted to find a compromise with Kolomoisky and move forward, not dwell on the past. The prime minister claims he was misquoted but markets took a tumble anyway. Two weeks later, the IMF's mood has changed. It leaves Kyiv without any agreement and decidedly unimpressed, despite the new government's ambitious pledge to increase GDP by 40 percent over the next five years.
There are several technical sticking points between the IMF and Ukraine, but the two biggest worries are the independence of the central bank and the status of the nationalized PrivatBank. Both are directly linked to Kolomoisky. The central bank has strongly defended their old boss Gontareva, calling the attacks on her an "act of terror." Many fear that the excellent head of the central bank will soon be canned. And then there are Kolomoisky's numerous attempts to have the courts undo the nationalization of PrivatBank and efforts to receive some compensation. Kolomoisky and his business partner have fiercely resisted efforts from the state to recover losses.
There are other warning signs. Oleksandr Danylyuk, the head of the National Security and Defense Council and a well-known reformer in the West, resigned on September 27. Together with Gontareva, Danylyuk as minister of finance was responsible for the nationalization of Privatbank and even moved his family to London at the time because he feared for their safety. Anders Åslund, a senior fellow at the Atlantic Council, described the resignation as "not good but expected."
Now, there's plenty of other reformers in the government and parliament, but few expect them to sit idly by if things continue as is.
Kolomoisky is back and reformers are already jumping ship. What's the plan, Mr. President?
Melinda Haring is the editor of the UkraineAlert blog at the Atlantic Council and a senior fellow at the Foreign Policy Research Institute. She tweets @melindaharing.
Recommended reads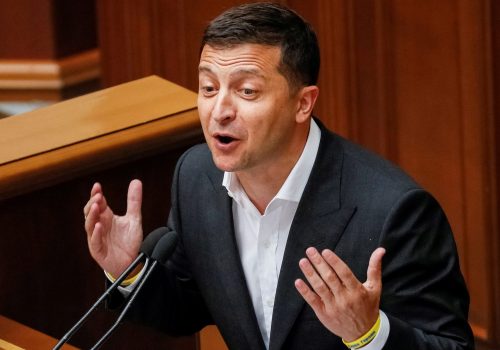 Tue, Sep 17, 2019
Zelenskyy is consolidating power. Ukraine is rapidly switching to a presidential republic from the parliamentary-presidential system its constitution prescribes. And the worst part is that there's little to stop him.
UkraineAlert by Melinda Haring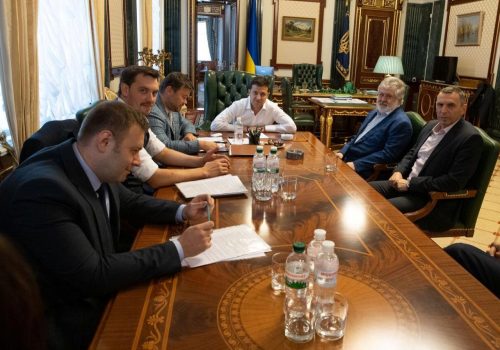 Thu, Sep 19, 2019
If Kolomoisky is not renounced and investigated, the world will turn its back on Ukraine. But the Russians and oligarchs won't.
UkraineAlert by Diane Francis

Wed, Sep 18, 2019
The focus needs to be broadened to include the entire range of oligarchs and not simply keep the spotlight on Kolomoisky.
UkraineAlert by Bohdan Nahaylo