Responding to an article by Melinda Haring in which she argues that in Ukraine "much has changed in two weeks"—for the worse, she suggests, and that the "optics" are "terrible." She echoes the broader negative Western press reaction and proposes in her title that Ukraine "[s]low down already." I'd like to question some of the assumptions and conclusions.
Haring credits Ukraine's new president Volodymyr Zelenskyy with getting off to a promising start by pledging commitment to reforms and economic growth and ushering in a "promising" new prime minister and government. The West, she writes "breathed a sigh of relief," but suddenly "much changed."
Why the more pessimistic note? First, Haring says, the reappearance of oligarch Ihor Kolomoisky. But he has not suddenly reemerged publicly. He has been giving interviews and vying for attention for some time—a sign of weakness, rather than a renewed sense of strength. That Kolomoisky appeared at the Yalta European Strategy summit "for the first time that anyone can remember," was hardly surprising as under Poroshenko, with whom he was at odds, he did not feel safe in Ukraine.
Haring reminds that the new president appointed Kolomoisky's former attorney Andriy Bohdan to head his administration. But in politics loyalties are rarely fixed in stone and fluctuate with the stakes and available rewards. Having someone on board who knows the disgruntled and unpredictable oligarch's strengths and weaknesses better than anyone else makes political sense. Keeping him in line is the challenge.
Kolomoisky wants to be seen and heard, almost at any cost, which does not suggest he has the sort influence over Zelenskyy and his team that was until recently ascribed to him. Moreover, some of the oligarch's statements have been at odds with the president's position and have certainly not been helpful to him.
Haring makes much of the fact that Zelenskyy has just met with Kolomoisky, and also that the "timing was odd" —the eve of the return of the International Monetary Fund to Kyiv for meetings. She maintains this sent a worrying signal.
That Zelenskyy called Kolomoisky in for a formal chat, transparently, is itself good. At least the new president has abandoned his predecessor's practice of having secret late night meetings with other oligarchs and influential dubious figures.
Earlier, on June 20, Zelenskyy announced he had already met with three oligarchs, Rinat Akhmetov, Victor Pinchuk, and Kolomoisky. He said he had told them that they would not receive "any preferences, only honest, the same rules for all—no monopolies, only the rules with which we, as a country, can win."
Kolomoisky has been asked to abide by the new terms of cooperation with the oligarchs that are still in the process of being elaborated but which Zelenskyy insists will soon be applied. This is also very positive.
As for the timing of the meeting? A coincidence? Or perhaps a timely signal to the IMF that Kolomoisky, like the other oligarchs, will be expected to adhere to the new emerging ground rules and to cooperate on issues concerning business and de-monopolization?
For Kolomoisky, PrivatBank, which he co-owned until it was nationalized in 2016, is a priority but not his only business concern. The oligarch is keen to obtain compensation rather than get the bank back as such.
The issue with PrivatBank is indeed tricky, especially given the imperfect nature of the court system in Ukraine, something for which Zelenskyy does not bear responsibility, and because of the international dimension. The flaws he inherited in the legal environment cannot be fixed overnight.
Subscribe for the latest UkraineAlert
UkraineAlert is a comprehensive online publication that provides regular news and analysis on developments in Ukraine's politics, economy, civil society, and culture.
A mutually acceptable way out needs to be found to avoid a debilitating war of litigation, attrition, and negative external fallout. Ukraine's new prime minister has already alluded to this but was immediately criticized for it.
And the alarming events involving mysterious attacks on the former head of the National Bank, Valeria Gontareva? As Haring notes, the victim has pointed the finger at Kolomoisky. Perhaps, but why jump to conclusions?
Gontareva was not the only senior official involved in taking away PrivatBank from Kolomoisky, and hence providing him with a possible motive. So was the then Minister of Finance, Oleksandr Danylyuk, subsequently sacked by Poroshenko for whistle blowing about corruption. A clear foe of Kolomoisky, he was nevertheless co-opted by Zelenskyy's team and today holds the sensitive post of secretary of the National Security and Defense Council.
There are other obvious questions. Who might stand to gain from this? And, is it coincidental that these attacks, which are damaging to Zelenskyy's external image despite his condemnation of them and his efforts to distance to himself from Kolomoisky, have occurred not only when the IMF is back in Kyiv, but when the president's poll ratings at home have soared to an incredible 79 percent?
Do we overlook the fact that there is a war going on and there are external and internal forces interested in creating confusion, distrust, and disunity?
Apart from factoring in the possible role of the Kremlin, the focus needs to be broadened to include the entire range of oligarchs and not simply keep the spotlight on Kolomoisky. After all, behind the scenes, and their sophisticated PR operations and smiles, Ukraine's oligarchs continue their battles to protect and strengthen their business empires and dirty tricks are certainly not beyond them.
What have Akhmetov, Firtash, Poroshenko, Pinchuk, and others been up to while all the bad press has been largely reserved for Kolomoisky? All need to be kept under constant scrutiny and gradually made to adhere to clarified rules governing the nexus of business and political behavior and legal responsibilities.
A further source of concern, Haring writes, is that Zelenskyy and his team are consolidating power and "switching to a presidential republic from the parliamentary-presidential system."
Let's be fair. What we had under Poroshenko in his last years was the semblance of a parliamentary-presidential system with a phony coalition activated by any means possible when and as the president needed. We had half-hearted reforms and blockage of what did not fit in because it challenged the status quo. Time, credibility, and the people of Ukraine were the victims and hence the backlash at the ballot box.
Now we have a parliament that in tandem with president can actually get bills though—in short, it can be effective and productive. At this early stage, I do not see signs of Zelenskyy and his team abusing their advantageous temporary position of political dominance obtained by democratic means for undemocratic purposes.
To slow down, because those who when they were in power, whether under Yanukovych or Poroshenko, did things in ways that suited them now cry foul, or warn of authoritarianism does not make sense. Especially in light of the expectations that have been raised, the need to deliver, and the enormity of the tasks ahead.
Of course, as James Sherr of Chatham House has aptly noted, "Scrutiny and criticism are essential to good governance, and opposition is part of what keeps liberal democracy liberal."
But at this stage both the political will and efficacy to move forward finally seem to be in place and Ukraine cannot afford to vacillate and squander this opportunity, even if it involves risk and some flak from its well-wishers.
Bohdan Nahaylo is a British-Ukrainian journalist and veteran Ukraine watcher based in Kyiv, Ukraine. He was formerly a senior UN official and policy adviser, and director of Radio Liberty's Ukrainian Service.
Further reading

Tue, Aug 13, 2019
Quality education is essential for innovation, initiatives, and competitiveness that have a direct bearing on economic and national security.
UkraineAlert by Marta Farion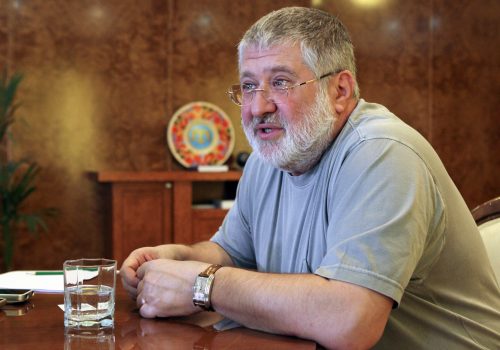 Tue, Jun 4, 2019
The PrivatBank case shows that dirty money is not necessarily concentrated in the big cities and in real estate but can penetrate the real economy.
UkraineAlert by Anders Åslund

Tue, Sep 10, 2019
Many Ukrainian free marketers are sulking in the sidelines because they misread the Zelenskyy movement last spring.
UkraineAlert by James Brooke