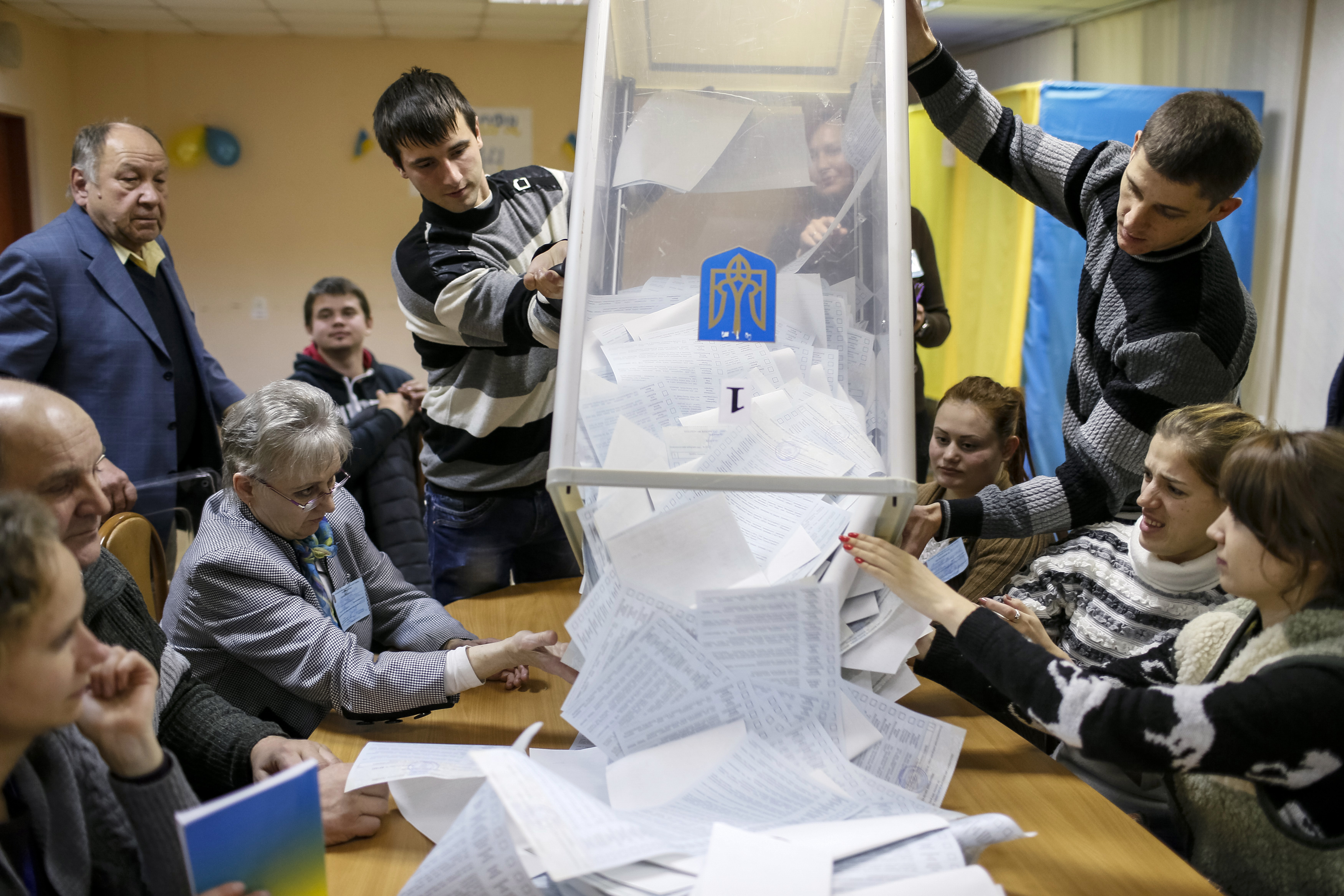 Parliament Election is a Defeat for Russia's Putin: How Will He Respond?
If Sunday's exit poll accurately depicts Ukraine's parliamentary vote, the outcome is a stunning victory for reform and a pro-European orientation—and a big defeat for Russian President Vladimir Putin. It immediately raises the question whether Putin will respond with a new aggressive move in Ukraine.

The exit poll predicts only half of the election's outcome—225 of the Verkhovna Rada's authorized 450 seats. These are the seats apportioned among political parties according to their percentage of the nationwide vote. (The other seats are contested in electoral districts, like the US House of Representatives or the British House of Commons. Almost 200 seats in those races were not yet tabulated Sunday night. About 27 seats, from districts in Crimea or Donbas occupied by Russia or its proxy forces, will remain vacant.)
The exit poll suggests that, while Ukrainian voters want reforms, they do not want to rely simply on a single, strong leader to achieve them. The top three parties in the race ran as Europe-oriented reformers. These are the bloc of President Petro Poroshenko (which led the exit poll with 23 percent of the vote), the party of Prime Minister Arseniy Yatsenyuk (which received 21.3 percent) and the surprisingly strong (13.2 percent) Samopomich, or "Self-Reliance" party, led by Mayor Andriy Sadovyi of the western city of Lviv.
Voters Lean Toward Europe
The poll indicates that the Batkivshchyna party of former Prime Minister Yuliya Tymoshenko and the nationalist Svoboda party also surpassed the 5 percent threshold of votes needed to win party-list seats. Altogether, pro-reform parties won roughly two-thirds of the vote. Among parties opposed to a distinctly Europe-oriented Ukraine, only the Opposition Bloc passed that threshold to win a place in the next parliament. (The next legislature will be the first since Ukraine's independence from Moscow in 1991 in which the Communist Party will have failed to win party-list representation.)
All of this means that there will be little opposition in the next Verkhovna Rada to policies aimed at synchronizing Ukrainian policies with Europe.
Poroshenko Will Need Yatsenyuk
The results are also disappointing for President Poroshenko, who had spoken for months about his goal of achieving a parliamentary majority, and who as recently as last week was polling at 30 percent of the vote.
The Atlantic Council's Senior Fellow Adrian Karatnycky and I have spent the past three days in Ukraine, meeting with officials, party leaders and journalists. Most people said they expected that President Poroshenko would seek to establish a coalition in which his hometown ally, Deputy Prime Minister Volodymyr Groisman would become the new prime minister. That could have happened if the Poroshenko bloc decisively outperformed that of Prime Minister Yatsenyuk. But if the exit poll proves accurate, Yatsenyuk's Popular Front has finished less than two percentage points behind the Poroshenko Bloc, so Yatsenyuk has a strong claim to remain prime minister.
The Election's Loser: Russia's Putin
Sunday's result also is a disaster for Russian President Vladimir Putin—a direct result of his aggressive polices that have alienated Ukrainians across the political spectrum and prevented the participation in this election of those voters most skeptical about a turn toward Europe.
From various sources we understood that President Putin sought two objectives in this election:
A significant minority in the Rada that would serve as a brake on policies moving Ukraine toward the EU and;
A Ukrainian prime minister unassociated with the political revolution of last winter's Maidan movement.
The exit polls indicate that he will achieve neither. (While Groisman was not associated with the Maidan, Yatsenyuk was a prominent supporter of the movement.) This raises a new dilemma for Putin. Several times since February, when disappointed by internal developments in Ukraine, Putin has responded by taking a new aggressive step.
Putin's Cost-Benefit Analysis
So this latest setback may give him an occasion to seize the Ukrainian port city of Mariupol, where his troops still are massed, or to continue westward to establish a land corridor to the Russian-occupied Crimean Peninsula. Such a move would ease Russia's problem of supplying Crimea with water, electricity and other basic needs, for which shortages already have appeared and will worsen through the winter.
But Putin also has reasons for caution. The Russian army is tired. Oil prices are down sharply, and with it his government's income.
More directly, European leaders dealt Putin a diplomatic defeat at a summit conference in Milan last week. Germany's Chancellor Angela Merkel and French President Francois Hollande made clear that Europe will insist on a true cease-fire in the Russian-sponsored separatist rebellion in Ukraine's Donbas region. Any easing of the Western economic sanctions against Russia, they told Putin, will require that he allow the Ukrainian government to re-establish its control over those areas of Donbas now held by the proxy forces that have been led, financed, and armed by the Kremlin—and when necessary, reinforced by Russian tanks, infantry and artillery attacks. The Europeans insisted that Russia must let Ukraine restore its control over all of its border.
Given that principled European stand in Milan, Putin knows that if he sends his troops to conduct a new offensive in Ukraine, Russia is likely to suffer stiffer sanctions.
We do not know whether Mr. Putin will stage some new provocation to demonstrate his unhappiness with the election results. We do know that, if his track record holds, the vote is tempting him to do so.
John E. Herbst is the director of the Dinu Patriciu Eurasia Center at the Atlantic Council. He served as US ambassador to Ukraine from 2003 to 2006.