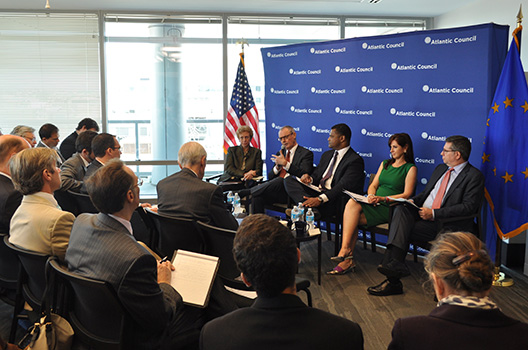 Just as the European Commission launched its plans for a new Digital Single Market (DSM) in Brussels, the Atlantic Council hosted a panel discussion on the future of the transatlantic digital economy and US-EU cooperation on data privacy and Internet issues. H.E. David O'Sullivan, EU Ambassador to the United States, provided keynote remarks and was later joined on a panel by: Marcus Jadotte, Assistant Secretary of Commerce for Industry and Analysis, Nuala O'Connor, President and CEO of the Center for Democracy and Technology, and Daniel M. Price, managing director of Rock Creek Global Advisors and former Deputy National Security Advisor for International Economic Affairs. Fran Burwell, Atlantic Council Vice President and Director of Transatlantic Relations opened the event and moderated the conversation.


A transcript of Burwell's opening remarks and Ambassador O'Sullivan's keynote speech as prepared for delivery is available here.
Fran Burwell opened the event by underlining the economic importance of the digital economy.
The digital economy offers both Europe and the United States significant opportunities for future economic growth, especially if the European and American markets can be streamlined into a single transatlantic digital market. It has been estimated that building a unified European DSM would be worth an additional 4% of GDP—an extra 1500 dollars for each European citizen.
Yet, she noted, "digital issues are also the source of strong transatlantic discord—over privacy, taxation, market share, and many other matters, especially in light of revelations of NSA surveillance methods and ongoing European antitrust efforts." The European Union and United States must address their differences on digital issues frankly and honestly—and begin to shift this conversation into something more productive.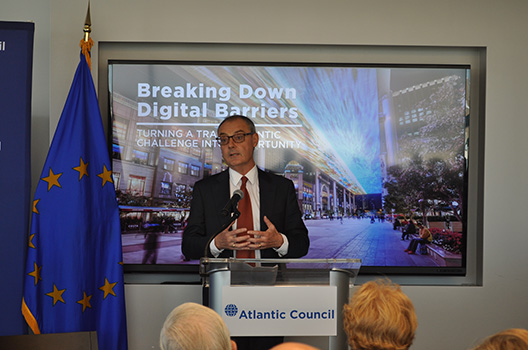 Ambassador O'Sullivan then underlined the importance of the DSM strategy as a key component of the European Commission's overall plan to restore Europe to sustainable economic growth, noting that "unlocking the potential of digital technologies is a core component of Europe's long-term strategy." The Digital Single Market, along with Energy Union, a Capital Markets Union across Europe to help SMEs and start-ups access financing, and the conclusion of an ambitious Transatlantic Trade and Investment Partnership (TTIP) with the United States, are each vital for Europe's Future.
Following the Ambassador's remarks, the panel discussion delved deeper into the transatlantic economic and strategic opportunities from a deep and unified Digital Single Market—especially if paired with a strong TTIP agreement.
Assistant Secretary of Commerce Marcus Jadotte underlined that the US government strongly supports making it easier for consumers and business to act across borders—both within Europe and eventually across the Atlantic. He also reminded the audience of the strategic importance of US-EU cooperation on digital issues: "We need to work together to provide a counterweight to restrictive policy regimes elsewhere," he noted while making references to the Russian and Chinese model of censoring the Internet and restricting access to information.
Nuala O'Connor, the President and CEO of the Center for Democracy and Technology, underlined that both personal data privacy and free access to information are essential in the modern economy. She emphasized that the DSM's goal of simplifying rules across borders and making it easier for consumers to access information and make purchases from other countries was a clear benefit. She also noted that the ideal scenario should eventually be "a globally-integrated internet experience, along with robust privacy protections." Clearly, the NSA revelations have had a major impact on transatlantic digital dialogues—and they still need to be more fully addressed to restore transatlantic trust, both among governments and citizens.
Finally, Dan Price underlined the importance of a strong chapter on data flows in any eventual TTIP agreement to set up the US and Europe for success in the future, where the digital economy will be vital. "We need a forward-looking trade and investment agreement focused on this key part of the future transatlantic economy," he said. Price expressed both cautious optimism about a Digital Single Market done right—which could open up the digital economy across Europe, as well as concern that the EU may use the DSM proposal as a means of back-door protectionism to fight US dominance in the digital economy (both real and perceived).
It is important that the United States and Europe continue to have an open dialogue on digital issues as the DSM proposal and TTIP talks move forward. Only by working together can the two dominant players in the digital economy—the United States and Europe—continue to set global norms and standards for the benefit of citizens and businesses on both sides of the Atlantic, and beyond.