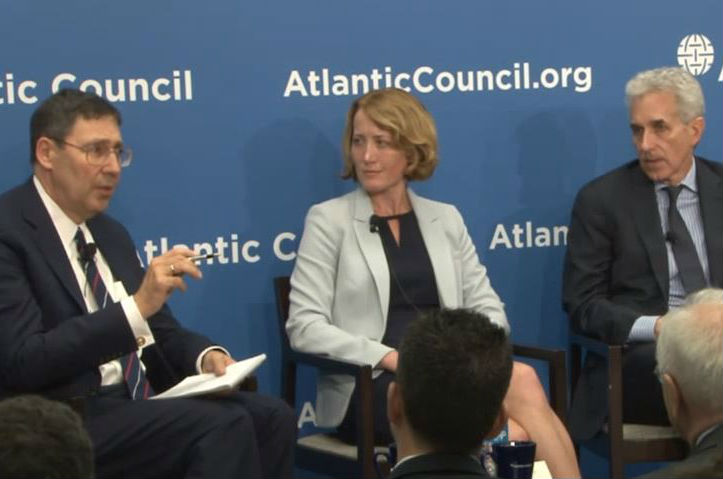 Russia's attempts to win over hearts and minds in Ukraine, Eastern Europe, and beyond are succeeding—in large part because of the United States' disengagement in the information arena, say experts. In response, Senators Rob Portman (R-Ohio) and Chris Murphy (D-Conn.) introduced a bill on March 16 that would significantly beef up the United States' counter-propaganda efforts.
"The United States is not doing enough to counter a destabilizing disinformation campaign—an extremely sophisticated effort to control information, often at the expense of US allies," said Portman, speaking at an Atlantic Council event on March 16. "We believe this legislation overcomes some of the barriers and marks the first step to countering disinformation."

After an introduction by Governor Jon M. Huntsman, Jr., Chair of the Atlantic Council's board of directors, Portman was joined by Murphy and a panel of experts: Kristin Lord, President and CEO of IREX; Jeffrey Gedmin, a Senior Fellow at the Atlantic Council; and Steve Sestanovich, a Senior Fellow at the Council on Foreign Relations. John Herbst, Director of the Atlantic Council's Dinu Patriciu Eurasia Center, moderated the panel.
Several countries are engaged in deliberate disinformation campaigns that aim to undermine the US' interests and values abroad, but Russia's activities have been the most apparent. The Kremlin actively utilizes a range of tools to shape public opinion, including state-sponsored media outlets, social media, and a variety of intelligence and cyber capacities.
Portman pointed out that the Russian network RT spends $400 million per year on its Washington bureau alone. It's not the only country engaged in supplying false information; China, he said, spends billions every year on propaganda. Meanwhile, the US' primary outlet for information abroad, the Broadcasting Board of Governors, which oversees Voice of America and Radio Free Europe/Radio Liberty (RFE/RL), receives roughly $750 million annually for all of its operations worldwide.
Additionally, other "soft power" activities—like diplomacy, public affairs, cultural programming, and civil society assistance—are divided between several different agencies.
"Our counter-propaganda campaigns are siloed," said Murphy. "We need an umbrella strategy, a coordinated strategy."
The bill, titled the "Countering Information Warfare Act of 2016," aims to provide just that. The legislation would create a Center for Information Analysis and Response that synchronizes government activities and advances a "fact-based narrative." The legislation would also establish a fund to provide grants and contracts to civil society organizations, think tanks, private companies, media organizations, and other nongovernmental groups. And it would increase cultural and educational exchanges abroad.
"This bill not only demonstrates a robust effort by the United States to counter disinformation by Russia," said Huntsman, "but shows that we're also committed to helping our allies in Europe."
Panelists agreed that the bill is critically needed. "This is hugely important legislation," said Lord. She praised the bill's focus on investing in relationships abroad and amplifying local voices, pointing out that the US government isn't always the most credible voice in global debates. Additionally, she said, the bill's emphasis on supporting independent media may not be fashionable, but is still absolutely crucial.
Gedmin, a former RFE/RL president, agreed that the bill is vital and overdue. Until now, he said, Russian President Vladimir Putin has been simply better at telling a compelling—if not particularly true—narrative that wins people over. From now on, it will be important for the US to play offense, not only defense. "Putin sets the agenda and forces us to react," he said. "We need more of an agenda-setting foreign policy."
In contrast, Sestanovich sounded a cautionary note. After all, if the bill becomes law, it won't come cheap. "Let's not exaggerate our weaknesses—a lot of what the bill wants done is actually being done," he said, pointing out that a range of agencies are already focused on the disinformation problem, and that traditional foreign policy tools still have a major role to play.
Amanda Abrams is a freelance writer in Washington, DC.