Last year, Russia's full-scale invasion of Ukraine launched a brutal war in the heart of Europe. Russia's unrelenting aggression has been repelled by brave Ukrainians—with assistance from friends on both sides of the Atlantic. The war united the transatlantic community, with NATO providing unprecedented support for Ukrainians fighting for both their own freedom and values and those of the broader Euro-Atlantic region.
As allies and partners head into the Vilnius summit in July for the Alliance's annual meeting of all heads of state and government, NATO must deliver on its commitment to enhance collective transatlantic security. Meeting the challenge will require NATO to turn ideas (drummed up at the Madrid summit last year) into concrete action. Success, as argued in a recent Transatlantic Security Initiative issue brief, will depend upon NATO's ability to make tangible progress on its enumerated political and military priorities.
Responding to Russia, supporting Ukraine, and securing the region
NATO's 2022 Strategic Concept—a new strategy adopted at last year's Madrid summit—named the Russian Federation as the "most significant and direct threat to Allies' security." Russia will remain at the top of NATO's agenda in Vilnius, according to senior US and allied officials and experts at a recent Atlantic Council event—held in partnership with the Ministry of National Defense of the Republic of Lithuania—that mapped out priorities for the summit. The officials and experts at the event explained that it will be even higher a priority for the Alliance to make commitments that enable Ukraine's victory as the current war continues and possibly becomes a protracted conflict.
Since the start of the war, NATO members have provided Ukraine with multipronged support ranging from humanitarian assistance to military aid. Solidarity and support from the West, according to Ukrainian Minister of Defense Oleksii Reznikov, is helping Ukraine face down Russia's imperialist incursions and "[destroy] the military power targeting European values and freedoms."
US Senator Jeanne Shaheen underscored the durability of allies' support, explaining that "there is strong, continued, bipartisan support [for] the Ukrainians, appreciation for their courage [and] for how hard they are fighting, and a real commitment to continue to support this effort." More can be done, however, to enable Ukraine's victory and secure Euro-Atlantic stability. During the event, former US Permanent Representative to NATO Kay Bailey Hutchison emphasized that while the US Department of Defense's new security assistance package and provision of high mobility artillery rocket systems are steps in the right direction, the United States and other NATO allies must expand coordinated military assistance and pivot towards "doing more and doing it faster" to help Ukraine ramp up activities for the coming counteroffensive. Reznikov added that "NATO should commit to meet Ukraine's urgent military needs for military defense equipment, focusing on air defense systems, long-range artillery, and necessary ammo, tanks, and combat aircraft." Expanded support, panelists added, will greatly enhance Ukraine's ability to strike behind enemy lines and neutralize the bases that are launching attacks, killing Ukrainians, and destroying critical infrastructure in the next stage of the war.
NATO must also figure out how it will signal that Ukraine will be protected from future Russian assaults. For Reznikov, the answer is clear: The Vilnius summit must deliver a concrete path for Ukraine's membership in the Alliance. But that is not all. Security guarantees and necessary military defense equipment are Ukraine's top requests from NATO, and Reznikov is hoping NATO leaders will address these needs at the summit. In the long term, Western military presence within Ukraine will be the strongest deterrent against a future Russian attack, argued panelist Michael O'Hanlon, the Brookings Institution's foreign policy director.
Securing the Euro-Atlantic area will require the Alliance to fortify its force posture on its eastern flank, according to Samuel J. Brannen, US deputy assistant secretary of defense for plans and posture. Although the United States has already begun to make force posture adjustments on NATO's east, with the addition of a brigade combat team, rotational forces in the Baltic states, and prepositioned stocks, Brannen said that "having ready forces and having the plans to go with them" will have to remain at the top of NATO's agenda in Vilnius. The increased readiness and capabilities that come with rotational forces can help NATO move towards deterrence by denial—reducing the likelihood of a future Russian attack and positioning the Alliance to prevail in the event one occurs.
---
On July 11-12, the Atlantic Council will host the NATO Public Forum, gathering experts and decision makers from the globe on the sidelines of the NATO Summit in Vilnius. Subscribe below to get updates about the forum.
Subscribe for events and publications on transatlantic security
Sign up for updates from the Atlantic Council's Transatlantic Security Initiative, covering the debate on the greatest security challenges facing the North Atlantic Alliance and its key partners.
---
Assessing challenges on the horizon
An array of challenges—ranging from the rise of China to emerging disruptive technologies—will also feature on the agenda at the Vilnius summit.
Countering an assertive China amidst other evolving short- and long-term threats will require the Alliance to operationalize its 360-degree scope and, as Hutchison added, increase cooperation with NATO's partners in the Pacific. That is because, as Sarah Kirchberger—head of the Center for Asia-Pacific Strategy and Security at Kiel University's Institute for Security Policy and Atlantic Council nonresident senior fellow—put it, "anything can be a battlefield" in the eyes of China. Beijing has entrenched itself in Western economies, has forged a strategic partnership with Russia in its bid to undermine the rules-based international order, and (like Russia) employs hybrid tactics like information operations in an attempt to divide the Western alliance. Despite converging concern about the China challenge across the transatlantic, NATO will need to translate policy articulated in the 2022 Strategic Concept into action in Vilnius, a recent Transatlantic Security Initiative report argues.
What makes navigating the geopolitical environment difficult, according to Philippe Lavigne—a general and NATO's supreme allied commander, transformation—is that today's challenges are "more, faster, and everywhere." He continued to explain that emerging and disruptive technologies such as artificial intelligence, machine learning, and quantum technologies are changing how NATO operates and how wars are fought. There is more data, decision-making is faster, and conflict can happen in almost every domain. NATO's digital transformation—through the integration of emerging technologies, interoperability of forces, and multi-domain operations—must ready the Alliance to tackle more challenges, do it rapidly, and operate everywhere. Lavigne said he is expecting a decision on the Digital Transformation Implementation Strategic Plan, an initiative he advises on and oversees at NATO, to maintain and sharpen the Alliance's technological edge at the Vilnius summit.
As authoritarian leaders continue to take advantage of emerging technologies, experts argued that democracies can win the digital race—if they play to their strengths. Openness is NATO's advantage, Kirchberger explained, so the Alliance must not "underestimate how innovative [its] ecosystem is." To strengthen defense innovation, panelists pointed out, it will be important to both invest in emerging technologies and address urgent capability and critical-infrastructure gaps, which would require Allies to replenish weapons stocks and agree to spend more than two percent of their respective gross domestic products on defense (further military priorities for the summit are outlined in this recent Transatlantic Security Initiative issue brief).
Addressing the role of the private sector, Giedrimas Jeglinskas, former NATO assistant secretary general for executive management, said that the Alliance can leverage private capital to drive innovation, and Lavigne added that NATO should adopt best practices from the private sector. Jeglinskas proposed a practical solution for the Alliance at the summit, calling for NATO leaders to meet with top defense industry leaders in Vilnius to share those best practices. Lithuanian Minister of National Defense Arvydas Anušauskas stressed that the war "requires" NATO "to boost [its] defense industry as quickly as possible" and suggested that multinational contracts are signal to the defense industry.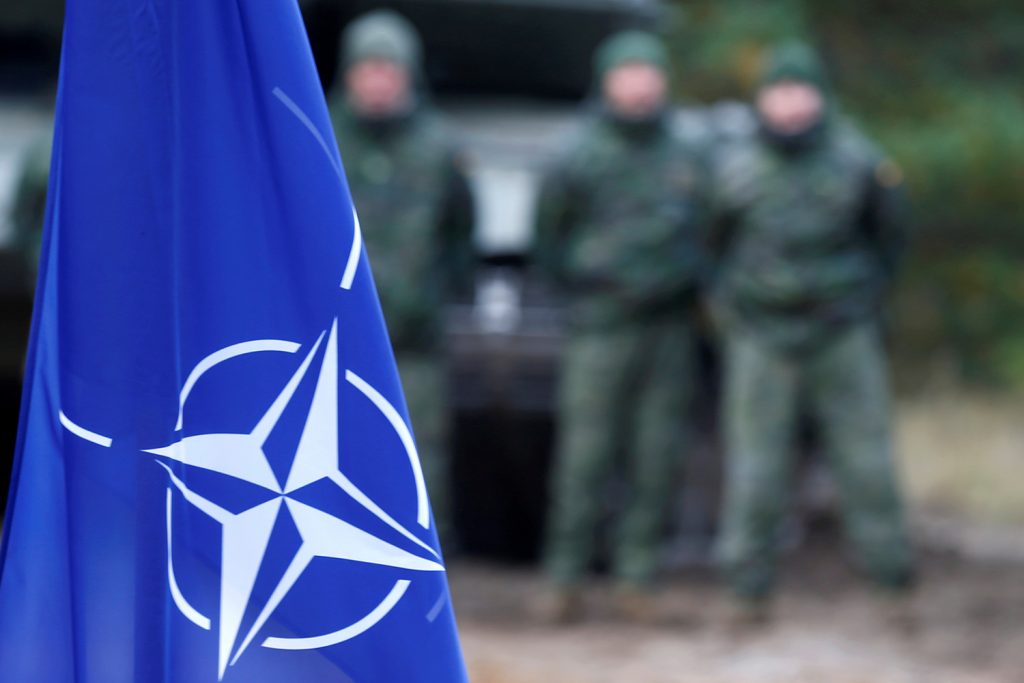 The Transatlantic Security Initiative, in the Scowcroft Center for Strategy and Security, shapes and influences the debate on the greatest security challenges facing the North Atlantic Alliance and its key partners.
Gearing up for Vilnius
NATO allies and partners, according to Anušauskas, must "move full steam ahead" to "make [the] Vilnius summit [a] strategic win." Experts and officials convening at the Atlantic Council conveyed that implementing NATO's vision for Euro-Atlantic security will be of paramount importance. Allies must arrive ready to enable Ukraine's victory, strengthen NATO's forward presence, and tackle an increasingly contested security environment of evolving challenges—NATO's adversaries, panelists emphasized, will be watching the summit's outcomes closely.
---
Joslyn Brodfuehrer is an assistant director of the Transatlantic Security Initiative at the Atlantic Council's Scowcroft Center for Strategy and Security.
Zelma Sergejeva is a visiting fellow at the Transatlantic Security Initiative of the Atlantic Council's Scowcroft Center for Strategy and Security.
Watch the full event
Further reading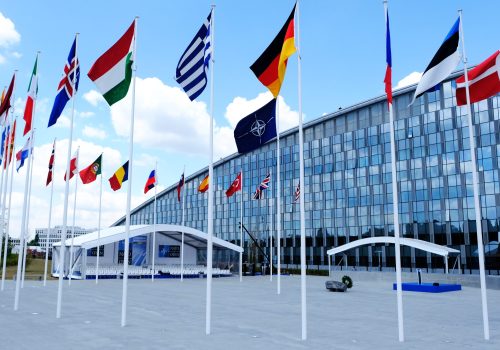 Thu, Apr 13, 2023
Strategy Memo By
NATO's upcoming Vilnius summit has to produce more than a rhetorical expression of support for Ukraine. Allied leaders must leverage the opportunity to drive forward a NATO defense and deterrence posture that underscores NATO's resolve to support Ukraine and begins the process of fully integrating Ukraine within the transatlantic community, including as a NATO member.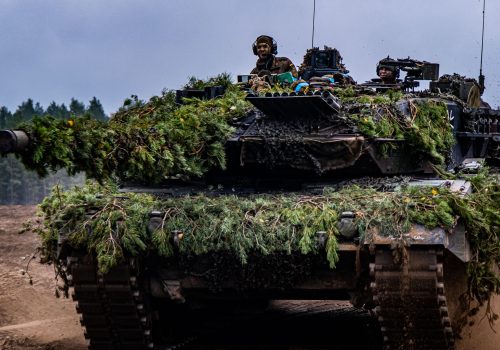 Tue, Apr 18, 2023
Issue Brief By Franklin D. Kramer
Ahead of the NATO Summit in Vilnius, this issue brief sets forth six priority actions that NATO should undertake to enhance its deterrent and defense posture.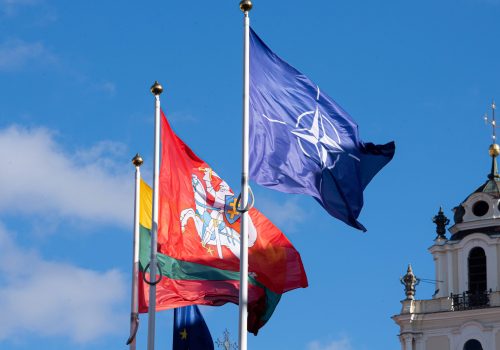 Tue, Apr 11, 2023
Issue Brief By Charles Barry and Christopher Skaluba
A successful NATO summit in July requires significant progress on a host of NATO's political and military priorities, especially those enumerated at Madrid.