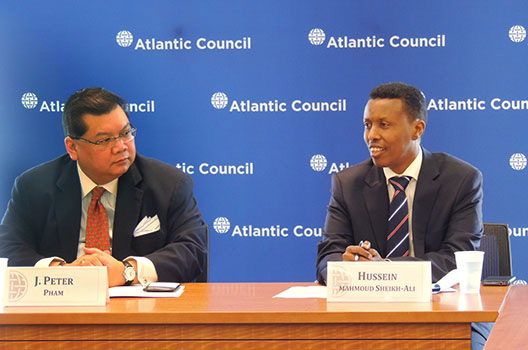 On Monday, the United States launched a military strike in southern Somalia against Ahmed Abdi Godane, head of the al-Qaeda-affiliated al-Shabaab group, and other leaders. While details of the operation are still emerging, it is evidence of continued US interest neutralizing the threat posed by al-Shabaab within Somalia as well as to neighboring countries.
Coincidentally, the Atlantic Council's Africa Center hosted Hussein Mahmoud Sheikh-Ali, senior counterterrorism adviser to President Hassan Sheikh Mohamud of the Federal Government of Somalia and former external security director of Somalia's National Intelligence and Security Agency, on Tuesday, September 2. After a welcome and introduction from Africa Center Director J. Peter Pham, Sheikh-Ali spoke about the Somali government's strategy for combating terrorism and ensuring sustainable security for Somalia.
Sheikh-Ali discussed the difficult, but necessary, process of reconciliation and the role of Somali clans in the process. He reiterated the importance of Somalia's allies, particularly the United States, in combating terrorism, and noted that the US-Somali relationship has continued to strengthen over the years.
Participants in the ensuing discussion included former US military personnel as well as representatives from several US government agencies, scholars, and human rights advocates.