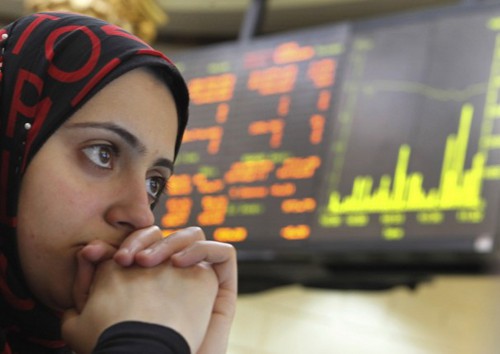 The Rafik Hariri Center for the Middle East hosted an off-the-record roundtable discussion with a small group of US government officials, economists, and development experts on March 2.
The participants discussed how supporting democratic transitions in Egypt, Tunisia, and Libya requires addressing the dual challenge of relieving short-term economic crises while initiating the long-term structural reforms needed to fuel sustainable growth, create economic opportunities to keep pace with rapidly growing populations, and alleviate economic inequality.
Hariri Center Director Michele Dunne moderated the discussion, with opening remarks by Deputy US Trade Representative Miriam Sapiro, State Department Deputy Coordinator for Transition Assistance Mark Ward, and economist Mohsin Kahn. The urgent priority for Egypt, Tunisia, and Libya is to confront the immediate symptoms of economic recession: capital flight, plummeting investment, rising inflation, and declining currency values. While loans from international financial institutions can provide quick relief for these short-term challenges, they are not a sustainable substitute for the sweeping structural reforms needed to sustain growth, incentivize innovation, and integrate Arab markets into the global economy. Participants discussed the place of trade in incentivizing development strategies and whether region-wide trade initiatives, regional economic integration, or bilateral trade agreements would be the best ways to support a rapidly changing region in need of international support.
Miriam Sapiro was confirmed by the Senate on December 24, 2009 as Deputy U.S. Trade Representative. Ambassador Sapiro is responsible for trade negotiations and enforcement with Europe, the Middle East and the Americas.
Mark Ward is Deputy Coordinator for Middle East Transitions at the US Department of State. Previously he served as Senior Deputy Assistant Administrator for Asia and the Near East at the US Agency for International Development.
Mohsin Khan has been a senior fellow at the Peterson Institute for International Economics since March 2009. Before joining the Institute, he was the director of the Middle East and Central Asia department at the International Monetary Fund (IMF) from 2004 to 2008. He first joined the IMF in 1972.