That's one way to celebrate Presidents' Day. US President Joe Biden staged a surprise trip to Kyiv on Monday that included a meeting with Ukrainian President Volodymyr Zelenskyy at the presidential palace and a walk in central Kyiv as air-raid sirens blared. How was Biden's trip viewed in Ukraine and Russia? What message does it send about US support for Ukraine? And how can Biden follow photo ops with military muscle? Our experts have the answers.
TODAY'S EXPERT REACTION COURTESY OF
The sounds of history
Dan says Biden's dramatic trip to Kyiv "ranks with other great presidential moments of leadership in defense of freedom" best known for a single line delivered in Berlin: John F. Kennedy's "Ich bin ein Berliner" and Ronald Reagan's "Mr. Gorbachev, tear down this wall."
In Biden's case, the indelible memory may not be a line in a speech but the sound of air-raid sirens as he walked through Kyiv with Zelenskyy. Melinda described the visit as "pitch-perfect," from the enthusiastic air-raid stroll to Biden's blue and yellow tie—matching the Ukrainian flag.
While the visit was kept under strict secrecy until he was on the ground, much like other presidential trips to war zones, Dan says this undertaking was "much harder" than, for example, a Baghdad visit during the Iraq War, "where the US had massive military assets on the ground."
Given the risks and logistical hurdles—including a nearly ten-hour train ride from Poland—the fact that Biden went forward with the trip "suggests he means what he says about supporting Ukraine for the long haul," Dan says. "It's a powerful and welcome message."
Subscribe to Fast Thinking email alerts
Sign up to receive rapid insight in your inbox from Atlantic Council experts on global events as they unfold.


The view from Kyiv… and Moscow
Before official word got out, rumors started to spread through Kyiv that Biden was likely in town, Oleh tells us, given the large security presence. "Biden's visit was one of those events when the emotional reaction of the Ukrainian governing class and the population was equally positive and even enthusiastic."
In Moscow, the reaction was "predictably hysterical," Oleh adds. Prominent pro-Kremlin journalist Sergei Mardan called it a "demonstrable humiliation of Russia." And Peter points out that on state TV, "pundits discussing the visit attempted to spare Putin's blushes by insisting that Moscow must have given Washington prior 'security guarantees' in order for the trip to go ahead." 
The mood was even darker on social media, where Oleh says Russians called "for new missile and bomb attacks against Kyiv and other Ukrainian cities. There is no doubt that Biden's visit will be used by the Russian propaganda machine to fan even stronger the feelings of chauvinism and anti-American animosity already well-embedded with the majority of Russians."
The great weapons debate
Biden used the Kyiv visit to announce an additional $460 million in artillery and other military equipment going to Ukraine, but that package did not include new systems Zelenskyy has requested such as long-range missiles known as ATACMS. This indicates that "discussion in Washington about the fighting range and power of weapons provided to Ukraine is still far from being over," Oleh says.
Melinda points out that Biden's visit "raised expectations" for more assistance to come, "but every additional large assistance package Congress authorizes will be hard-fought."
While it is "remarkable" that US public support for backing Ukraine in a long fight has held steady—a recent Gallup poll found it at 65 percent—Melinda notes that "there are serious partisan differences between Republicans and Democrats, and we should only expect them to grow" as the 2024 US presidential campaign heats up.
Further reading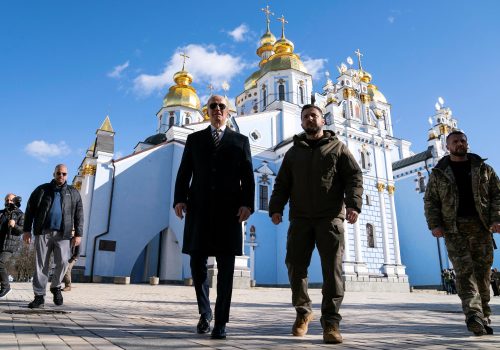 Mon, Feb 20, 2023
New Atlanticist By Atlantic Council experts
Atlantic Council experts share their insights on the importance of Biden's surprise trip to Kyiv and more at the one-year mark of Russia's full-scale invasion of Ukraine.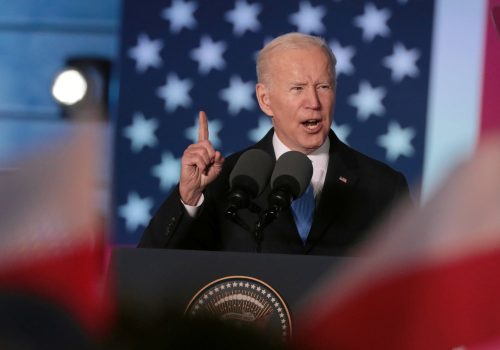 Fri, Feb 17, 2023
New Atlanticist By Daniel Fried
President Joe Biden is going to Warsaw to mark one year of war. Other than Ukraine itself, there is no better place than Poland for Biden to show what is at stake.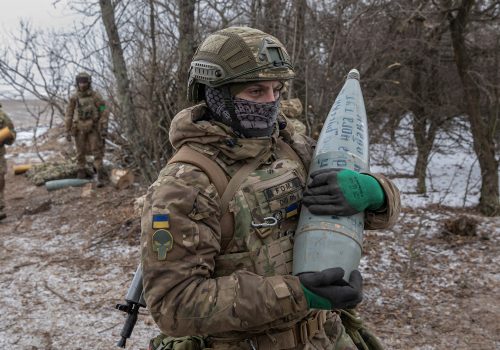 Thu, Feb 9, 2023
New Atlanticist By Justin M. Conelli
As the war reaches the one-year mark, leaders concerned about grand strategy need to weigh the suffering and resilience of the soldiers at the front.