On February 24, 2022, Russian President Vladimir Putin launched a war of imperial conquest against his neighbor. He made war rather than accept Ukrainian nationhood; the Ukrainian nation accepted war rather than submit to national extermination. And the war continues.
Putin's theory of victory assumed that Ukraine would fold quickly under Russian assault and that the West would squawk but accept it. He may have believed his own propaganda that Ukrainian political identity is nothing but a thin layer of nationalism imposed over a people otherwise happy to be folded into the Russian family. Many in the United States and Europe shared skepticism about Ukraine's staying power, an indication that, even after a generation of Ukrainian independence, its national identity was still underestimated, and the aura of Russian military greatness lingers when it should not.
Putin was wrong. Ukrainian resistance was astonishing in its success, reflecting the patriotism that has grown in recent years. Russia's assaults were incompetent and brutal, reflecting the nature of Putinism. And he was wrong about the transatlantic response to the war: With US leadership, the Free World rallied to support Ukraine with arms and money and to attack the Russian economy.
But the battle hangs in the balance. Putin may hope to freeze the front lines with his forces still in possession of significant Ukrainian territory and force a ceasefire on his terms, a pause during which Russia could refit and plan its next attacks.
One year into the war, US President Joe Biden is going to Warsaw on Monday to rally the Free World to maintain and intensify its support for Ukraine for what may be a long struggle. Other than Ukraine itself, there is no better place than Poland for Biden to show what is at stake.
Poles know from bitter experience the consequences of dictators able to start wars of conquest and extermination. Abstractions like "blow to the rules-based international order" are accurate but do not suffice. At the start of Russia's war in Ukraine, millions of Ukrainians fled to Poland, and Poles welcomed them into their private homes. When I asked Polish friends why, the answers were always the same: "Because that used to be us." Poland's response to Russia's war has been magnificent because Poles know, with the searing power of personal and family memory, that if he is not stopped, Putin, like dictators Adolf Hitler and Joseph Stalin before him, will push further, starting new wars against Moldova, Kazakhstan, the Baltics, Poland, Finland, and anywhere else that Putin believes is Russian imperial territory.
The Poles are right. What we see in Ukraine—cities destroyed, civilians massacred, children kidnapped, looting and pillaging, attempted eradication of Ukraine's culture—will spread if Putin is not defeated in Ukraine. That's why the Poles have pushed so hard for more weapons to Ukraine delivered faster and why they have sent so many of their own, including tanks. The stakes are immediate for them. And they should be for the United States and Western Europe as well. But for many, the war is still something "out there."
Biden gets it. He came of age in the shadow of World War II, and its lessons seem strong within him. His task in Warsaw is to take inspiration from Polish commitment and combine it with his own sound judgment to make the case for the Free World to help Ukraine win—to push back Russia's forces so that, whether through military defeat soon or diplomacy later, Putin's war of empire fails. Biden should make clear that, while Putin is in power, there is no going back to pre-war relations, no reset. As German leaders are starting to say (though perhaps not quite yet mean), European security must now be organized against Russia, not with Russia.
The United States has had bad experience with wars over the past twenty years. But Ukraine is fighting for its life, not asking for US or other forces to fight for them, and it can win. Its victory is not inevitable. But it is possible, and the United States and its allies have some ability to affect the outcome. The United States has a responsibility commensurate with that ability. Biden will be in Warsaw as a wartime president on the frontier of war, leading the Free World to victory over tyranny. If he makes the case well, it could be a defining moment for his legacy—and for the future of Europe.
---
Daniel Fried is the Weiser family distinguished fellow at the Atlantic Council and a former US ambassador to Poland and assistant secretary of state for Europe.
Further reading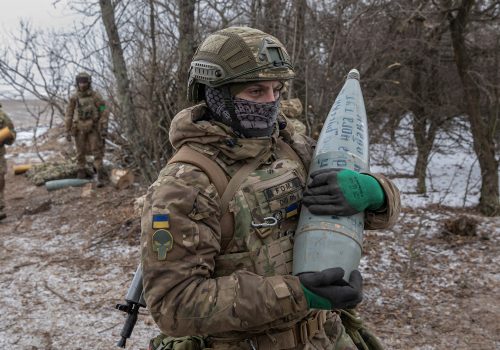 Thu, Feb 9, 2023
New Atlanticist By Justin M. Conelli
As the war reaches the one-year mark, leaders concerned about grand strategy need to weigh the suffering and resilience of the soldiers at the front.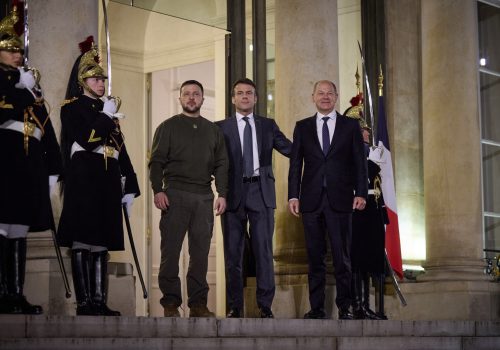 Thu, Feb 9, 2023
New Atlanticist By Atlantic Council experts
Ukrainian President Volodymyr Zelenskyy zipped from London to Paris to Brussels this week. His message to leaders and lawmakers was more military aid is needed.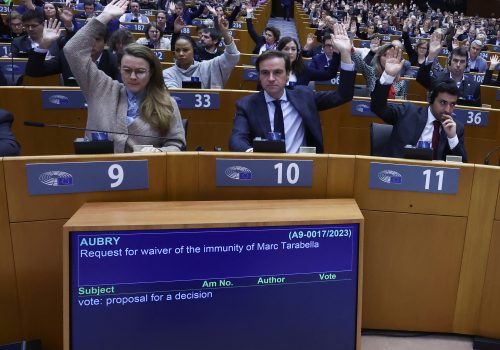 Thu, Feb 2, 2023
New Atlanticist By Atlantic Council experts
How will the EU continue to bolster its security? Can Brussels forge a new path toward better relations with its partners? Our experts give their recommendations on how to get there.