What's done cannot be undone. Wagner Group founder Yevgeniy Prigozhin launched a mutiny against the Russian ministry of defense this weekend, taking over the Southern Military District headquarters in the Russian city of Rostov-on-Don before turning toward Moscow. Then just as suddenly, he halted his advance without a violent confrontation. Hours after charging Prigozhin with treason, Russian President Vladimir Putin today agreed to drop the charges and Prigozhin was set to move to Belarus, whose strongman president negotiated the deal. What happened, and what does it say about the stability of Putin's regime and its war in Ukraine? Our experts are here to make sense of it all.
TODAY'S EXPERT REACTION COURTESY OF
Why now?
"This crisis has been building since last fall," explains John, when in the wake of Ukraine's successful counteroffensive, Prigozhin began to criticize Defense Minister Sergei Shoigu and General Valery Gerasimov for their failures on the battlefield in Ukraine.
The Kremlin recently tried to rein in Prigozhin by requiring private defense company soldiers to sign contracts with the Ministry of Defense by July 1. "Prigozhin loudly refused to do so. It may well be that he struck now because he saw that deadline as a danger to his control of his troops," John adds. As part of today's deal struck with Prigozhin, the Kremlin said Wagner troops will sign agreements with the Ministry of Defense. 
A main takeaway for Hanna is that "Prigozhin's armed rebellion indicates a political crisis within Russia and shatters the myth of Russia's invincibility and overwhelming power."
"In terms of numbers of forces available, Prigozhin didn't stand a chance," says Dan. But, he adds, "Putin's problem" is that the forces were available in theory but not in practice, with many Russian military personnel and resources instead fighting a failing war in Ukraine.
Subscribe to Fast Thinking email alerts
Sign up to receive rapid insight in your inbox from Atlantic Council experts on global events as they unfold.


What stopped him?
An unexpected figure stepped in to negotiate and claimed credit for the deal that ended the coup attempt: Belarusian dictator Alyaksandr Lukashenka. "Since the beginning of the full-scale invasion, Lukashenka has declared unwavering loyalty to the Kremlin," Hanna notes, even though this is unpopular with the Belarusian public.
While Lukashenka's position could be strengthened by this mediation, his regime might face long-term repercussions. "The Belarusian democratic forces and the Kalinouski regiment fighting in Ukraine against the Russian troops may use these chaotic developments to appeal to the elites and the military to side with them," Hanna says. 
"Whatever arrangements Prigozhin has extracted," Dan says, "Putin's authority is diminished, as was Gorbachev's after Boris Yeltsin defeated the coup. And this is worse: In 1991 the coup failed. But Prigozhin seems to have pulled off something."
What's next?
"It's like Prigozhin is the person who looked behind the screen at the Wizard of Oz and saw the great and terrible Oz was just this little frightened man," says John. "Putin has been diminished for all time by this affair."
"It may not be a 1917 moment for Russia," says Dan, drawing a comparison with the fall of Czar Nicholas II of Russia. "But the hot breath of failure is coming closer to Putin."
Further reading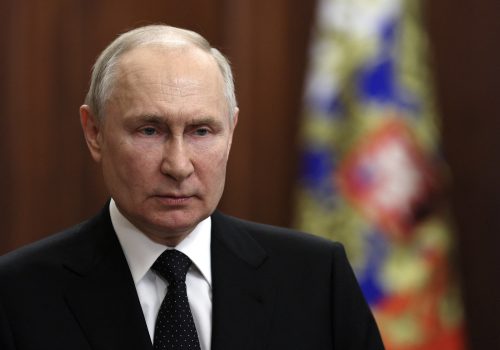 Sat, Jun 24, 2023
New Atlanticist By John E. Herbst
Most analysts have argued that Putin's control in Russia was rock solid. That Prigozhin got this far suggests otherwise.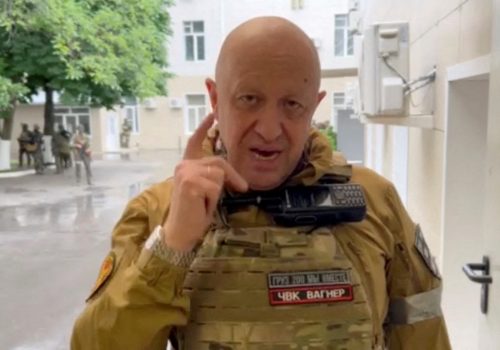 Sat, Jun 24, 2023
New Atlanticist By Digital Forensic Research Lab
A special edition of the Russian War Report on Wagner Group's mutiny against the Russian military and occupation of Rostov.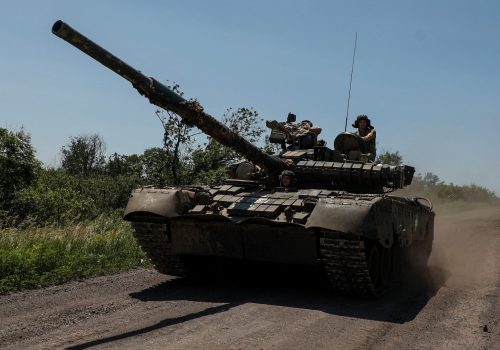 Thu, Jun 22, 2023
UkraineAlert By Peter Dickinson
Ukraine's summer counteroffensive has barely begun and already some are dismissing it as a failure due to lack of immediate progress. In reality, the unfolding campaign is a marathon and not a blitzkrieg, writes Peter Dickinson.