The NATO Summit's underwhelming support for Ukraine
It's a fast track with a slow start. NATO leaders meeting in Vilnius today released their summit communiqué, in which they said that Ukraine no longer needs to complete a membership action plan to join the Alliance—but that an invitation would only be extended "when allies agree and conditions are met." In the meantime, the allies pledged to work closely with Kyiv through a newly established NATO-Ukraine Council. With Ukrainian President Volodymyr Zelenskyy's biggest request—a timeline for membership—unfulfilled, have allies truly bolstered Ukraine's security as it battles against Russia's full-scale invasion? What else did the Alliance agree to regarding Russia and Ukraine? Our experts, who are all at the center of the action in Vilnius, decode the communiqué.
TODAY'S EXPERT REACTION COURTESY OF
John E. Herbst (@JohnEdHerbst): Senior director of the Atlantic Council's Eurasia Center and former US ambassador to Ukraine
Rachel Rizzo (@RachelRizzo): Nonresident senior fellow at the Europe Center
Christopher Skaluba: Director of the Scowcroft Center's Transatlantic Security Initiative and former principal director for European and NATO policy at the US Defense Department
Roadmap or roadblock?
John tells us that the communiqué's conditional language and lack of timeline amounts to "not much movement beyond the 2008 Bucharest NATO Summit language noting that Ukraine would eventually be a member."
That's remarkable given that the 2008 language, which also encompassed prospective Georgian membership, "has been derided for years for placing both Georgia and Ukraine in the worst strategic position possible," Rachel observes, with multiple Russian invasions of both countries occurring in the intervening years. "The problem with vague language like this is that it kicks the can down the road."
"Inside the geeky NATO universe, the upgrading of the NATO-Ukraine Commission to Council status and the removal of formal membership action plan requirements for Ukraine are significant developments," Chris adds. "But neither packs a political punch or will be viewed as real progress on the membership question."
There was also no mention in the communiqué of security guarantees for Ukraine "that were broadly promised in the run-up to the summit," Chris notes. "The combination of these things makes for an underwhelming package for Ukraine, though some small hope remains for better outcomes at tomorrow's inaugural NATO-Ukraine Council meeting."
Subscribe to Fast Thinking email alerts
Sign up to receive rapid insight in your inbox from Atlantic Council experts on global events as they unfold.


DC drama
John relays that the communiqué's release was delayed due to the "clear disagreement" between the United States and Germany on one side, and Nordic, Eastern European, and some Western European allies on the other with regard to Ukraine's membership. Both sides had to bend a bit to get to the final consensus language. "The end result was not quite inspiring," he says.
But inspiration could always strike: The Alliance will celebrate its seventy-fifth anniversary next year with a Washington summit, which offers US President Joe Biden "a chance to establish a legacy as an outstanding national security president," John argues. To make that happen, he adds, Biden will need to "provide Ukraine all the weapons it needs to defeat the Kremlin on the battlefield" and "move beyond caution to hasten the anchoring of Ukraine in NATO."
Rachel fears more disappointment ahead, whether at the Washington summit or ten years from now, when "NATO allies will come face to face with the undeniable truth that all allies might not ever be on the same page regarding Ukraine's NATO membership. That's a tough pill for many to swallow, but it might just be reality."
Defensible moves
John welcomed the communiqué's labeling of Russia as "the most significant and direct threat" to the Alliance. "This is an important reminder that US and NATO support for Ukraine is not philanthropy, but the smart way to defend our vital interests," he explains.
Chris points out that on the positive side, the Vilnius gathering will be remembered as another "enlargement summit" because of Monday's deal with Turkey paving the way for Sweden's accession.
Flying under the radar, the allies also agreed to adopt "some four thousand pages of classified regional plans for the defense of NATO territory," Chris says. This move "completes a shift, started in 2014 after Russia's invasion of Crimea, to a deterrence-by-denial strategy absent since the waning days of the Cold War. Heady stuff."
Further reading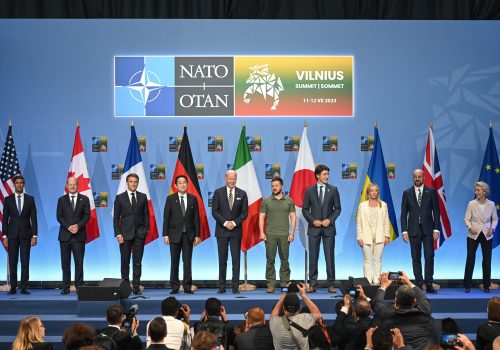 Tue, Jul 11, 2023
New Atlanticist By Atlantic Council experts
Atlantic Council experts decode the summit's implications for Ukraine's membership, NATO's approach to China, and more.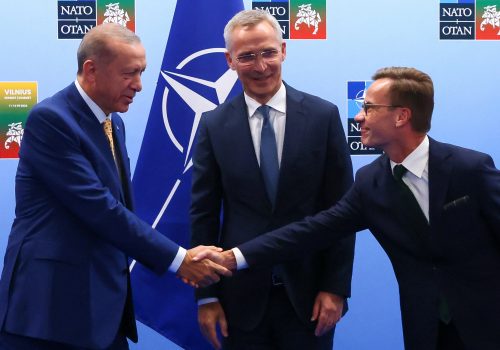 Mon, Jul 10, 2023
New Atlanticist By Atlantic Council experts
Atlantic Council experts weigh in on what's behind this dramatic and consequential turnabout from Erdoğan and what to expect next.