On January 20, 1981, Republican President Ronald Reagan started his first inaugural address with words that take on greater meaning after the past week, during which Republican President Donald Trump cast doubt twice on whether he would accept an outcome that went against him in an election that is now less than forty days off.
"To a few of us here today this is a solemn and most momentous occasion, and yet in the history of our nation it is a commonplace occurrence," said Reagan of the passing of the torch from President Carter to himself, even as 52 Americans being held hostage in Iran were being released. "The orderly transfer of authority as called for in the Constitution routinely takes place, as it has for almost two centuries, and few of us stop to think how unique we really are. In the eyes of many in the world, this every-four-year ceremony we accept as normal is nothing less than a miracle."
It's worth reflecting on Reagan's words, given President Trump's conviction that mail-in ballots could be widely fraudulent and thus color whether he should accept the electoral outcome. Fox News Sunday anchor Chris Wallace is likely to provide President Trump another shot at this question in the first presidential debate on Tuesday. 
I retain my fundamental optimism in the power and remarkable resilience of US democratic institutions, which have survived wars, impeachments and assassinations. I badly also want to agree with the lead Wall Street Journal editorial Thursday that argued "the notion that Mr. Trump could stop a peaceful transition of power is preposterous."
After all, Republican Senate and House leaders have repudiated Trump's remarks, military leaders have said it won't be their soldiers' job to adjudicate elections, and if Congress hasn't certified a winner by the time Trump's term ends on Jan. 20, Speaker of the House Nancy Pelosi will step in as president.
So, we should all stop worrying, right? Perhaps not.
Get the Inflection Points Newsletter
Subscribe to Frederick Kempe's weekly Inflection Points column, which focuses on the global challenges facing the United States and how to best address them.
It's worth reading more deeply into The Wall Street Journal's reasoning that "the media and intelligentsia have worked themselves into a frenzy over imaginary fears that Mr. Trump will somehow remain in office by force if he loses the 2020 election."
Argues the lead editorial: "The rule of law is vital to free and fair elections, and Mr. Trump is right not to foreswear his legal options. Yet his reckless comments give credence to Democratic hysteria, and he should clarify his views if he doesn't want to lose more voters who think he lacks the temperament or self-control for the office."
Tuesday would be a good time for him to start.
Both candidates, Trump and Biden, should foreswear declaring themselves as the victor until all the votes are counted and the process itself has produced an outcome. In advance, both should appeal to their supporters to remain calm in the hours and perhaps days after Nov. 3. They shouldn't take the electoral contest into the streets – and they should foreswear violence in the strongest terms.
One can hardly imagine a more important year for the American democratic process to run smoothly, with China leading an authoritarian swing as its economy emerges first from Covid-19′s economic and social hit. The unfolding contest of democratic and autocratic systems will be generational, but it will be a harder one to win if the United States is divided, distracted and unable to build on the inspiration it has provided democratic change since its revolution.
 My non-American friends have long argued – and they are only half-joking – that they should be granted the right to vote in our elections because our choice touches everyone in the world.
This year their messages have been more laden with doubts about the durability of our democracy, which stood nearly alone at the end of the 18th century.
"In 1787 you created a wonderful constitution out of the ideas of the European enlightenment, with checks and balances, protection of minorities and inalienable rights," wrote Friedbert Pflüger, a close friend and former Christian Democratic Union member of the German Bundestag, in an email just a few days ago. "These convictions are the manifest destiny of the USA, and it is above all on them that its attractiveness and strength in the world is based."
 "We watch in astonishment as your president breaks taboos one by one," wrote Friedbert. "Will Trump accept an electoral defeat, especially a narrow one? Are we heading for a coup d'état and civil war? Is there a threat of a nationalistic autocratism in the center of the Western world?"
Such doubts are unsettling US allies, they are encouraging autocratic adversaries, and they are even beginning to unsettle capital markets that have taken for granted that the world's reserve currency is backed up by the world's most stable democracy that represents common values.
Speaking at the Atlantic Council this week, House Democratic Majority Whip Jim Clyburn, himself a survivor and product of U.S. civil rights upheavals, recalled that 19th Century historian Alexis de Tocqueville said that what made the United States great was not that it is "more enlightened than any other nation, but rather because we've always been able to repair our faults."
What's at stake, he said, is whether the United States once again can successfully engage in repair work and thus arrest an ongoing recession in democratic rights and countries globally since 2006.
Whoever wins the November elections should recall that his role is to continue the work that produced the American miracle and all its global good. "I also see problems here in Germany and Europe," wrote Friedbert. "We certainly have no reason for self-righteousness. But we need a well-meaning USA as a trustee and defender of the West."
In his inaugural, Reagan turned to President Carter and said, "Mr. President, I want our fellow citizens to know how much you did to carry on this tradition. By your gracious cooperation to the transition process, you have shown a watching world that we are a united people pledged to maintaining a political system which guarantees individual liberty to a greater degree than any other, and I thank you and your people for all your help in maintaining the continuity which is the bulwark of our Republic."
This article originally appeared on CNBC.com
Frederick Kempe is president and chief executive officer of the Atlantic Council. You can follow him on Twitter @FredKempe.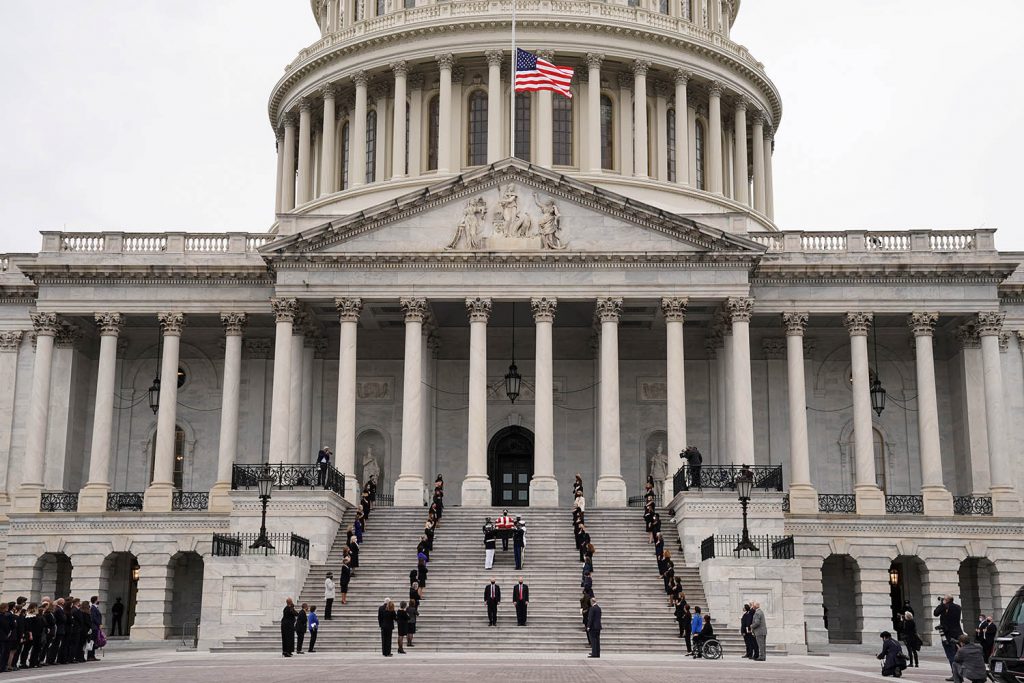 THE WEEK'S TOP READS
This week's top reads begin with historian Timothy Naftali's reflection in Foreign Policy on the history of democratic presidential transitions and why this year could produce the worst one yet.

Writing in The Atlantic, Barton Gellman digs deeper on the worse case scenarios, and election experts Nathaniel Persily and Charles Stewart III in The Wall Street Journal provide a counterpoint on why everything may go better than anticipated.

Also, don't miss WSJ columnist Peggy Noonan's take on the fight to replace Supreme Court Justice Ruth Bader Ginsburg and why it would be better not to add more trouble to the already combustive mix of pandemic, recession, racial upheavals and electoral transition concerns.  

Finally, Inflection Points is going to keep its eye on all-things-China, with one piece looking at how Beijing's economic rebound isn't as impressive as it looks and another pondering how China might someday weaponize its massive holdings of US debt.
#1 US PRESIDENTIAL TRANSITIONS
A Perilous Presidential Handoff 
Timothy Naftali / FOREIGN POLICY
One of my favorite historians, Timothy Naftali, produced for Foreign Policy an excellent primer on the fraught history of democratic presidential transitions since the United States produced the world's first such transfer of power some 220 years ago.

"Even without the added drama of the current presidency, the prospect of a U.S. presidential transition in November raises international anxiety and concern," Naftali writes. "The long duration of the transition, coupled with the large-scale replacement of the U.S. policymaking elite, has traditionally been a source of disruption in U.S. foreign policy."

Naftali expects this year to bring "one of the very worst of such transitions," but even that could be positive in prompting Americans to rethink how they might fix the "presidential twilight zone" after an election and before an inauguration. Read More →
#2 WORST CASE SCENARIO
The Election That Could Break America
Barton Gellman / THE ATLANTIC
Writing in The Atlantic, Barton Gellman provides the most compelling look at all that could go wrong around November elections and the aftermath.

"The danger is not merely that the 2020 election will bring discord," writes Gellman. "Those who fear something worse take turbulence and controversy for granted. The coronavirus pandemic, a reckless incumbent, a deluge of mail-in ballots, a vandalized Postal Service, a resurgent effort to suppress votes, and a trainload of lawsuits are bearing down on the nation's creaky electoral machinery."

Gellman impressively walks through the options available to a President Trump who "sheds all restraints," while also leaving open the option of an Election Night landslide that "leaves no doubt." Read More →
#3 BEST CASE SCENARIO
Actually, We'll Know a Lot on Election Night
Nathaniel Persily and Charles Stewart III / THE WALL STREET JOURNAL
Two directors of the Stanford-MIT Healthy Elections Project argue that the U.S. election nightmare scenarios ignore key facts that could produce a clearer outcome more quickly than worst case scenarios anticipate.
They say that is because most states begin processing ballots before election day, almost all put them through scanners before the polls close, and they list key battleground states where the counts "may be released a few hours later than they might in another year, but not days later."
And how to counteract those inevitable voices who will be out to undermine U.S. confidence in the election mechanics? They prescribe that election officials and journalists fill whatever voids occur with a deluge of solid facts about the counting.  Read More →
#4 THE SUPREME COURT DECISION
The Truth About People of Praise 
Peggy Noonan / THE WALL STREET JOURNAL
Regular readers know I often turn to Peggy Noonan, Wall Street Journal columnist and former Reagan speech writer, for a richly readable voice of reason when the country is stirred up and divided. So read this Republican's argument for why one should "hold off, lower the temperature," and not replace Ruth Bader Ginsburg's seat on the Supreme Court before the election.
"In a great and varied nation of 330 million people some tact is in order, some give, some deference to what is important to others," she writes. "We won't survive otherwise."
Noonan continues, "So we're about to have – in the middle of a pandemic, an unprecedented economic emergency, a new and enduring wave of racial division, and a distinctively passionate presidential election featuring an incumbent who won't even say he will accept the final results – a new layer of turmoil, the confirmation of a new Supreme Court Justice.
"And it will be ugly." Read More →
#5 CHINESE ECONOMY WATCH
China Backslides on Economic Reform
Kevin Rudd and Daniel Rosen / THE WALL STREET JOURNAL
China Holds a Lot of America's Debt — Could Beijing Weaponize It?
Scott B. MacDonald / THE NATIONAL INTEREST
As China emerges first among major powers from the worldwide, COVID-19 economic hit, Inflection Points will continue to track stories of importance tracking the evolution of what has already become – or will soon become – the world's largest economy (depending on what measure you like).
So read Kevin Rudd and Daniel Rosen in the Wall Street Journal on how China's economic "rebound is real, but behind the short-term numbers the economic restart is dubious." They see an uneven bounce fueled by infrastructure construction while consumption is still falling. Read More →
Scott B. MacDonald provides a useful look in the National Interest at scenarios regarding how China might manage its huge holdings and continued purchases of U.S. government debt should bilateral tensions worsen considerably. One potential outcome is that "China could dump its U.S. treasury holdings, taking a financial hit, but also sending a financial torpedo into the U.S. economy (and other Western economies and holders of U.S. debt.)" Read More →
QUOTE OF THE WEEK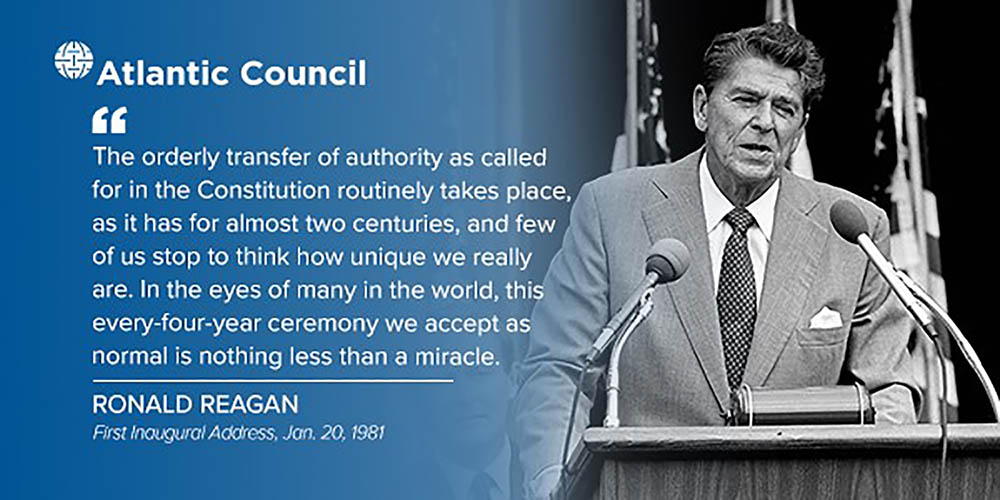 ATLANTIC COUNCIL TOP-READS