An #ACFrontPage event
Atlantic Council Front Page is our premier live ideas platform for global leaders to discuss the defining challenges of our time.
Atlantic Council Front Page
#ACFrontPage harnesses the convening power and expertise of the Council's fourteen programs and centers to spotlight the world's most prominent leaders and the most compelling ideas across sectors. The virtual platform engages new audiences eager for nonpartisan and constructive solutions to current global challenges. This widely promoted 45-minute program features the Council's most important guests and content serving as the highlight of our programming each week.
Please join the Atlantic Council for A conversation with Belarusian opposition leader Sviatlana Tsikhanouskaya on Monday, December 7, at 10:00 a.m. (EST).
Belarus has been rocked by mass protests since its longtime authoritarian leader, Alyaksandr Lukashenka, claimed victory in the country's rigged August 9 presidential election. After being forced to flee the country due to threats to her family, Sviatlana Tsikhanouskaya—widely recognized by the international community as the real winner of the election—has led the Belarusian opposition movement while conducting an international campaign to rally support for the Belarusian people in their peaceful protests to remove Lukashenka from power. With firm backing from Russian President Vladimir Putin and an inability to keep protesters from filling the streets each week, Lukashenka and his security forces have illegally detained, beaten, and tortured Belarusians for demonstrating against his government. Tsikhanouskaya has fought for the advancement of self-determination, human rights, and freedom in Belarus, and is the recipient of the European Union's Sakharov Prize, the bloc's top human rights award. Today, Tsikhanouskaya continues to lead the Coordination Council for the Transfer of Power, recognized by EU lawmakers as the legitimate representative of the Belarusian people.
This live event is part of the Atlantic Council's #ACFrontPage event series, a new ideas platform spotlighting global leaders who are championing constructive solutions to global challenges. This event featuring Sviatlana Tsikhanouskaya is hosted by the Atlantic Council's Eurasia Center.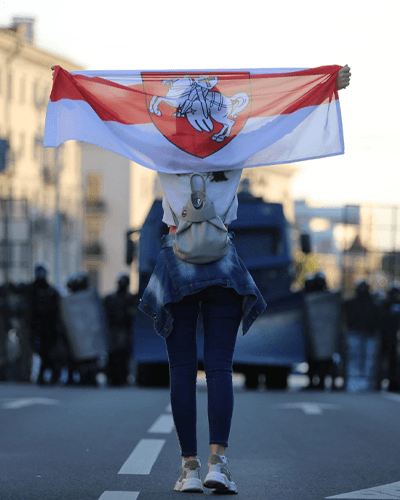 Belarus
Belarus' August 2020 presidential election saw widespread protests and serious fraud allegations as President Lukashenka claimed victory against popular opposition candidate Sviatlana Tsikhanouskaya. Following a brutal crackdown against protestors by security forces, will Belarus begin its transition to democracy, or will Belarusians face further repression as Lukashenka's rule falters?


The Eurasia Center's mission is to enhance transatlantic cooperation in promoting stability, democratic values and prosperity in Eurasia, from Eastern Europe and Turkey in the West to the Caucasus, Russia and Central Asia in the East.
Follow us on social media
and support our work