As the global community continues to grapple with the coronavirus (COVID-19), the Atlantic Council is open for business. Our business, meetings, and events, however, are occurring virtually. For more information, please read an update from our President and CEO.
Join the Atlantic Council Global Energy Center on Wednesday, April 21, from 10:00 AM – 11:20 AM EDT for a conversation on the state of the offshore wind industry and the opportunities it presents for meeting climate ambitions.
As the offshore wind industry faces a rapid expansion under an increasingly ideal set of regulatory and economic conditions, the technology stands to play a significant role in meeting climate targets globally. In this moderated discussion, panelists and speakers will discuss key opportunities for the industry to help meet these goals, and the policy frameworks that are guiding the industry.
This event is part of Atlantic Council "Raising Ambitions" events series, which focuses on the higher climate ambitions that the Biden-Harris administration hopes to realize at home and abroad. It will evaluate key technologies critical to helping reach these goals, emphasize sectoral approaches to decarbonization, and highlight that countries are enhancing their commitments to climate action. The aim is to build momentum in advance of the United States' Leaders' Climate Summit in April and encourage increased ambition from public and private sector actors.
Join this conversation via the web application Zoom, which is accessible through your web browser, the Zoom desktop or mobile app, and by phone. If you wish to join the question and answer period, you must join by app or web. Please register below to receive further information on how to join the virtual audience.
Agenda
Opening remarks by
Amb. Richard Morningstar
Founding Chairman, Global Energy Center
Atlantic Council
Keynote address by
Amb. Tomas Anker Christensen
Climate Ambassador
Kingdom of Denmark
A conversation with
Shinichi Kihara
Deputy Commissioner for International Affairs, Agency for Natural Resources and Energy
Ministry of Economy, Trade and Industry, Japan
Shawn LaTourette
Acting Commissioner
New Jersey Department of Environmental Protection
Albinas Zananavicius
Vice Minister of Energy, Ministry of Energy
Republic of Lithuania
Heather Zichal
Chief Executive Officer
American Clean Power
Moderated by
Margaret Jackson
Deputy Director, Climate and Advanced Energy
Atlantic Council Global Energy Center
Closing conversation with
H.E. Kadri Simson
European Commissioner for Energy
European Commission
Introduced by
Frederick Kempe
President and CEO
Atlantic Council
Related content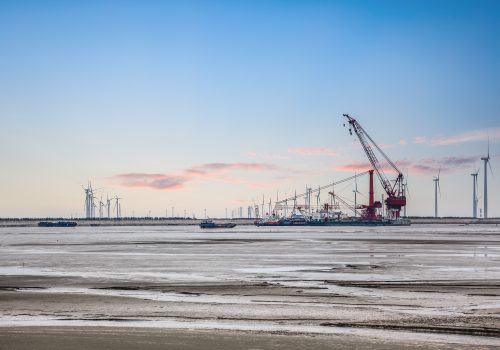 Tue, Mar 30, 2021
The White House just released a plan to "jumpstart" the offshore wind industry in the United States, as one of the major catalysts to fulfill then-candidate Joe Biden's campaign promise to boost the energy transition and create ten million clean energy jobs in the process. Within the first week of his presidency, President Biden issued […]
EnergySource by Margaret Jackson and Maria Castillo
Subscribe to DirectCurrent
Sign up for the Global Energy Center newsletter to stay up to date on the program's work.