As the global community continues to grapple with the coronavirus (COVID-19), the Atlantic Council is open for business. Our business, meetings, and events, however, are occurring virtually. For more information, please read an update from our President and CEO.
Event Recap
On August 4, 2021, the Atlantic Council IN TURKEY organized a webinar on Turkey-Israel relations in a changing geopolitical landscape. The virtual event brought together experts from the United States, Turkey, and Israel to discuss the future of Turkey-Israel relations and the importance it holds for both stability in the region and US interests.
The event featured a distinguished panel composed of former Israel-based Bloomberg Middle East correspondent and nonresident senior fellow at the Atlantic Council Middle East Programs Jonathan Ferziger; former permanent representative and ambassador of Turkey to the OECD Mithat Rende; and nonresident senior fellow at the Atlantic Council's Global Energy Center Brenda Shaffer. The panel was moderated by Atlantic Council nonresident senior fellow at the Eurasia Center, Global Energy Center and Atlantic Council IN TURKEY Matthew J. Bryza and hosted by Atlantic Council IN TURKEY Director Defne Sadıklar Arslan, who delivered welcoming remarks.
In her opening remarks, Defne Arslan underlined the importance of relations between Turkey, a NATO ally, and Israel, the US' closest ally in the Middle East, for US interests which could play an even more important role given the US' gradual withdrawal from the region. Arslan also noted the two countries' overlapping strategic interests, and the potential for deepening economic relations and energy cooperation.
Speaking from Jerusalem, Jonathan Ferziger said that despite the state of political relations for the past almost 15 years, trade between Turkey and Israel has flourished which is something the two countries can build upon to better their ties. Ferziger described the recent call between the Presidents of Turkey and Israel a positive but small step, pointing out that the Presidency in Israel is a largely ceremonial position. Ferziger argued that although it may be challenging politically for the Israeli government to repair relations with Turkey, especially with former Prime Minister Netanyahu potentially derailing efforts, the newly formed Israeli administration can actually be conducive as a blank slate.
Ambassador Rende said that he believes the current geopolitical landscape in the region and domestically for both countries will assist in the normalization of ties between Israel and Turkey, and that the focus in setting a positive agenda and extending cooperation should be on common goals like trade, tourism and energy. In particular, on energy, Rende argued that the best way to monetize the natural gas deposits off of Israel is through the Turkish market and that Turkey should be invited to join and collaborate on the East Mediterranean Gas Forum rather than being excluded. As for next steps to restore the trust and confidence gap between the two countries, Rende argued that both sides should appoint ambassadors, establish bilateral working groups and stop the pattern of communicating with harsh rhetoric through the media. Lastly, Rende pointed out about how reconciliation with Israel would help improve Turkey's image among legislators and policymakers in the United States.
Brenda Shaffer argued that the United States should play a more active role in cultivating ties between Turkey and Israel, arguing that part of the role of a superpower is to manage relations between its allies and that previous American administrations, have not done a good job in this. Shaffer agreed with Ambassador Rende that Turkey is the most suitable market for Israeli gas, calling the undersea pipeline to Greece unrealistic. Shaffer also pointed out that imports from Israel can help reduce and replace imports from Russia and Iran. Lastly, Shaffer argued that as the Abraham Accords were Netanyahu's success, it might drive the Lapid-Bennett government to normalize ties with Turkey as their own foreign policy achievement.
In general, the panel, as well as the moderator Matthew Bryza, was optimistic regarding the future of Turkey – Israel relations and identified and discussed several overlapping areas of interest and opportunities, such as on energy cooperation. They emphasized that other political disagreements can be put aside and handled diplomatically while simultaneously fostering a strong economic and political bond between both countries.
Concept
Relations between Turkey and Israel have been historically low since a diplomatic rift in 2010, characterized by an atmosphere of mutual distrust and punctuated by recurring crises. Historically, as the United States' two closest allies in the region, Turkey and Israel had enjoyed a close strategic relationship.
The recent change in Israel's government presents a new opportunity and environment for the two countries to engage in dialogue. In the past month, the newly elected President of Israel held a phone call with his Turkish counterpart where both expressed their desire and optimism to improve bilateral relations.
Despite the sharp downturn in political relations over the past decade, economic relations between Turkey and Israel have been steadily increasing. In spite of political tension, the trade volume over the past 7 years has increased by about 10 percent to $6.2 billion. Energy has emerged as an area of potential cooperation. The discovery of offshore natural gas deposits in the Eastern Mediterranean has created an opportunity and challenge around the region as policymakers seek to utilize and export the resources. As the largest economy and energy consuming country in the region, Turkey is a natural destination for the gas, much of which is located in Israel's exclusive economic zone. Other fields for potential business cooperation can be in new technologies and the health sector.
Turkey and Israel also have overlapping or shared concerns around the region including on the Syrian Civil War and Iran's aggressive regional posture and would benefit from a more cooperative security and intelligence relationship. Furthermore, it is in the interest of the United States, particularly as it continues to reduce its footprint in the Middle East, to foster relations between its close Middle Eastern ally Israel and NATO partner Turkey.
The landmark Abraham Accords between Israel and Arab states in 2020 indicates a shifting geopolitical landscape and the changing nature of Israel's relations with neighboring powers. As an important regional player with growing defensive capabilities, Turkey has an important role to play in this changing Middle East.
Agenda
Panelists
Jonathan H. Ferziger
Nonresident Senior Fellow, Middle East Programs, Atlantic Council
Former Bloomberg Middle East Correspondent
Amb. Mithat Rende
Former Ambassador and Permanent Representative of Turkey to the OECD
Prof. Brenda Shaffer
Nonresident Senior Fellow, Global Energy Center
Atlantic Council
Moderated by
Amb. Matthew J. Bryza
Nonresident Senior Fellow, Atlantic Council IN TURKEY, Global Energy Center & Eurasia Center
Atlantic Council
Welcoming remarks
Defne Arslan
Director, Atlantic Council IN TURKEY
Atlantic Council
Relevant experts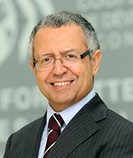 Mithat Rende, Former Permanent Representative of Turkey to the OECD
Mithat Rende served as Ambassador and Permanent Representative of Turkey to the OECD between 2013- 2016. He was elected as Chairman of the Executive Committee of the OECD. Prior to his appointment to the OECD, Ambassador Rende held the position of Director General for Multilateral Economic Affairs responsible for global issues, energy and environment at the MFA between 2009-2013. During this period, he was Turkey's Chief Climate Change Negotiator, the Turkish Point of Contact to the UN Panel on the Humanitarian Aid Convoy Incident and member of the Turkish Nuclear Energy Commission. Between 2005-2008, he was Turkey's Chair of the Trade and Transit Group of the Energy Charter. Mr. Rende was appointed as Turkey's Ambassador to Doha-Qatar between 2007-2009. Earlier in his career, Ambassador Rende served at Turkey's missions to NATO and the OSCE and at embassies in Bulgaria and the United Kingdom, where he also assumed the position of Deputy Permanent Representative of Turkey to the International Maritime Organization (IMO) during which he dealt extensively with law of the sea, Turkish Straits and energy issues. Ambassador Rende received his BA in Political Science and Economics from the Faculty of Political Science- University of Ankara. He completed the post graduate program of Royal College of Defense Studies in London in 1999. In 1982, he was accepted to the Ministry of Foreign Affairs (MFA) with honors. He has lectured on diplomacy and negotiations and published in various academic journals.