His Excellency Mark Rutte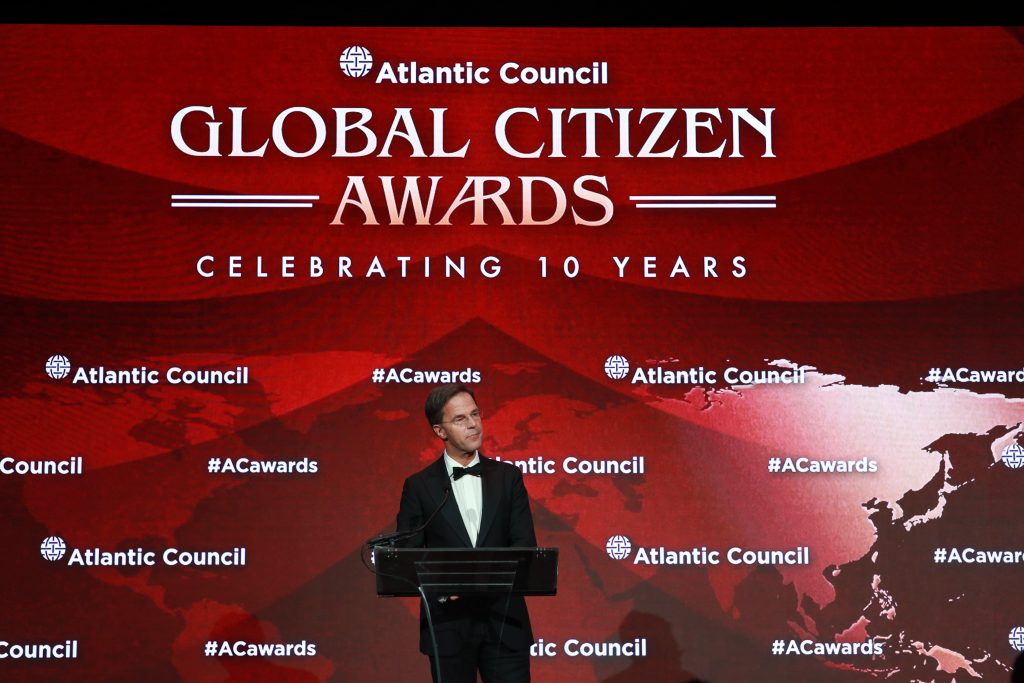 The tenth annual Atlantic Council Global Citizen Awards honored Prime Minister of the Netherlands Mark Rutte.
About Prime Minister Mark Rutte
Prime Minister Mark Rutte receives his award
Twitter coverage
Facebook Live
Prime Minister of the Netherlands Mark Rutte took a few minutes this evening at the Global Citizens Awards to talk to the Atlantic Council's Vice President Damon Wilson about the pressing issues facing our transatlantic relationship.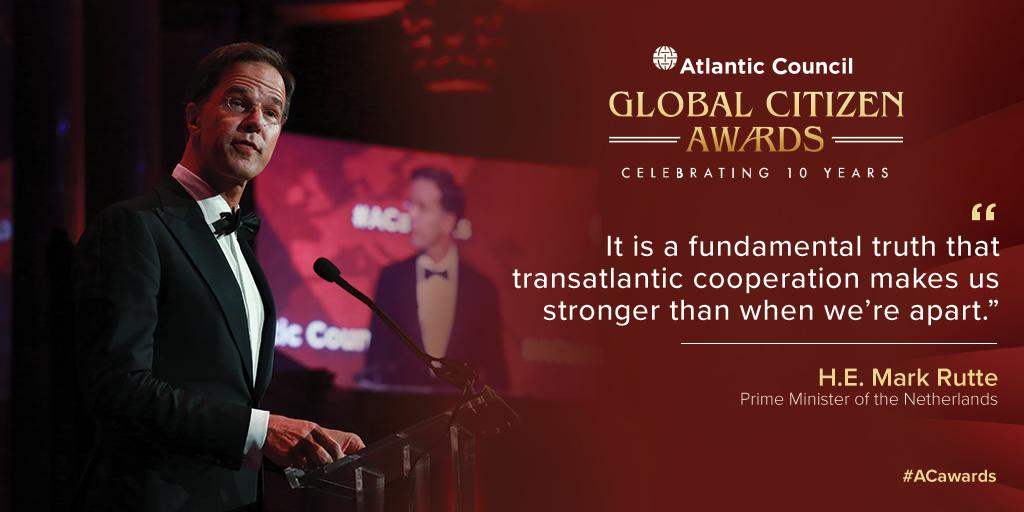 More about Prime Minister Mark Rutte
Mark Rutte grew up as the youngest in a family of seven children in The Hague, the city on the North Sea where parliament sits and the Dutch royal family has its residence. He still lives there today. After obtaining his high school diploma he considered going to conservatory to study piano, but in the end he decided to read history at Leiden University. He was politically active as a student and for a number of years he was national chair of the liberal youth organization. After completing his studies, he had a career as human resources manager (and later director) at various subsidiaries of Unilever.
Although he had been a very active member of his party, the People's Party for Freedom and Democracy (VVD), for some time, he did not make the transition from the world of business to politics until 2002. His first position as a member of government was as State Secretary for Social Affairs and Employment, which he held for two years. He was subsequently State Secretary for Education, Culture, and Science, also for two years. In 2006 he was selected, in an internal vote, to head the VVD's electoral list. After several years in opposition, he and his party won a historic electoral victory in 2010. Since then he has led three successive governments, with various coalition partners. The current government, which consists of four parties, took office in 2017.
Mark Rutte is now one of the longest serving and most experienced heads of government in Europe. In recent years his appreciation of the importance of international cooperation has grown ever deeper. He is committed to a strong European Union that focuses on the major issues. He has made no secret of his feelings about the United Kingdom's departure from the EU. "I hate Brexit from every angle," he has said on various occasions. Internationally, he champions effective multilateral cooperation and strong transatlantic ties. In July of this year he met with US President Donald J. Trump in the White House to further strengthen these ties.
At home and abroad, Rutte is seen as a result-oriented and pragmatic bridge-builder. He is known for his aversion to sweeping, ideological visions and for his optimistic and sanguine attitude toward life. Rutte is single. In addition to his work as prime minister he has taught weekly classes at a high school in The Hague for over ten years.