will.i.am
Global Citizen Awards by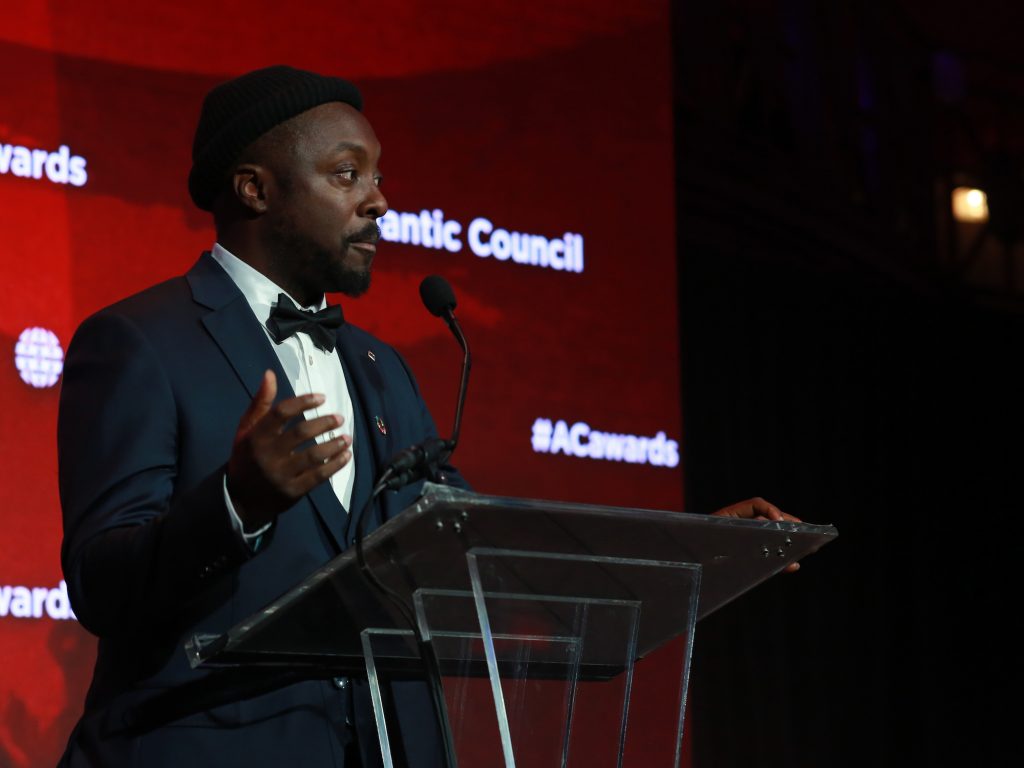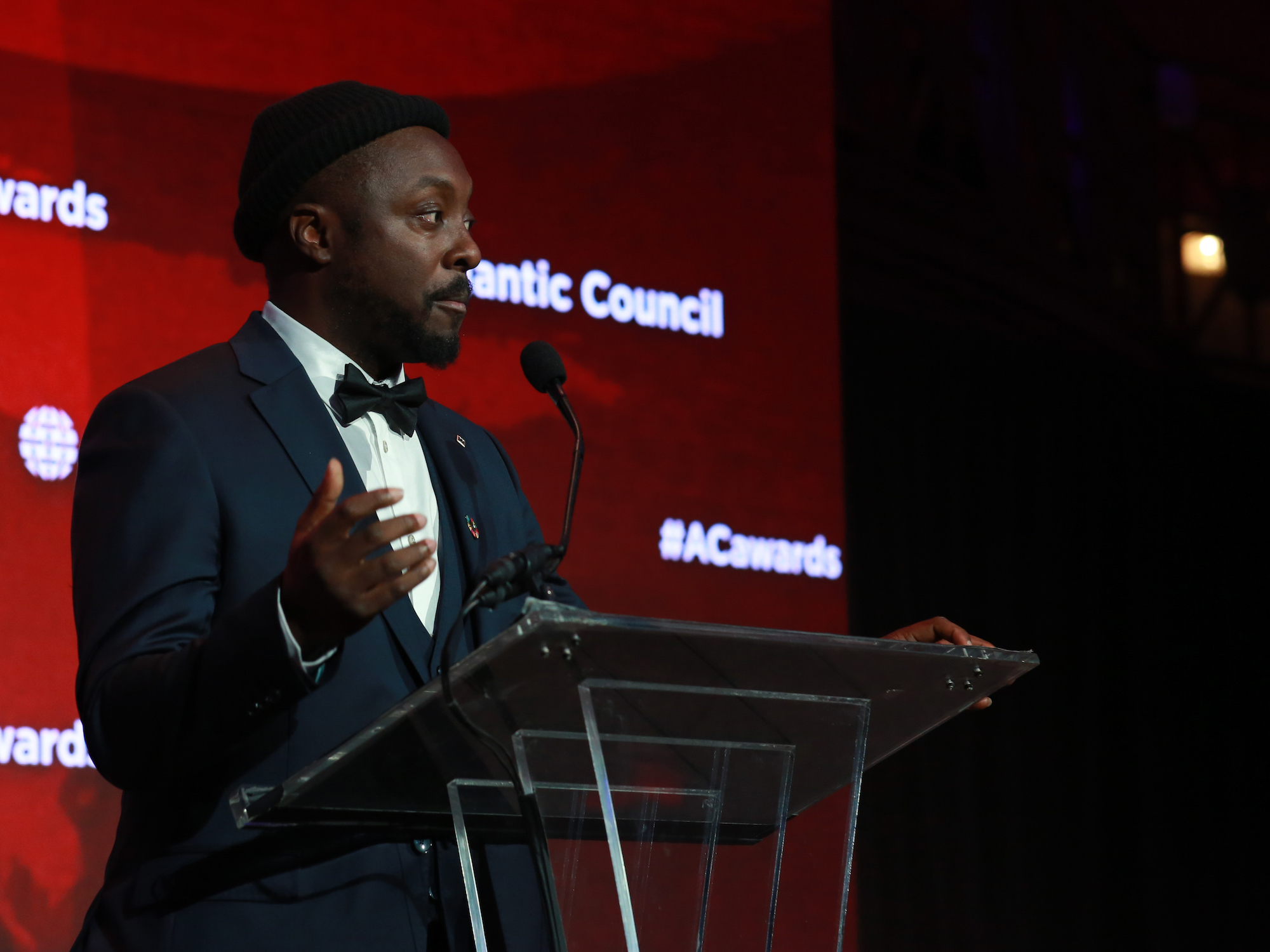 The tenth annual Atlantic Council Global Citizen Awards honored Founder, Black Eyed Peas, Founder & CEO, I.AM+, and Founder and President, i.am.angel Foundation.
About will.i.am
will.i.am accepts his award
Twitter coverage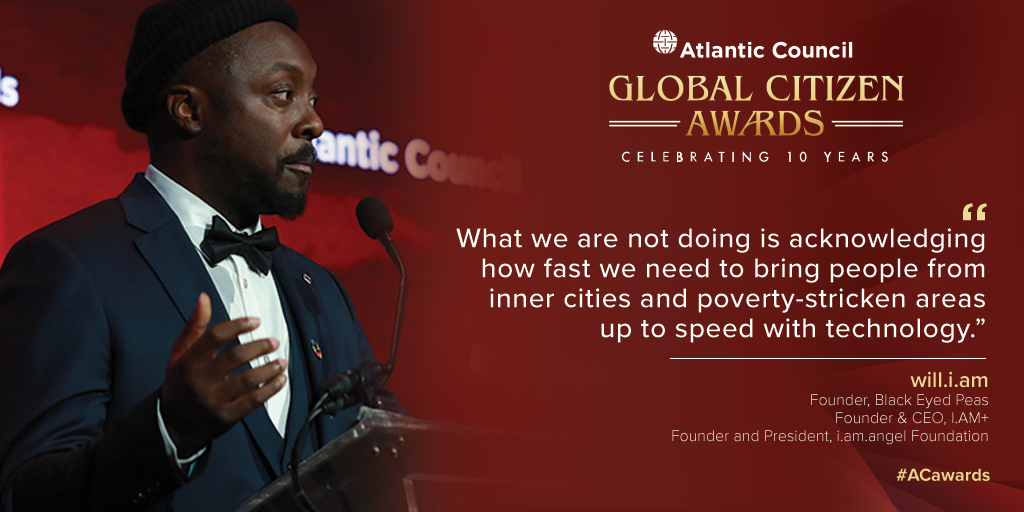 More about will.i.am
will.i.am is a tech entrepreneur, investor and creative innovator who has been recognized by seven Grammy Awards, an Emmy Award, a CLIO Award, the World Economic Forum's Crystal Award, and an Honorary Fellowship by the Institution of Engineering and Technology (IET).
His I.AM+ company is fusing the worlds of artificial intelligence (AI) for enterprise, as well as smarter consumer products. Omega for Enterprise is an AI voice computing platform built to be conversational, contextual and cross-domainable that delivers a natural and engaging user experience for organizations of any size, including B2B and B2C settings.
He also serves on the World Economic Forum's Fourth Industrial Revolution Advisory Committee and the organization's Global AI Council; is a Strategic Board Advisor to Atom Bank, the UK's first mobile bank; and is a Co-Founder of Amuse, a mobile record label. As an innovation consultant, will.i.am previously served as Director of Creative Innovation at Intel, and created EKOCYCLE, a sustainable fashion brand in partnership with The Coca-Cola Company.
Additional business and creative leadership roles include: founding equity shareholder in Beats Electronics; Co-creator & Partner in ill.i Optics eyewear; Executive Producer and Mentor on "Planet of the Apps", a reality series with Apple; Coach on "The Voice" UK edition for eight seasons, and Coach on "The Voice Kids" UK for three seasons; Guest Recording Artist on NBC's "Songland"; author of "Masters of the Sun-The Zombie Chronicles", a graphic novel presented by the Black Eyed Peas and Marvel Comics, incorporating Augmented Reality and Virtual Reality Experience extensions; and co-author of "Wizards and Robots", a young adult sci-fi novel with Penguin Publishing/UK.
To learn more, please visit www.iamplus.com, www.iamangelfoundation.org, and http://will.i.am.