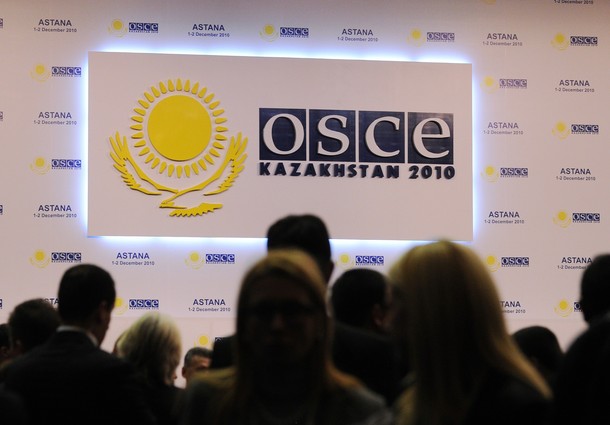 In the Eurasia Task Force Issue Brief: "Modernizing the OSCE: An Agenda Item for Astana," Kurt Volker, Managing Director of the the Center for Transatlantic Relations at Johns Hopkins School of Advanced International Studies, Atlantic Council senior advisor and member of the Strategic Advisors Group (SAG), proposes strategies for OSCE reform through a historical lens.
Introduction:
Once a beacon of democratic values and a broad concept of security linking all the states of Europe and Eurasia, the Organization for Security and Cooperation in Europe (OSCE)
is gradually losing its sense of identity, purpose and means of effective engagement. As a result, it is also unable to maintain the high-level engagement of its member states. The most obvious evidence is the decision of the U.S. President not to attend the organization's first summit in over ten years.
The Astana summit on December 1-2, 2010 will not turn this situation around. Yet as challenges to democratic rights, economic reform, integration and prosperity, and human security persist across Europe and Eurasia, the OSCE still carries enormous potential. Imaginative leadership that brings ideas forward in each of the OSCE's three baskets can help to modernize the organization.
Making the OSCE more effective today requires a clear understanding what has made it effective or ineffective in the past. That past can be divided into three distinct phases since the signing of the Helsinki Final Act in 1975.
About the Eurasia Task Force:
'Eurasia as Part of Transatlantic Security' is a joint effort of the International Security Program and Patriciu Eurasia Center which seeks to shape the transatlantic debate on security in Eurasia and the future of the OSCE by publishing policy-relevant issue briefs, organizing strategy sessions with senior officials and issuing a task force report. In the context of Kazakhstan's current chairmanship-in-office of the Organization for Security and Cooperation in Europe (OSCE), the project intends to develop proposals for modernizing the OSCE to ensure it becomes a key institution linking Central Asia to the transatlantic community.
Chaired by Atlantic Council Chairman Senator Chuck Hagel, who as a U.S. Senator visited all five Central Asian republics, the project draws on experts from the Atlantic Council network with deep experience in Eurasia, transatlantic security and OSCE matters. To inform the task force's policy recommendations, Atlantic Council President and CEO Fred Kempe led a delegation consisting of Ambassador Ross Wilson, Damon Wilson, Boyko Nitzov and Jeff Lightfoot to Vienna, Austria, Astana, Kazakhstan and Bishkek, Kyrgyzstan in Jun 2010 to meet with government representatives, OSCE officials and members of civil society.
Related Eurasia Task Force Documents:
Hitting the Reset Button on U.S.-Russia Cooperation
Astana on the Atlantic: Transatlantic Strategy in Central Asia and the OSCE
Triple Crown 2010: Can the Transatlantic Alliance be Strategic?
Uncertain Kyrgyzstan: Rebalancing U.S. Policy
Deciding on an OSCE Summit