A report released today by the Atlantic Council's Adrienne Arsht Latin America Center on Mexican energy reform argues that Mexico has positioned itself to become a major player in the global market as a competitive and transparent supplier of oil.
Authored by former State Department Special Envoy and Coordinator for International Energy Affairs David Goldwyn, Mexico Rising: Comprehensive Energy Reform at Last? argues that: "these new reforms, if implemented effectively, will provide Mexico the opportunity to boost oil and gas production and, with it, economic output, with positive ripple effects throughout the economy. Mexico's role in global oil markets is positioned to increase from major supplier status to strategic supplier status over the next decade."

Read the Full Report (PDF)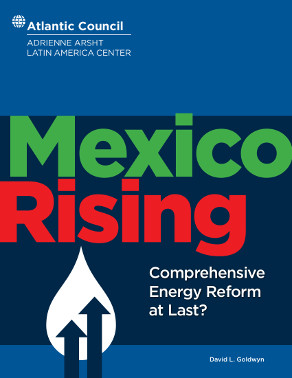 Currently the world's seventeenth-largest economy, the anticipated growth from this reform will thrust Mexico into the global market as a major player. Some main benefits of the reform include:
A predicted 2 percent growth in GDP by 2025
Addition of an estimated 2.5 million jobs by 2025
Lower energy costs
Increased revenue to social programs, infrastructure, and education
Challenges to success include managing public expectations, prohibitively bureaucratic processes, and the Mexican government's close, protective relationship with PEMEX.
The reform will also have benefits to the United States: "US companies are poised to invest heavily throughout the energy value chain, due in part to geographical proximity and in part to shared geology. Those commercial ties will enhance cross-border trade and economic integration in North America. The United States does better with a strong Mexico in economic terms, security terms, and even domestically in regard to polarizing issues around immigration."
The report was released today at a public event in Washington, DC with David Goldwyn, Mexican Undersecretary for Hydrocarbons Enrique Ochoa, University of Texas Center for International Energy and Environmental Policy Director Jorge Piñón, Wilson Center Mexico Institute Director Duncan Wood, Arsht Center Director Peter Schechter, and Arsht Center Deputy Director Jason Marczak.
"The Mexican government should do a Harvard Case Study for friends in Europe and the United States. They have much to teach about leadership, partnership, and putting citizenship before partisanship," said Schechter.
"Energy reform shows that the 'new' Mexico is open for business. It underscores how Mexico is a leader in getting its own domestic house in order. But it's also a model for other countries of how to overcome divisions to bring forth necessary policy advancements," said Marczak.