A new Atlantic Council report, Yemen's Economic Agenda: Beyond Short-Term Survival, argues that if the Yemeni government fails to prioritize progress on the economic front, the country's democratic transition risks derailment and may witness renewed conflict. Prioritizing the economy has been postponed because of political uncertainty and security problems, but the status quo can no longer continue if the country is to emerge from its near failed-state status. With completion of Yemen's National Dialogue still unclear, the ability of the Yemeni government to deliver concrete benefits to its population has never been more important in order to maintain credibility and foster a sense of forward momentum. The government should address not only demands for more inclusive political participation, but also the economic aspirations of most Yemenis who have not experienced any improvement in their standard of living since the 2011 popular revolution.
Report author Danya Greenfield, acting director of the Atlantic Council's Rafik Hariri Center for the Middle East, argues that strong political will is needed to effectively rebuild the economy and restructure the country. The report's central conclusion is that this can be achieved through pressure from both domestic and external actors, and that active engagement by the international community is essential for the Yemeni government to achieve success in these efforts. Specifically, the author offers the following recommendations:
Upon the conclusion of the National Dialogue, a new government should be introduced focused on improving security conditions, economic performance, and basic service delivery. The new government should shift its focus to economic planning, fiscal reform, and implementation of labor-intensive projects in order to improve economic conditions and address unemployment, particularly among youth. To provide the leadership and technical expertise lacking thus far, President Abdrabo Mansour Hadi should form an Economic Cabinet that includes the relevant ministers and outside economic experts to forge consensus on a long-term economic plan in consultation with the Yemeni business community.
The international community should engage the Gulf Cooperation Council (GCC) countries more directly on economic issues, specifically to integrate forthcoming financial contributions within the broader framework of economic reform and diversification plans, to provide political support to empower the Executive Bureau, and quickly deliver pledged funds. Yemen's international partners should also develop a new framework to increase the number of Yemeni workers employed in GCC countries to mitigate unemployment in the short term, but only by making labor flows contingent on institutional and legal reforms. The G10 countries should put forth a comprehensive plan between the GCC and Yemen, which creates an incentive-based system to encourage reform in exchange for access to Saudi and other Gulf countries' labor markets.
International partners should press the Yemeni government to deliver reports on concrete progress according to the benchmarks and action items set forth in the Transition Plan for Stabilization and Development and Mutual Accountability Framework, specifically regarding economic initiatives and economic reform commitments. The international community should support Yemen in formulating an IMF program by providing financial and political support for the government to undertake difficult economic reforms, linking international financial assistance to progress on reforms that the Yemeni government itself has determined are priorities.
Fri, Oct 5, 2018
The Middle East and North Africa (MENA) region is experiencing a time of great transformation and as well as tumult. Atlantic Council Senior Fellow Dr. Karim Mezran and Dr. Arturo Varvelli of the Italian Institute for International Political Studies gathered experts to explore decentralization and political Islam in six MENA countries in "The Arc of […]
Report by Karim Mezran and Arturo Varvelli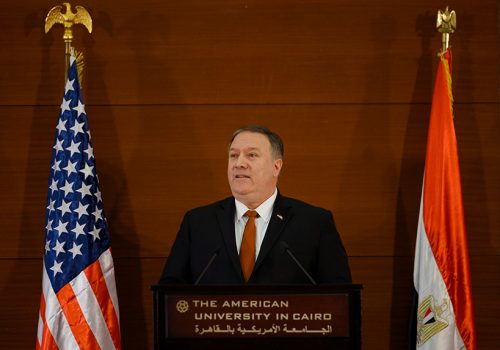 Thu, Jan 24, 2019
The only hope for ending the Yemen war lies with enough congressional pressure to force the administration's hand to use its military assistance to Saudi Arabia as leverage to bring about a solution.
New Atlanticist by Nabeel Khoury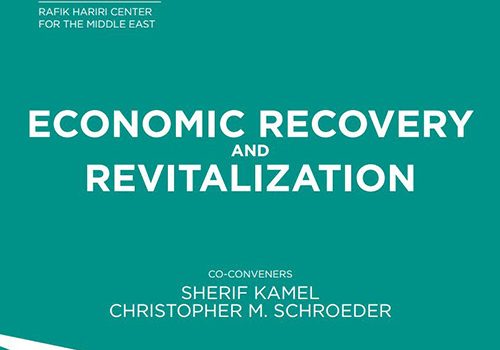 Wed, Feb 3, 2016
Even as the specter of political instability weighs heavily on the region, the Middle East is quietly experiencing a technological and societal transformation that could hold the keys to a better future. The foundation of this change is based on two powerful components: the rapidly increasing access to technology in the Middle East, and the […]
Middle East Strategy Task Force by Middle East Strategy Task Force