"I think we had a shift in public opinion as well as Finland did, but the Finns had a much larger shift" explains Anna Wieslander, Director for Northern Europe at the Atlantic Council.
"One of the reasons we experts estimated that Sweden would move first is that since 2013 we had support that could be up to 35% pro-NATO and now it's around 50% in polls, which is directly tied to Russia's full-scale invasion of Ukraine," she told Euronews.
Further reading
Tue, Apr 5, 2022
In the News By Anna Wieslander
"Sweden's non-aligned status is increasingly blurred," said Anna Wieslander, Northern Europe Director at the Atlantic Council think-tank. "If you look at it, we are preparing to meet the adversary together and I think there is no doubt in which camp we are," she said. "You can see the warnings Russia has given so there is […]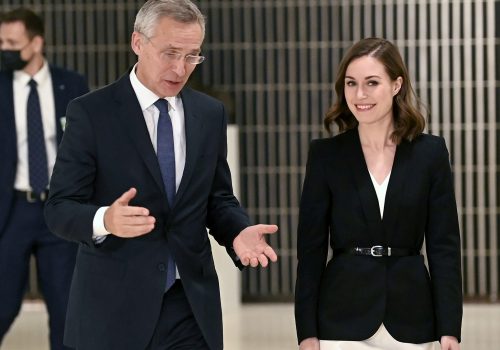 Thu, Mar 3, 2022
New Atlanticist By Anna Wieslander, Christopher Skaluba
Russia's invasion of Ukraine has shifted the political dynamics in the two militarily non-aligned Nordic states. Here's how a fast-track NATO process could look.
Sat, Feb 26, 2022
In the News By Anna Wieslander
"This is a game he is playing on two levels. One is Ukraine and the attack and invasion we now see him pursuing. The other is the bigger game, which is a Europe that is rolled back to the Cold War and where Russia has clear spheres of influence and buffer zones, which include Eastern […]