Thu, Jul 2, 2020
Lebanon is a nation in crisis. Just as Hezbollah is the main cause of the current economic crisis, Hezbollah, through its FPM allies, is also the impetus for the assault on the rule of law. The Hezbollahization of Lebanon must be reversed. Reforming one broken sector in Lebanon without restoring the rule of law—the most foundational pillar of Lebanese society—will play into Hezbollah's hands, continue the misery of the Lebanese people, and ensure Lebanon's inevitable failure.
New Atlanticist by Michael D. Barbero

Wed, May 13, 2020
Ukrainian MPs have adopted legislation to prevent former owners regaining banks nationalized during recent reforms. The move is a blow to Ukrainian oligarch Ihor Kolomoiskiy and paves the way for a new IMF program.
UkraineAlert by Anders Åslund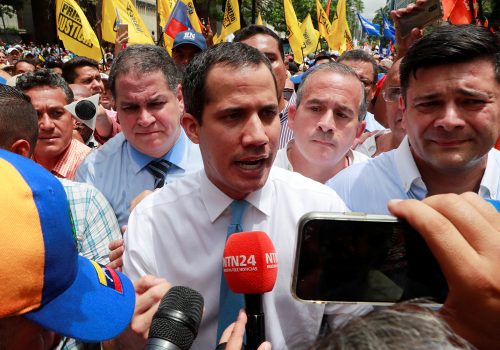 Tue, Apr 28, 2020
Guaidó's national emergency government presents a viable solution to tackle the coronavirus pandemic, Venezuela's humanitarian crisis, and the dictatorship that has decimated the country.
New Atlanticist by Cristina Guevara