On December 14th, the EU Commission's Representation in Sweden and the Atlantic Council's Northern Europe Office held the event "Developing the EU's industrial strategic capacity under growing geopolitical tensions."
Speakers included:
Björn Fägersten, Swedish Institute of International Afairs (UI)
Charlotte Andersdotter, Confederation of Swedish Enterprise
Ulf Pehrsson, Ericsson
Per Altenberg, Swedish National Board of Trade
Christian Danielsson, Head of the EU Commission's Representation in Sweden
The event was moderated by Anna Wieslander, Director for the Atlantic Council's Northern Europe Office.
Panelists discussed how "strategic autonomy" applied to Europe's economic, industrial, and technological sectors. Strengthening the EU's capabilities in these sectors was considered crucial to successfully addressing major societal challenges and remaining a relevant international actor in the emerging geo-economic age.
Supply chains and data streams were the new geopolitical battlefields where China was challenging the US for supremacy. Free trade and globalization were no longer risk-free; the EU needed to adapt to this confrontational environment.
Beginning its digital and green transformation relatively early, the EU was in a good position to compete globally in these growing markets, but protective instruments were needed to push back against Russian and Chinese pressure.
Nonetheless, maintaining open and competitive markets was important in creating European economic strength. Europe needed to ensure resilience and maintain technological leadership on an even-playing field within an integrated global market. Protecting and investing too heavily in "national champions" risked backfiring. Establishing global standards and regulations was one area where the EU was defined as a global superpower and key in maintaining a technological advantage.
Balancing defensive economic measures and open markets was thus the central conflict between national security and industry. Particularly with China and the US securitizing their economies, the EU would have to adapt its stance in this direction as well.
Importantly, the choice between national security and open markets was not mutually exclusive. The EU could improve its strategic position through further economic integration with like-minded democracies like the US, Australia, New Zealand, and India.
Further reading
Tue, Jan 11, 2022
In the News By Anna Wieslander
Russia's demands that NATO should not expand any further, or face the consequences, has raised concerns over the security of the two Nordic non-NATO members Sweden and Finland. "This is very troublesome for Sweden… and it is not the first time Russia has done this," Wieslander said.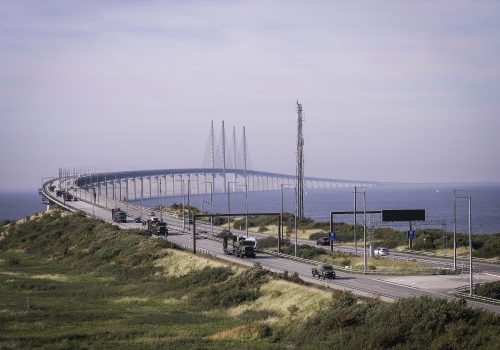 Wed, Oct 6, 2021
Event Recap By
The fourth international Baltic Sea Security Conference (BSSC) on October 5-6, 2021, organized by the Atlantic Council Northern Europe Office in cooperation with the Swedish Armed Forces, took place with a new 2021-2025 Swedish Total Defence strategy in place. The BSSC was thus a timely platform for representatives of the Nordic and Baltic states, Germany, […]
Mon, Jun 14, 2021
In the News By