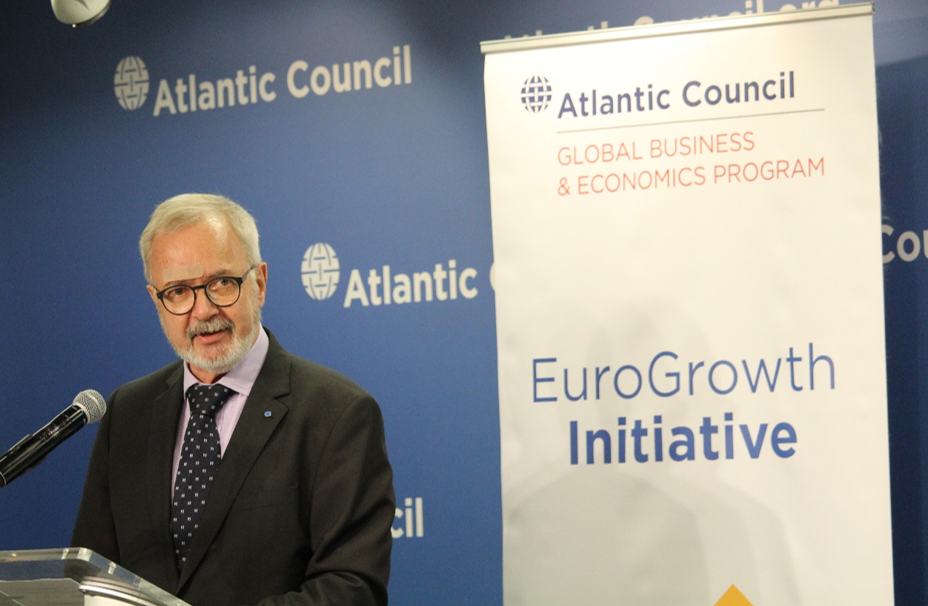 On October 17th, the Atlantic Council's Global Business & Economics Program's EuroGrowth Initiative welcomed a group of high-level experts to discuss how to finance the transition to a low carbon economy. The event featured keynote remarks from the President of the European Investment Bank (EIB) Werner Hoyer. Bart Oosterveld, Director of the Global Business & Economics Program and the C. Boyden Gray Fellow on Global Finance and Growth, offered a brief welcome to introduce the event's topic and presenters.
President Hoyer affirmed that the EIB is at the forefront of the multilateral development bank efforts on climate policy. The bank has committed to three pillars to achieve its 2030 goals with regards to climate action and environmental sustainability; increase their own climate financing, grow sustainable finance from billions to trillions, and align all EIB group financing activities with the principles and goals of the Paris Agreement. Further, the EIB has released a new energy lending policy proposal, which focuses on energy efficiency, research and development, power grids and renewable energy.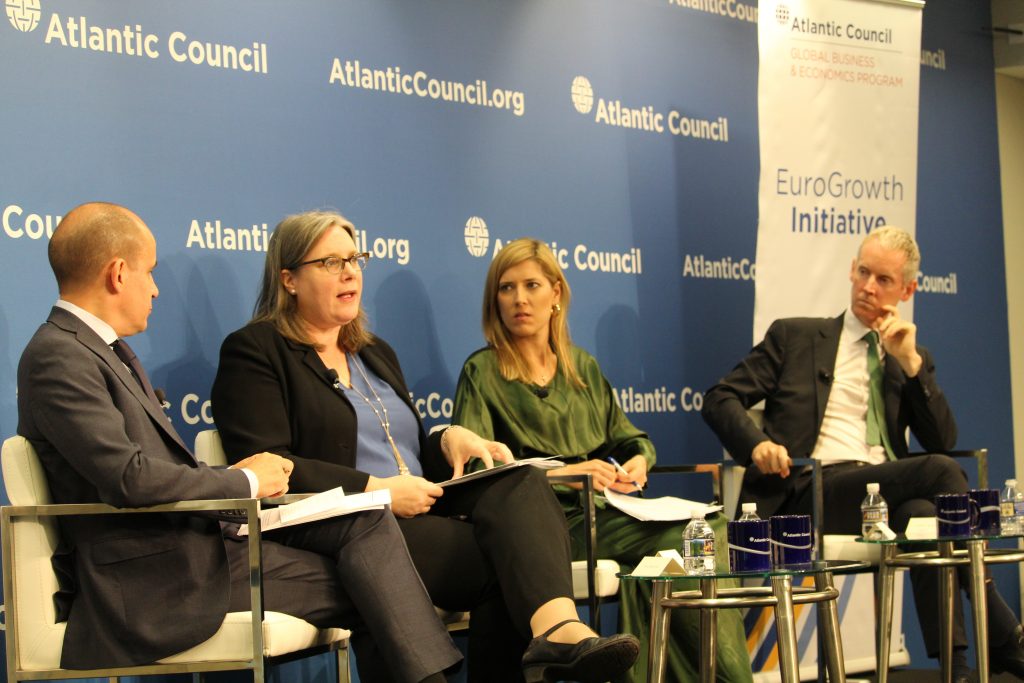 Following President Hoyer's remarks, a panel of experts took the stage to continue the discussion. Helen Mountford, Vice President of Climate and Economics at the World Resources Institute, highlighted that moving towards cleaner alternatives is already profitable and can boost economic growth. Ms. Mountford mentioned China, Italy and Canada as examples of countries that have successfully created jobs in their transitions to cleaner energy alternatives. She concluded that halting new investments into coal is the next critical step.
Dr. Alexis Crow, lead of the Geopolitical Investing Practice at PricewaterhouseCoopers, asserted that we have reached a tipping point. Most politicians, private sector investors, and the world's largest banks agree that fossil fuels negate the potential for future economic growth. There are three major approaches to fighting climate change on the table: adaptation, geoengineering, and mitigation. Echoing Hoyer, Crow stressed that to achieve a green transition it is essential to acknowledge the difficulty of the transition for countries which still depend heavily on fossil fuels. It is key to facilitate the smoothest possible transition for these countries to ensure that no region is left behind.
Finally, Vice President of the EIB, Andrew McDowell, explained the details of the EIB's energy lending policy. He underscored that the EIB is committed to making sure the energy transition is both environmentally and financially sustainable.
If you missed the event and would like to watch the webcast, click here