FutureSource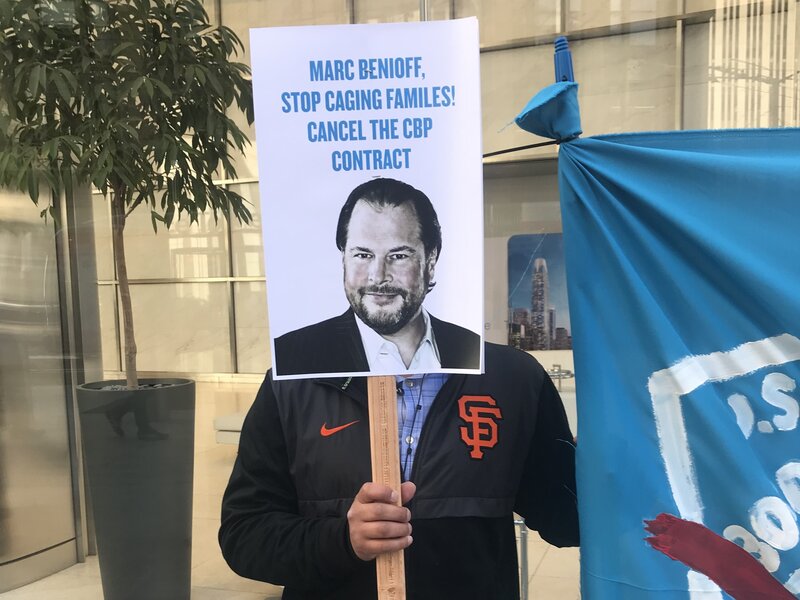 We live in an increasingly
technological world
—
Fitbits
monitor our health,
Alexa
organizes our homes, and
social media
guide our social lives. Global efforts to develop and implement artificial intelligence (AI) are escalating into what some call an
arms race
, and
cybersecurity
is becoming a central security concern as
hacking
of
governments
and
tech companies
occurs with increasing frequency.
The US needs to stay ahead of tech trends
and use cutting-edge technology to boost security as well as its international
reputation
as an innovator. To this end, government agencies are signing off on more and more contracts with tech corporations.
Rekognition
, Amazon's facial-recognition software, is currently in use by law enforcement agencies in Oregon and in Orlando, Fla. Google was briefly involved in the US Department of Defense's AI program,
Project Maven
. And Amazon is currently competing with Microsoft, IBM, and Oracle for a
government contract
for cloud computing.
The Atlantic Council's Scowcroft Center for Strategy and Security, in partnership with Qualcomm, embarked on
a global tour of technology hubs
to determine which ones are at the cutting edges of tech-based innovation—and which are at risk of falling behind. Our researchers visited nearly
a dozen countries
and spoke with almost
two hundred experts
. Below is a look at how the United States and China compare.
Want a deeper dive? Read our new report,
The Global Innovation Sweepstakes: A Quest to Win the Future
, to learn more.
For the first time since the global financial crisis, every major economy in the world is projected to grow, and President Trump says the US is "open for business." As of early 2018, business leaders have been generally buoyant. The Global CFO Survey conducted for this report found CFOs to be optimistic about the economic outlook for the US; 61% of respondents indicated they are confident or extremely confident about investing in the US, and 71% expect continued improvement in the US business environment in the next one to three years. Business leaders are bullish on the near-term US outlook, according to the survey; deregulation and the passage of landmark US tax reform has boosted business confidence, with 68% of CFOs reporting that they expect the passage of the US tax reform to have a positive impact on their company's financial performance in the next one to three years.
Get beyond those exclamation points, though, and you start to see the question marks and concerns — about global shifts in power, a potential wave of protectionism, and warnings that business leaders and policymakers should be "on guard" for the next recession and that global growth may be masking systemic financial, social and geographical risks. Economic volatility and policy uncertainty in the first quarter of 2018 have only increased those concerns.
Three grueling hearings in two days on Capitol Hill seem to indicate that years of government officials giving the tech giants of Silicon Valley—most notably Google, Facebook, Apple, and Amazon—a
relatively
loose regulatory rein
are now over. Members of Congress of both parties were quick to condemn Facebook, Twitter, and Google for their failure to stop Russians from buying ads related to the US presidential election last year, but for some the problem runs much deeper. To the critics, the scope of Big Tech's power over information (and therefore over nearly all aspects of modern life, from how we interact with our friends to how we choose our political leaders), along with their lack of accountability, resembles the great monopolies of the Gilded Age—and should be treated as such by governments.
Global corruption is a dangerous mega-trend that refuses to be ignored. Blockchain, the rapidly-evolving technology that has already transformed the financial world, has numerous applications when it comes to fighting government corruption. FutureSource has
previously
examined how corruption has
become a threat
to international security. It is now taking a closer look at how blockchain and other technologies can help governments reduce graft and fraud.
Science, technology, engineering, and mathematics (STEM) workers
play
an integral role in maintaining or advancing a nation's economic and societal competitiveness. A recent report of the eight most valuable startup companies in the US further
emphasizes
the impact of STEM disciplines in the creation of new industries and domains. The success of a majority of these startups heavily relies on STEM skillsets that include software/app development, data analytics and machine learning expertise, and the seamless integration of technologies that enhance user experiences. While the demand for STEM degrees continues to increase, the time needed to attain a higher education degree
remains
relatively constant and typically exceeds fifty-two months, well beyond the projected forty-eight months that students prefer. Several questions emerge from these findings:
Is the rate of attaining a STEM degree or skillset keeping up with the evolving needs of society?
Will advancements in automation and artificial intelligence reduce the demand for STEM workers?
What policies should be considered to increase a nation's competitiveness, in the age of artificial intelligence and automation?
The German electorate has dealt Angela Merkel a wake-up call. Her new term will define her legacy.
The single biggest shortcoming of Countering Violent Extremism (CVE) programs is a lack of ability to measure their effectiveness. For this reason, there is much controversy around the concept of CVE and those who practice it, making it difficult for the government to justify funding certain programs themselves. In the past year, based on a now widely-held belief that governments cannot counter extremism alone, we have seen Silicon Valley's tech giants attempt to define their own place in the CVE field. Their reactive, tech-driven approach has produced some metrics of success. However, it has, in turn, neglected to recognize the root causes of violent extremism that CVE-focused organizations aim to address.
The Atlantic Council's Science and Policy Fellow presented early-stage research on how machine-learning techniques can help decision makers better understand the public's perception of new technologies, with significant implications for future policymaking.
Dr. Conrad Tucker
, an associate professor of computer science and engineering at the Pennsylvania State University, and a science and policy fellow in the Brent Scowcroft Center on International Security, showcased his current research project, Technology Phobia Readiness Condition (TEPHCON), during the second international InfoSymbiotics/DDDAS
conference
at the Massachusetts Institute of Technology.
A gene-editing technology that has already shown tremendous medical breakthroughs has some wondering if cancer and HIV can be defeated by genetic engineering. But despite the optimistic headlines, the technique known as CRISPR is also becoming an emerging international security threat. CRISPR could someday enable U.S. adversaries to genetically-engineer bioweapons or even create "super soldiers" to dominate future battlefields.