Global China Newsletter: Xi and Biden dazzle, but don't be blinded to action elsewhere
Subscribe to the Global China Hub
Our expectations have been curbed. President Biden's meeting with Chinese leader Xi Jinping later today will focus on stabilizing US-China ties and restoring leader-level communication ahead of a fraught election year rather than producing a list of major deliverables. That much is known.
The two leaders, however, appear set to announce an agreement for China to crack down on the manufacture and export of fentanyl. And, as Global China Hub deputy director Colleen Cottle writes, the meeting may result in some progress on topics like AI governance and on restoration of senior military to military talks – as well as private discussion of Taiwan, economic ties, and the Middle East crisis, among other issues.
Furthermore, the fact that Xi came to San Francisco even as the Biden administration maintains tough positions on export controls on advanced tech and other issues indicates China's continued need to engage the US – and particularly our business community – as its economic challenges mount. China is not in the driver's seat in this relationship.
Meanwhile, lest we forget, the APEC summit is happening, and Washington is looking to up its economic ties with the rest of Asia.
As our GeoEconomics Center's Niels Graham writes, the United States is expected to make multiple announcements around its Indo-Pacific Economic Framework (IPEF) – Washington's first attempt at an affirmative economic agenda in Asia since its withdrawal from the Trans-Pacific Partnership (TPP) in 2017 – as well as a number of bilateral investment deals with APEC member economies. Plans to unveil progress on the all-important trade pillar of IPEF have reportedly been scuttled in recent days by domestic political pushback, but the administration will tout other progress.
As this chart shows, IPEF economies are set to grow significantly relative to China in the coming decades.

This sort of progress is critical to offering regional partners an alternative economic framework to China, particularly since Washington's inability to grant those partners expanded market access has hobbled its ability to compete with China, which continues to leverage trade agreements with countries around the world.
Tiff gets into that and much more below – take it away, Tiff!
-Dave Shullman, Senior Director, Global China Hub
Hello dear reader – along with Dave's sage analysis, allow me to briefly reminisce about an earlier APEC summit in Shanghai rather than San Francisco in 2001. Interestingly these two cities have a long relationship, becoming sister cities in 1980, just one year after the two countries established diplomatic relations.
That APEC I was at, hosted by then President Jiang Zemin and attended by George W. Bush, was in many ways a very different time in the bilateral relationship. But there were similarities. From the third floor of the Shangri-La Pudong hotel, we looked over an iconic waterscape, Shanghai's Bund (this year the view is San Francisco's stunning harbor, of course.) I was at a lavish cocktail party (this APEC too has many) when, as I wrote at the time, "came one of those moments of pure journalistic chance," a once-in-a-reporting-career encounter.
I was introduced to an amiable Chinese businessman, but no ordinary one, I was soon to discover – it was the princeling son of Li Peng, one of China's most-reviled modern leaders for his role in the Tiananmen Square massacre of 1989. Li junior, then the head of one of China's largest state enterprises, was different; he was amiable, had studied in Canada, and was surprisingly happy to talk to a foreign reporter, introducing his firm, a power company, to me. "When dinner was served and we headed to the ballroom, Li Xiaopeng finished our conversation by warmly inviting me to visit his company's headquarters in Beijing. By then, I had almost forgotten Li is the son of a man many see as one of China's bad guys."
While Xi sure doesn't have a reputation for amiability, here's hoping he surprises – like Li did in that long ago APEC – and brings some real ice-breaking, substantive diplomatic overtures to warm up the chilly US-China relationship, when he meets with Biden.
Disappearing ministers indicate cracks in leadership
Speaking of leaders and surprises, China has seen some abruptly disappear of late, including the former foreign and defense ministers. That doesn't reflect well on Xi, Global China Hub fellow Mark Parker Young points out while exploring the political factors behind this growing trend. "Xi's management of the CCP's personnel system is vital to his political position and to the functioning of the party-state…the recently removed officials along with their brief tenures suggest that he has committed unforced errors."
Xi's missteps no doubt have been noted by other senior officials in China; if he continues to fumble, eventually that could lead to cracks in his leadership.
Under the radar – the growth of China's FTA diplomacy
While the world's media focuses on Xi and Biden's meeting at APEC and what signs of improvement in the US-China bilateral relationship mean for the world, Beijing is quietly building its global standing by upgrading its relationship with countries like Colombia, and accelerating the establishment of Free Trade Agreements (FTA).
Accounting for bilateral and regional efforts, China has now signed 23 FTAs, with 14 under negotiation and 7 under consideration (though Canada's FTA talks with China have been paused indefinitely). Hub assistant director Matt Geraci found that in 2023 alone, China has signed two FTAs (Serbia and Ecuador), initiated negotiations with Honduras almost immediately after they switched diplomatic ties from Taipei to Beijing, and began consultations with Papua New Guinea. All of this compares to 20 FTAs for the US, largely owing to Washington's efforts stalling in recent years – most notably with the decision to abandon TPP in 2017 – in part because of a growing strain of isolationism in our political parties.
Check out this data visualization and map for a better look at this worrying trend that's clearly bad news for the US economically but also could prove damaging geopolitically.
China's Global South push not all smooth sailing
Beyond the 21 mainly wealthy countries represented in San Francisco, Beijing of late has been strengthening relations with a different group, the developing nations of the Global South. That effort's been labeled a success for Beijing and bad news for Washington.
But not so fast: "The growing difficulties, disputes, and disparities between China and much of the rest of the Global South are opening up new opportunities for Washington and its partners to reassert their influence in the developing world and push back against China's growing power," argues the Hub's Michael Schuman in a new report. Also check out this recent China-MENA podcast in which Hub senior director Dave Shullman and Stimson Center China Director Yun Sun take stock of China's Belt and Road Initiative efforts upon its 10th anniversary.
Banquets with Xi, economic coercion and military might
One issue that may have come up during the APEC CEO Summit, held along with the leader's meeting—or at a gala where executives shelled out $2,000 to dine with Xi Jinping – is China's use of economic coercion. A new report by the Hub's William Piekos "Investigating China's economic coercion: The reach and role of Chinese corporate entities," examines that pernicious trend.
Biden and Xi's likely announcement of a resumption in military talks would be a key success given China's growing military clout, as examined in the Atlantic Council-hosted release of the Pentagon's 2023 China Military Power Report, with Assistant Secretary of Defense for Indo-Pacific Security Affairs Ely Ratner and Deputy Assistant Secretary of Defense for China, Taiwan and Mongolia, Michael Chase attending.

GeoEconomics Center nonresident senior fellow Jeremy Mark and Vasuki Shastry – formerly with the IMF, Monetary Authority of Singapore, and Standard Chartered Bank – explored the divergence between western and Chinese preferences that underline the increasing difficulty of sustaining international cooperation on debt issues.
The Atlantic Council Global Energy Center's Reed Blakemore analyzed the recent export restrictions on graphite from China, which is a crucial component in electric vehicle batteries and nuclear reactors.
Hub nonresident senior fellow Kaush Arha offered his thoughts on the need for urgent economic engagement with the Global South.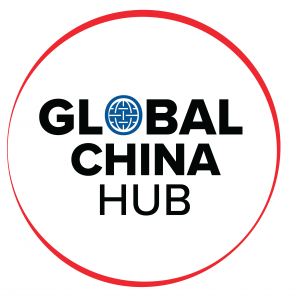 The Global China Hub researches and devises allied solutions to the global challenges posed by China's rise, leveraging and amplifying the Atlantic Council's work on China across its 15 other programs and centers.