The relationship between China and Iran goes back thousands of years, but has come under greater scrutiny since the United States withdrew from the Joint Comprehensive Plan of Action (JCPOA). The US re-imposition of sanctions on Tehran has many worried that China would provide Iran an economic lifeline, as it did in the lead-up to the JCPOA. On September 25, the US blacklisted Chinese companies for importing Iranian oil in violation of US sanctions for the second time in three months, seemingly confirming these concerns. With that in mind, how much has China helped Iran since the US withdrawal?
Since the US pull out from the JCPOA in May 2018, China has continuously declared its intention to uphold the deal and protested Washington's unilateral actions. It even said it will continue trading with Iran, even though it would be susceptible to US sanctions.
That being said, the most important aspect of the China-Iran relationship is Beijing's oil imports. From 2017 through September 2018, China imported at least 630,000 barrels per day (bpd) from Iran. In anticipation of the US reintroducing sanctions on Iran's oil sector in November 2018, China reduced its purchases of Iranian oil by about two thirds in October.
Days after the reintroduction of oil sanctions, the US announced that eight countries—including China—were receiving waivers allowing them to purchase Iranian oil for 180 days. China's waiver reportedly allowed it to import 360,000 bpd, but Beijing resumed imports of at least 390,000 bpd in November. By March, China was importing over 613,000 bpd and in April its imports reached 800,000 bpd or more as the waiver period came to a close.
After the waivers expired in May, China stopped importing Iranian oil at first, but soon resumed taking shipments. Reports suggest that China imported between 163,000 – 186,000 bpd in June, 101,000 – 226,000 bpd in July, and 105,000 – 186,000 bpd in August.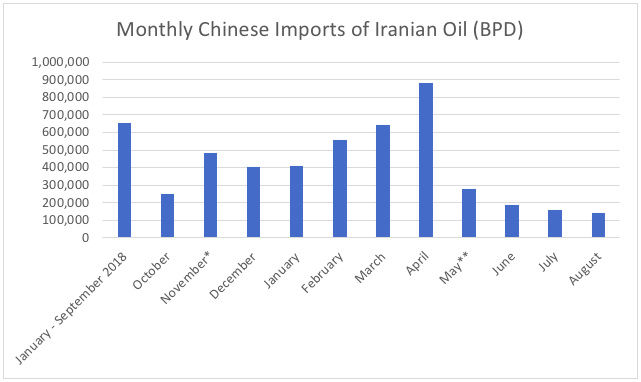 While the blacklisting of Chinese companies proves that at least some of China's oil imports violated sanctions, it's ambiguous how much of the imports were violations. For example, the waiver volume supposedly does not include oil that Chinese state-owned Sinopec and China National Petroleum Company (CNPC) are entitled to as part of investment deals dating to 2016 and earlier.
Another reason is that it's unclear whether the more than twenty billion barrels of Iranian oil sitting in bonded storage in China violates sanctions. Most of this oil has not passed through local customs and is still owned by Iran, leading some to believe it's not a violation. It's also possible that Chinese imports are higher than public estimates, as Iranian and Chinese tankers have tried to evade sanctions by turning off their location transponders and changing their names for example.
It's worth noting that bilateral trade has also fallen drastically. Chinese imports of Iranian goods fell almost 70 percent from October to December 2018. Between October 2018 and February 2019, Chinese exports to Iran dropped from $1.2 billion to $428 million. While bilateral trade did increase leading up to the oil waiver's expiration, it cooled off over the summer, falling back under $2 billion in June and July. In 2018, trade in those months was around $3 and $3.5 billion respectively. Much of the drop-off in trade is because of a policy change at the key financial conduit for transactions between the two, the Bank of Kunlun.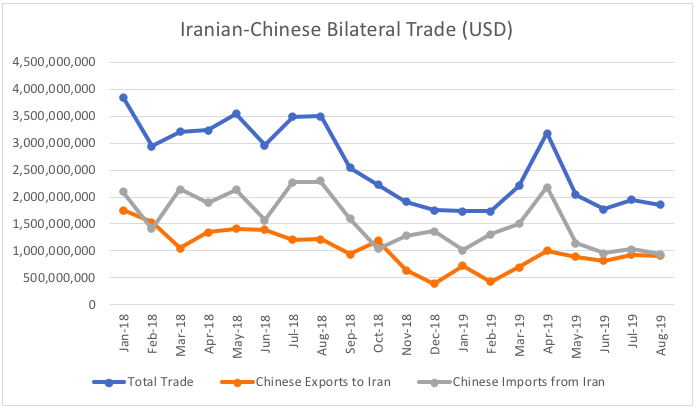 In 2012, China picked the Bank of Kunlun, owned by CNPC, as its main bank for processing payments between China and Iran to shield other Chinese banks from dollar based sanctions. That same year, the US Treasury Department sanctioned the bank for violating sanctions. Following the US withdrawal from the JCPOA, the bank suspended euro-denominated transactions with Iran in August, and then yuan-denominated transactions in November. It resumed yuan-based trade in January, but in compliance with US sanctions. This means Iran would be unable to repatriate its earning and the bank would only service humanitarian goods exempt from sanctions.
As sanctions were re-imposed, many worried that Chinese companies would come to dominate the Iranian market, as they replaced withdrawing European companies. However, it is difficult to ascertain whether this has happened, as English language reports on the topic are scarce.
One clear-cut case has been the South Pars gas field. France's Total and CNPC originally held shares in a project to develop the gas field, but CNPC took over the former's share in November 2018 after Total withdrew because of US sanctions. Unfortunately for Iran, CNPC then suspended the deal the following month.
The lack of reporting is particularly so regarding the many deals China and Iran made for subway cars and other rail projects like the Tehran-Mashhad electric rail line. Nonetheless, several deals have been made since the US withdrawal, particularly in the energy sector.
In July 2018, officials from Yazd province signed an agreement with Chinese and Italian firms for several solar projects, and shortly after oil sanctions were re-imposed construction started on a power plant in Alborz province with a Chinese company.
Similar to the South Pars project, reporting has been more common with Chinese investments in Iran's energy sector. Like South Pars, Sinopec offered to invest $3 billion in the Yadavaran oil field in January, only to freeze its investment plan in May. A Chinese company is also reportedly proceeding with development of the Abadan oil refinery, and an offer was made to build a $2 billion refinery along the Caspian Sea. By January, China was said to have already invested $2 billion into the former. In August, it was announced that China had also "reengaged" in the South Pars gas field, the Yadvaran oil field, and the Jask oil terminal projects, with another report saying that negotiations about South Pars are ongoing.
More generally, a Global Times article from January states that some Chinese companies left Iran while others stayed, often making a healthy profit by doing so. Along these lines, an aluminum refinery that a Chinese company was involved in opened in July and a smelter that company is building is expected to come online in March 2020. On the other hand, it was reported that Chinese carmaker Lifan had suspended its Iran operation. Tehran is also looking to increase relations with China in other sectors like tourism by implementing a new visa waiver program.
More recently, the Petroleum Economist claimed that China agreed to invest $400 billion into the Iranian economy, with Chinese companies receiving special benefits. However, the report seems unlikely to be true for several reasons, including the fact that the deal supposedly would include the deployment of Chinese security personnel to Iran, and the lack of official corroboration of the massive deal. Both Chinese and Iranian officials have denied knowledge of such an agreement, and several analysts are also highly skeptical of its veracity—with some thinking Tehran put the information out there for propaganda purposes.
In short, China is limiting its economic engagement with Iran, an uncertain amount of which violates US sanctions. The uncertainty is partly due to the lack of clarity regarding sanctions waivers. Additionally, Chinese and Persian language media might be able to better shed light on the status of specific Chinese projects and investments. Moving forward, Chinese economic activity vis-à-vis Iran should be closely monitored to see if it changes as Beijing adjusts to the threat of additional US sanctions on its companies.
Dan Katz is an independent researcher interested in China's engagement with the Middle East. Follow him on Twitter: @DanKatz401.