From Twitter spats to island disputes, Egypt and Saudi Arabia have a bone to pick with each other
At the World Government Summit in Dubai during February 13-15, Egyptian President Abdel Fattah El-Sisi expressed his gratitude to Gulf countries for their support to Egypt. Sisi singled out Emirati President Mohammed bin Zayed, lauding him for his pivotal role in helping Egypt meet its energy needs in the years following the 2011 uprising when the country had faced fuel shortages.
Sisi's friendly overtures to Gulf leaders come at a time of unprecedented economic difficulties for Egypt. They also come amid rising tensions with Gulf states, particularly Saudi Arabia. However, Cairo's relationship with its Gulf ally has become increasingly fractious in recent weeks after a Saudi official made clear that any future Gulf assistance "will come with strings attached."
During the World Economic Forum in Davos on January 18, Saudi Finance Minister Muhammad Al-Jadaan announced a shift towards greater conditionality in his country's foreign aid policy, insisting that countries seeking assistance from Saudi Arabia must show they are serious about implementing reforms. "We are changing the way we provide assistance; we used to give direct grants and deposits without strings attached but this is no longer the case," Al-Jadaan said. He added, "We are taxing our people so we expect others to do the same." While the Saudi official did not mention Egypt by name, exchanges of accusations and criticism in traditional media outlets and on social media in recent weeks hint at a rift between Cairo and Riyadh.
Following the overthrow of Islamist President Mohamed Morsi by military-backed protests in 2013 and Sisi's subsequent ascent to power, Egypt's Gulf allies—namely Saudi Arabia, Kuwait and the United Arab Emirates (UAE) —were quick to lend their backing to the newly-instated military-backed regime. Relieved to see the back of the Islamist political movement—the Muslim Brotherhood— they had perceived as a threat to the region's stability, the Gulf Cooperation Council (GCC) states reportedly showered Egypt with more than $100 billion in assistance, according to some estimates, to shore up its ailing economy. The aid came in different forms including deposits in Egypt's Central Bank, grants, fuel, and investment deals.
The GCC states, which placed $22 billion worth of deposits in Egypt's Central Bank in April 2022, are now competing to pump investments into lucrative privatization projects in Egypt. This happened after Cairo announced it would sell stakes in thirty-two state-owned firms over the next year to ease the country's liquidity problem.
The investments in Egypt's public assets are a win-win: on the one hand, they would contribute to replenishing Egypt's dwindling foreign currency reserves; on the other, they would give Gulf countries a rare opportunity to invest in sectors that the Egyptian government had long monopolized, such as port, water companies, transportation, and the shipping industries.
Yet, in recent weeks, the Egyptian government and Egypt's powerful military—traditionally perceived by GCC states as a chief guarantor of regional security and stability—have become targets for criticism by several Saudi and Kuwaiti commentators. In a series of tweets (that were later deleted) Turki Al-Hamad, a Saudi academic, criticized Egypt's developmental failures—unemployment, political and economic crises—since 1952, the year marking the start of military rule in Egypt following the overthrow of King Farouk and the abolishment of the monarchy and the Egyptian army's dominant role in the economy.
"What happened to Egypt, rich in its wealth and capabilities, which used to lend money and help the needy?" he asked. "Here it is today, a captive of the International Monetary Fund with its neck tied to every aid from here and there."
Al Hamad's remarks were met with a scathing rebuke from Abdel Razek Tawfik, editor-in-chief of Egypt's state-owned Al Gomhouria.
"Barefooted and newly-wealthy countries have no right to insult Egypt," Tawfik wrote in an op-ed which was removed from the Gomhouria website hours later. He also called Egypt's critics "scoundrels," but stopped short of calling out Al Hamad and other Saudi commentators for their scathing comments about the army's stranglehold over the economy.
Recognizing that Saudi Arabia is an important economic benefactor, Sisi has chosen to downplay the spat and turn a deaf ear to the criticism. During a visit to a food plant on February 8, the president said, "If we can't say something good, we should remain silent," in what was likely a reprimand of the Egyptian editor who had lambasted the Saudis.
While shared political interests and security concerns unite Egypt and Saudi Arabia, the two have long competed for regional leadership. Egypt also resents its continued dependency on Gulf financial assistance to keep its economy afloat. Saudi Arabia, meanwhile, is irked by the fact that Cairo continues to see itself as regional leader despite its economic dependency on Gulf states.
Some analysts suggest that the main reason for the underlying tensions is the fact that Egypt has so far failed to deliver on its promise to hand over two strategic islands—Tiran and Sanafir in the Red Sea—to Saudi Arabia which wants to use them to develop tourism. While the agreement to transfer sovereignty over the islands to Saudi Arabia was close to being finalized in July 2022, Cairo has since expressed its reservations about some aspects of the deal— including the installation of remote-controlled cameras on the islands to ensure free movement of ships in the Gulf of Aqaba, a vital security and economic waterway shared by Egypt, Israel, and Jordan. Israel and the United States want the cameras to replace the small US-led multinational force of observers (MFO) which have been on Tiran island since 1979 as part of the peace agreement between Egypt and Israe, after they leave.
Cairo's frustration with Washington freezing some of its aid over human rights concerns is believed to be the reason behind its stalling on the deal. Cairo appears to be using the agreement as a bargaining chip to pressure the Joe Biden administration to reverse its decision and release the frozen aid, according to a security source who spoke to me on condition of anonymity.
For two consecutive years, Washington has withheld part of the aid—$130 million out of the total of $1.3 billion allocated to Egypt annually as military assistance. A further $75 million in assistance was blocked by Senator Patrick Leahy (D-VT) in early 2022, a move that has cast a pall over Cairo's relations with Washington.
The agreement to transfer sovereignty of the Red Sea islands to Saudi Arabia was approved by the Egyptian parliament in 2017 and by Egypt's Supreme Court the following year despite angry protests in Egypt in 2016 against the deal. Cairo may be dragging its feet over the transfer of the islands for fear of a new eruption of anti-government protests, especially given the public discontent over the rising prices.
Israel gave its initial nod to the deal on condition that the MFO be stationed in the Sinai Peninsula (after their departure from Tiran—a move that had been scheduled to take place in December 2022. In return, Saudi Arabia has agreed to allow Israel to use its airspace for eastward-bound flights to India and China. This step would pave the way for the normalization of ties between Saudi Arabic and Israel. Israeli flights would nevertheless, be unable to use Saudi airspace without Oman also conceding to open its airspace to Israel.
Meanwhile, Egypt is standing its ground and appears unwilling to make concessions to finalize the deal so long as part of the US military assistance remains frozen. Analysts say that the current stalemate will likely continue for some time. But the stakes are high for Cairo: not only does it risk losing the financial backing of its key benefactor Saudi Arabia, its intransigence may also undermine its relations with Israel and the United States which brokered the islands' transfer agreement.
Shahira Amin is a nonresident senior fellow at the Atlantic Council's Scowcroft Middle East Security Initiative and an independent journalist based in Cairo. A former contributor to CNN's Inside Africa, Amin has been covering the development in post-revolution Egypt for several outlets including Index on Censorship and Al-Monitor. Follow her on Twitter @sherryamin13.
Further reading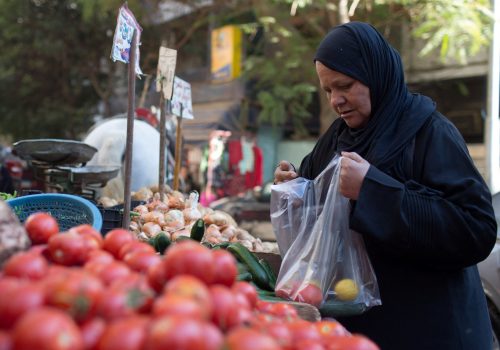 Tue, Jan 24, 2023
MENASource By Shahira Amin
The prices of food and other basic commodities including housing and medical services have soared over the past few months as the country faces rising inflation.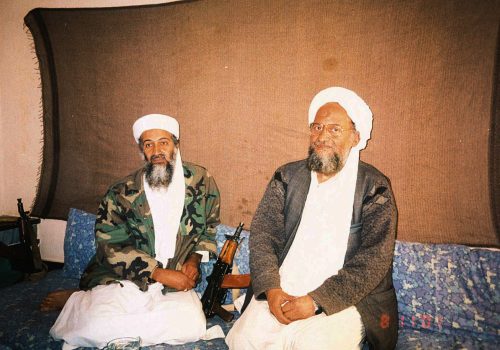 Wed, Aug 10, 2022
MENASource By Shahira Amin
The founding head of al-Qaeda is no longer, but it's important not to forget that the terrorists that carried out 9/11 were born, raised, and radicalized in Egypt and Saudi Arabia.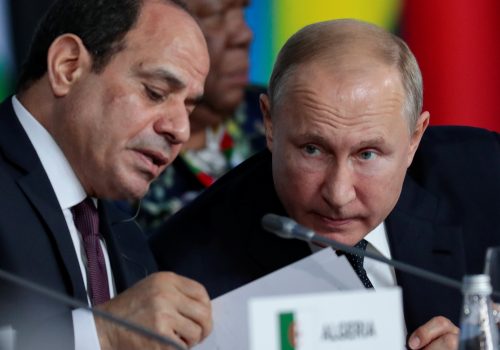 Tue, Jun 28, 2022
MENASource By Shahira Amin
Egypt has, on several occasions, proved its mettle as a  mediator between Israel and the Palestinians. Such support would also ensure Cairo's commitment to continuing the economic and political reforms it has started which are in the interests of both the US and Egypt.