Saudi Arabia is requiring companies to establish headquarters in the kingdom. That strategy may pay off. 
In 2021, Saudi Arabia issued an ultimatum to international companies: they will no longer be eligible for government contracts starting in 2024 unless they have a regional headquarters (HQ) in the kingdom. There are minimal exceptions to this new policy and, according to experts I consulted, the HQ requirement may eventually impact contracts with state-owned enterprises as well. Some companies are also concerned that the government could shift the goalposts and require more executive presence or include more stringent criteria down the road.
Saudi Arabia's goal is to get 480 companies to open regional HQs by 2030, believing that this will ensure their sustained presence and retain more corporate expenditure in the kingdom. This will also help achieve the objectives of Vision 2030 and grow the Saudi economy.
Already, eighty companies have been granted licenses to establish headquarters in Saudi Arabia, with companies like PepsiCo leading the way. Other companies are resigned to the fact that they must open an HQ in Saudi but are assessing loopholes, such as how many executives and employees must work from the Saudi-based HQ, what percentage of Saudi citizens need to be hired, and the tax implications.
Albright Stonebridge Gulf Cooperation Council Regional Manager Imad Al-Abdulqader explained to me that: "The government sees this as a long-term effort, and wants to shift decision-making personnel to Saudi Arabia because it believes that if senior company leaders live there, this will allow them to see the opportunities and grow their business in a way that benefits the companies and the country instead of what is seen currently as a transactional relationship for many companies that have benefited from government procurement for decades despite hardly any economic footprint in the country."  
This policy is also a deliberate move to upend the United Arab Emirates' (UAE) monopoly on hosting multi-national company headquarters, particularly since Saudi Arabia is the top market for most.
In 2021, Saudi Arabia hosted less than 5 percent of regional company headquarters in stark contrast to the UAE, which currently hosts the regional HQ for 76 percent of companies on the Forbes Middle East list. Although the UAE's GDP is half the size of Saudi Arabia's, the UAE has received more foreign direct investment since 2013. This lopsided business preference in favor of the UAE is primarily due to the ease of doing business in the country and its liberal social policies, which have appealed to expats.
Saudi Arabia's desire to change this dynamic is generating competition between these "frenemies" that is good for the region and good for business, as venture capital investor and Atlantic Council empowerME Chairman Amjad Ahmad has written. Both countries have made significant reforms. The UAE has announced a Monday to Friday work week, introduced a ten-year "golden visa" for foreigners, and is implementing a new corporate tax this month—the lowest in the region besides Bahrain's—that will eliminate the current fee structure.
For its part, Saudi Arabia launched a Quality of Life Program in 2018 that is rapidly developing more "cultural, entertainment, sports, tourism, and urban activities" to make Saudi cities rank "among the world's top livable cities." The kingdom has also streamlined its tourist visa process, boosted women's labor force participation from 18 percent in 2009 to 30 percent in 2020, and curtailed the influence of the religious police.
Dana Alajlani, head of public affairs for the Gulf Cooperation Council (GCC) at Sanofi, explained to me: "The rapid pace of change in Saudi Arabia is inspiring, and the eagerness of the young generation to drive the transformation is palpable. I would encourage executives and investors to visit the country to see for themselves how much the country has transformed and the myriad of business opportunities that exist."
Yet, some companies may lack an understanding of the new reality in the kingdom.
Business executives I've spoken to are often shocked by the rapid and profound change in Saudi Arabia. Mickey Stewart, the deputy CEO of Saudi consulting firm AEI Saudi, told me: "Riyadh is an exciting and rapidly developing city, with many emerging lifestyle opportunities for relocating expats. Nonetheless, a handful of businesses have described to us the [Regional Headquarter] initiative as a tax for doing business."
The Saudi government recognizes this, which is why the HQ program is an ultimatum rather than a bushel of incentives. Expats accustomed to life in the UAE or elsewhere may view a move to the kingdom with dread, imagining religious police, a ban that prevents women from driving, and other relics of Saudi Arabia's recent past. However, Saudi Arabia has become a much more appealing place to live.
Creating jobs for Saudis
Above all, the HQ program is designed to create more jobs for Saudis as part of the government's push to diversify the economy through Vision 2030.
Two-thirds of the country's approximately thirty-five million people are under the age of thirty-five, which represents an opportunity and a challenge. When the oil wells run dry, and as the world begins to shift to greener energy sources, alternative sources of revenue are essential for the country.
In 2022, Saudi Arabia's non-oil sector grew by over 6 percent. Since 2011, oil rent has comprised less and less of the kingdom's GDP, although it is still a significant source of revenue.
The Saudi government requires foreign companies to reinvest some of their profits in society, as well as train and transfer knowledge to locals. As former US National Security Advisor Stephen Hadley explained to me: "Companies that want to be successful in Saudi Arabia need to make sure their plans align with the objectives of Vision 2030 in terms of creating jobs and training people, because that's what the country's leadership is looking for. Fortunately, this is something American companies are very good at."
The challenges of operating in the kingdom
Today, Saudi Arabia has the energy and ambition of a startup: it's trying to build the plane while flying it. This presents challenges though.
There is tension between the main incentive offered to companies for setting up a regional HQ—a ten-year exemption on quotas for hiring a certain percentage of Saudis for jobs—and the overall goals of the plan to create more jobs for Saudi citizens. As AEI Saudi Deputy CEO Mickey Stewart puts it: "AEI are both advocates and practitioners of the government's strategic policy of Saudization (Saudi jobs for Saudi people). While there is some incredible local talent, the pace and scale of transformation means demand versus supply of talent remains a challenge for the immediate future."
The UAE's population of roughly ten million is nearly 90 percent expats. Saudi Arabia is not seeking to emulate the UAE in this regard. In fact, it cannot afford to because the country needs jobs for its citizens.
Key details, such as how company taxes will be assessed, will be announced soon, according to government officials. This could alleviate concerns about taxation in more than one jurisdiction. Saudi Arabia also plans to permit foreigners to buy commercial, residential, and agricultural real estate, going beyond a 2021 reform that allowed non-Saudi legal residents to buy property with some conditions.
The cost of living in Saudi Arabia is another challenging factor. Housing, water, electricity, gas, and other fuels rose over 6 percent in 2022, with housing costs in some of Riyadh's most desirable areas rising as much as 40 percent.
As American Chamber of Commerce KSA Women in Business Committee Chairwoman Jamila ElDajani told me: "Living in Saudi Arabia can be affordable, but to get like for like as you would elsewhere in the region, it can be costly. School, utilities, gas, clothes—costs have increased significantly in the last few years, and options can be limited. With that said, this reflects the amount of opportunity available to entrepreneurs and foreign investors, as they can address the rise in demand for projects that improve quality of life. For those who have a long-term outlook, there couldn't be a better time to be setting up a business in the kingdom."
In 2020, Saudi Arabia tripled its VAT tax from 5 percent to 15 percent, which Crown Prince Mohammed bin Salman said was temporary. However, the Saudis I spoke to are skeptical about the VAT being reduced. Saudi Arabia has also reduced its domestic subsidies on electricity, gas, and water, with consumers feeling this year's price increases of 54 percent, 333 percent, and 2,307 percent, respectively, as compared to 2015 prices.
Saudi Arabia is also working to open more private schools in Riyadh to support the demand caused by expats moving into the kingdom. These new schools are part of the International School Attraction Program—a partnership between the Ministry of Investment and the Ministry of Education that "aims to contribute to the transformation of the capital into one of the world's most competitive and livable cities by 2030." I hear mixed reviews about schools from expats living in Riyadh: some say the quality of the schools and the staffing levels are not yet adequate while others think the situation is no different than any other major city like London or New York where parents may struggle to find the right fit for their children.
There are also risks that hold some companies back from investing in the kingdom. In Saudi Arabia, the government's Vision 2030-related efforts are improving many people's daily lives. However, as Council on Foreign Relations Senior Fellow Steven Cook put it recently: "This is the case even though reform is entirely from above, activists demanding change from below are dealt with harshly, and societal surveillance has intensified."
Business deals are proliferating and are likely to continue
Despite the challenges associated with the Regional HQ program and with doing business in Saudi Arabia, the reforms underway are attracting companies to the kingdom:
More big deals can be expected if the kingdom continues to accelerate its development, but Saudi Arabia must continue pro-business reforms to attract and retain top companies. The Saudi government should also continue to invest in education reform and re-skilling efforts to ensure that the next generation of Saudis are ready for future jobs.
If Saudi Arabia is successful, it should be able to end its Regional HQ requirement in the next five years. By then, most foreign companies will already have or desire a strong presence in the largest regional market, especially if the downsides to living and working there continue to decrease. The regional HQ mandate seeks to accelerate this shift because Saudi Arabia has no time to waste in its sprint to achieve its ambitious Vision 2030 goals.
Stefanie Hausheer Ali is a director at the international strategic advisory firm Rice, Hadley, Gates & Manuel LLC.
The information in this article represents the views and opinions of the author and does not necessarily represent the views or opinions of Rice, Hadley, Gates & Manuel LLC.
Further reading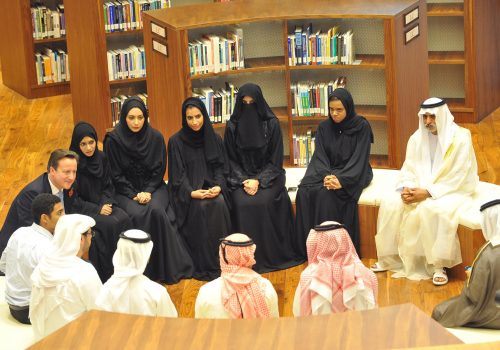 Tue, Sep 29, 2020
MENASource By Omar Al-Ubaydli
The production of new knowledge is a very complex process and many factors contribute to the low levels of innovation exhibited by the Gulf countries. One factor that plays a role is the structure of tertiary education—particularly PhD programs.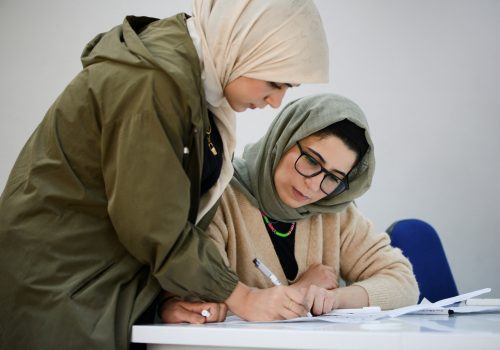 Fri, May 5, 2023
MENASource By Britt Gronemeyer
The feminization of migration flowing out of MENA can be attributed to the limited career opportunities available to women at home.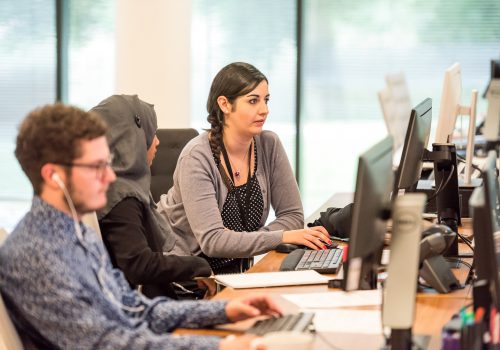 Mon, Mar 8, 2021
MENASource By Atlantic Council
In honor of International Women's Day, the Atlantic Council's empowerME asked Middle East business leaders and government officials to share a "shout out" about a woman entrepreneur or business leader who inspires them