After Tunisia expelled 1,200 Black Africans, here's how the West can help avoid a humanitarian disaster
A human catastrophe is developing on Tunisia's borders with little international attention. On July 2, Tunisian security forces rounded up over one thousand Black Africans from the city of Sfax. Security forces claimed to have detained their racially selected targets under the pretext of protecting them from civil unrest. However, according to victims' testimonies provided to Human Rights Watch, Tunisian authorities identified and checked their papers before smashing their cell phones, throwing away their food, violently and sexually abusing them, and expelling them at the borders with Libya and Algeria. Some of these individuals were refugees registered with the United Nations High Commissioner for Refugees (UNHCR). Others were transitory migrants, although most were laborers and students who were residing in Tunisia.
For about ten days, an estimated seven hundred people were stranded in no man's land between the southeastern Tunisian and Libyan borders, with a further two hundred still stranded in similar circumstances along the western border with Algeria. Tunisian authorities recently resettled most of the migrants stranded on the Libyan border. However, their response remains inadequate, mainly due to the absence of guarantees that this situation will not recur. This is a significant possibility, given local demands for African migrants to be removed from the town of Ben Guerdane, the Tunisian smuggling capital near the Libyan border, where many were resettled, and the aforementioned hundreds that are still stranded at the Algerian border.
Additionally, international organizations remain prohibited from providing crucial humanitarian assistance, and fear dominates the sub-Saharan migrant community. Thus, communication with victims is limited to voice notes and messages from smuggled phones. This means conditions could be even worse—and the numbers of those stranded even greater—than currently reported. And what is known of the conditions is already bad enough; with dwindling food and water and temperatures climbing to over 104 degrees Fahrenheit, victims have reported horrific stories of pregnant women dying in labor and people being driven by thirst to drink seawater.
This catastrophe is brewing against the backdrop of increasing authoritarianism in Tunisia under President Kais Saied and a severely deteriorating economy. Since February, when Saied re-appropriated a local version of the far-right great replacement theory, Tunisia's president has used Black and migrant communities in Tunisia as a populist scapegoat for the country's problems. This has stoked mass anti-Black hysteria that is now manifesting as active hostility wherever migrants are settled, as seen with the response in Ben Guerdane.
President Saied has also utilized harsh counter-migration policies to leverage financial support from Europe—specifically Italian Prime Minister Giorgia Meloni—creating an incentivization structure and aura of impunity that have fed into the current crackdown.
The situation on Tunisia's borders is not only a humanitarian catastrophe that could cause the death of hundreds of innocent people—it could also catalyze political, criminal, and diplomatic issues across the broader region. Mass arbitrary expulsions and violent abuse incited by inflammatory speeches of Tunisia's president have already boosted the numbers of sub-Saharan refugees fleeing to Europe across the Mediterranean Sea since February. Systematic and abusive government crackdowns will exacerbate this fear and could trigger a panicked, mass exodus as Tunisia becomes palpably unsafe for Black Africans, creating a new migration crisis for Europe.
This development also bolsters the already burgeoning business of human traffickers, helping them to entrench and expand other criminal activities. Additionally, it could strain relationships between Tunisia, Libya, and Algeria, as no country wishes to claim these stranded peoples, and Tunisian authorities continue ejecting them into sensitive border zones.
It's imperative for Europe, and especially the United States, to act to avert this catastrophe—not only for humanitarian reasons but also to protect regional stability and defend key regional interests. The United States has invested more than $1.4 billion in Tunisia's democracy since 2011 and is invested in promoting democracies to counter China and Russia's authoritarian systems. As a result, the United States is financially, ideologically, and diplomatically invested in supporting its European allies to stabilize an issue of extreme importance in the central Mediterranean.
A Western policy response should focus on the short-term imperative of providing protection and assistance to the stranded while stopping further expulsions. Additionally, medium-term policies to build structural safeguards can prevent this from re-occurring and perhaps even result in a healthier ecosystem for migrants and migration diplomacy in Tunisia.
Short-term solutions
In light of this ongoing crisis, European and US stakeholders have the opportunity to collaborate in preventing further deaths while simultaneously establishing a solid foundation for holistic and enduring resolutions to the migration predicament in Tunisia.
A first response should come through immediate public statements by senior officials that condemn the crackdown, highlighting Tunisia's contravention of international conventions it has joined, such as the United Nations and African Refugee Conventions, the Convention Against Torture, and the International Covenant on Civil and Political Rights. All of these accords explicitly forbid the practice of refoulement and forcibly returning or expelling individuals to countries where they may be subjected to torture, threats to their lives or freedom, or other severe forms of harm.
Furthermore, Western governments should call on Tunisian authorities to allow the International Committee of the Red Cross/Crescent (ICRC) and the International Organization for Migration (IOM) to aid the stranded.
Given that the aforementioned suggestions are immediately actionable, uncontroversial, and the most direct way to end the humanitarian crisis, they should be prioritized and enacted as soon as possible. For maximum effect, this could take the form of a joint statement made by the United States, United Kingdom, and European Union (EU), which could be supplemented by senior level phone calls between leaders who have a good relationship with President Saied, like French President Emmanuel Macron.
To create an atmosphere of maximum pressure reflecting the dire situation, further statements condemning the developments and proposing steps forward, such as allowing aid to the stranded, could be issued by the US Congress and the European Parliament—particularly committees such as the Committee on Civil Liberties, Justice, and Home Affairs (LIBE) and the Subcommittee on Human Rights (DROI).
The United States and EU can also provide capacity assistance to the International Organization for Migration (IOM) to help conduct voluntary resettlement for stranded Africans who had been working or studying in Tunisia and no longer feel safe, as well as those who were hoping to migrate onwards but would now rather return home. In addition, Western countries can support the home countries of these migrants by helping them provide consular assistance. In many cases, their embassies lack the personnel and resources required to respond to a crisis of this size.
The United States and EU have strong relationships with Tunisia's defense ministry and interior ministry, respectively, and they should be leveraged. Given the difficulties of directly influencing the infamously intransigent President Saied—and that Tunisia's security services are perhaps the only institutions retaining significant influence over the president and are the main implementers of these policies—capitalizing on these relationships represents the West's most practical means of influencing the situation.
As a last resort, the US should communicate that by facilitating these crackdowns in violation of international conventions—the African Charter on Human and People's Rights, the United Nations (UN) and African Refugee conventions, the Convention against Torture, and the International Covenant on Civil and Political Rights—that Tunisia's security services may end up excluding themselves from further funding programs. Meanwhile, Europeans can threaten to revoke the privileges that the Tunisian interior ministry's officer class enjoys from their close partnership with Europeans to encourage Tunisia's security services to uphold the law, cease their participation in egregious human rights abuses, and allow humanitarian organizations to tend to the stranded. This could be further communicated in bilateral conversations between European interior ministers who have recently visited Tunisia to meet with their counterparts.
Medium-term solutions
Since February, the African Union (AU) and countries whose citizens have been victimized by the racist crackdowns incited by President Saied have condemned the situation. They also remain better placed to provide diplomatic accountability measures to try and disincentivize Saied's regime from continuing this course of action.
Alongside the AU's responses, the EU could provide support to replicate mechanisms trialed elsewhere—such as the EU-AU-UN Tripartite Taskforce on the Situation of Migrants and Refugees in Libya—to develop and oversee sustained policy responses to help ameliorate the worsening situation of migrants and refugees in Tunisia, and build a working relationship with Tunisian authorities that could help avert such scenarios from reoccurring.
On June 11, when announcing the new Memorandum of Understanding (MoU) between Europe and Tunisia, European Council (EC) President Ursula Von der Leyen claimed that the migration part of the comprehensive package would be implemented in full respect of human rights and would become a model for migration deals with other countries. Considering the developments since, there should be clear stipulations added to the MoU to prevent mass arbitrary expulsions and violent abuse from being repeated, including accountability measures.
Alongside making a more focused, robust, and safeguarded migration pact, the European Parliament should more effectively leverage its role in budgetary scrutiny and oversight over EC spending to not only ensure the future deal is effectively implemented, but also look over existing funding packages given to the Tunisian border police. It is rumored that border guards are disgruntled that additional EU funding has yet to reach them in terms of increased salaries or new equipment and accuse the state of simply repurposing that money to its general budget. In this scenario, border guards are more inclined to accept money from traffickers and thereby enable trafficking instead of policing it. Moreover, this dynamic neutralizes any leverage or incentive this financing could provide to ensure that humanitarian standards are upheld. So, it behooves the European parliament to more closely scrutinize how its existing migration funding is being spent.
The importance of Tunisia's migration policy—especially given its ability to feed into other delicate issues, such as people smuggling and general regional stability—and its relationship with European migration policy should be routinely highlighted when European and US delegations visit Tunisia. Upcoming visits by European Parliament committees are a prime opportunity to initiate conversations on migration management practices, which can be followed up by identifying robust safeguards to prevent the reoccurrence of such situations.
By implementing these short-term and medium-term policy recommendations, European and US stakeholders can work towards addressing the immediate challenges while laying the groundwork for more comprehensive and sustainable solutions to the migration situation in Tunisia.
Alissa Pavia is associate director at the Atlantic Council's Middle East Programs' North Africa Program.
Tarek Megerisi is a senior policy fellow with the Middle East and North Africa program at the European Council on Foreign Relations.
Further reading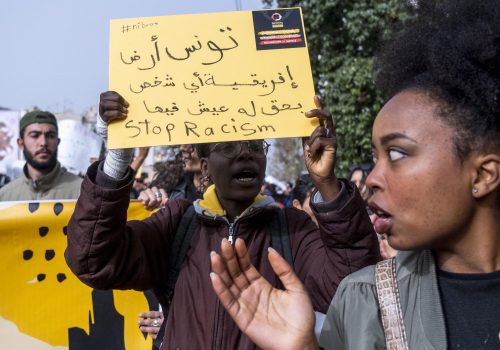 Mon, Mar 6, 2023
MENASource By Sarah Zaaimi
North Africa undoubtedly faces a serious migration problem that will continue to aggravate if not addressed regarding its social, cultural, and historical dimensions and root causes.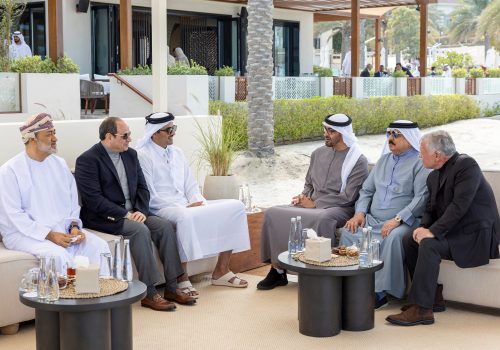 Thu, Feb 2, 2023
MENASource By Ali Bakir
On December 13, 2022, Egypt's President Abdel Fattah El-Sisi issued a presidential decree demarcating the country's maritime borders with Libya.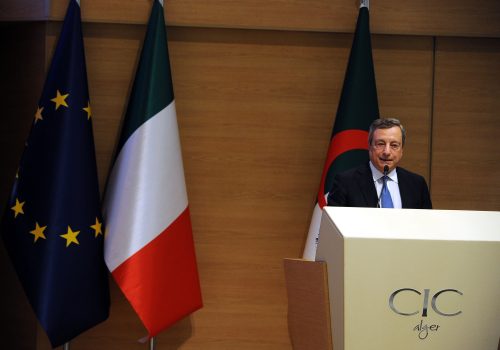 Fri, Feb 10, 2023
MENASource By Abdelkader Abderrahmane
Surfing on special ties and the war in Ukraine, Italy and Algeria have undoubtedly spotted an opportunity to further strengthen their economic and geopolitical relationship.