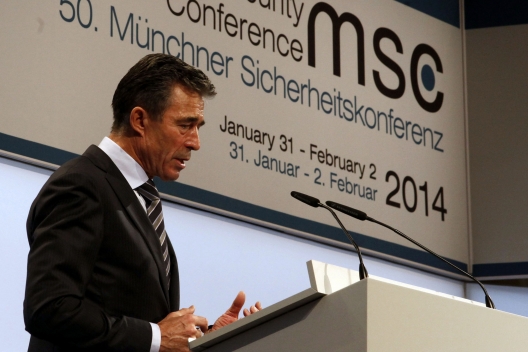 I am convinced that the vision that we agreed in 2010 in Lisbon remains the right one: a true strategic partnership between NATO and Russia. But I am concerned that in key areas, we remain too far apart.
I get concerned when I hear talk of deploying offensive — not defensive, but offensive — weapons systems. Such as fighter detachments to Belarus, Iskander missiles to Kaliningrad, or more military forces to the Arctic. I get concerned when I hear our missile defence system consistently – and falsely – described as offensive by Russia. And I get concerned when I hear that Russia views NATO's Open Door policy as a threat like international terrorism.
Let me be clear. None of us wants a return to the dividing lines and the hostility of the past. So let us stop using the words and the ways of the past. And move forward.
In Lisbon, NATO and Russia agreed to contribute to the development of a common space of peace, security and stability in the Euro-Atlantic area. This does not mean new treaties. It means sticking to principles and taking concrete steps.
First, we must refrain from threats against each other. This is what we agreed in the NATO-Russia Founding Act in 1997. And it is why the deployment of new offensive weapons has no place in a true strategic partnership. Instead, we should build confidence and transparency, as outlined in our 2002 Rome Declaration.
Second, we must comply with the principles of the 1999 OSCE Charter for European Security.
This reaffirmed the inherent right of each state to be free to choose or change its security arrangements and alliances. Ukraine must have the freedom to choose its own path without external pressure. . . .
And third, we should reach an agreement on missile defence cooperation. We have heard Russia's concern that NATO's system would undermine its strategic nuclear deterrent. But frankly, this ignores the facts and the laws of physics. NATO has offered to link our two missile defence systems. It would bring our experts together on a 24/7 basis. It would build trust and transparency. And it would improve protection for all of us – in Russia, and in Europe.
But so far, Russia has rejected NATO's proposal. If we want to move forward, we have no time to waste. Now is not the time for excuses. It is the time to engage. So I propose that we set a reasonable deadline and find a pragmatic agreement on how to move forward.
Fourth, we need to get arms control back on track.
We need to see progress on reductions in sub-strategic nuclear weapons. At NATO, we are prepared to talk about the transparency of these weapons. And I call on Russia to engage in talks with us. But Russia has to be ready to discuss these issues without preconditions. The Russian demand for NATO to remove all nuclear weapons in Europe, before we even start negotiations, will lead nowhere.
We also need to discuss our conventional weapons. Russia has said it will never come back to the Conventional Forces in Europe Treaty. But we do need to discuss how to rebuild a regime that makes all of us more secure.
Excerpts from "NATO and Russia – Time to Engage," remarks by NATO Secretary General Anders Fogh Rasmussen, February 1, 2014.