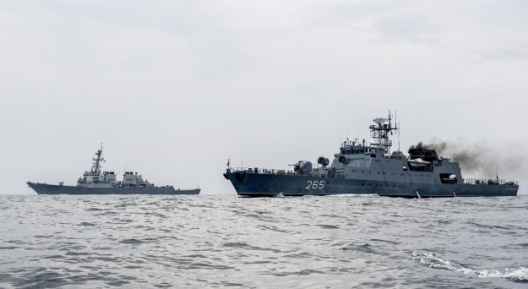 From Transitions Online: At NATO's July summit, Bucharest will propose that a regular multinational naval force patrol the area.
Amid heightened tensions over the separatist conflict in eastern Ukraine and Russia's annexation of its Crimean peninsula, NATO temporarily beefed up its presence in the Black Sea region last spring.
NATO dispatched a flotilla to train with ships from the Romanian, Bulgarian, and Turkish navies as part of what an alliance official called a "scheduled deployment" that "given Russia's continued assertiveness, carries an additional message of reassurance to allies in the region."
Another flotilla was deployed early in December….
The Romanian proposal would create a regular flotilla including ships from Germany, Italy, Turkey, and the United States, Romanian television station Digi24 reports.
From Joshua Kucera, EurasiaNet: Warships of countries not on the Black Sea are restricted from spending more than 21 days at a time there by the 1936 Montreux Convention. So if a NATO Black Sea fleet were to come to fruition members other than Bulgaria, Romania, and Turkey would have to rotate their ships out regularly.
The increased NATO presence on the Black Sea has already been a major irritant to Russia. At the same time Russian naval vessels' use of the Bosphorus straits, which pass through the middle of Istanbul, to supply the war effort in Syria has become a flashpoint in the Russia-Turkey conflict.