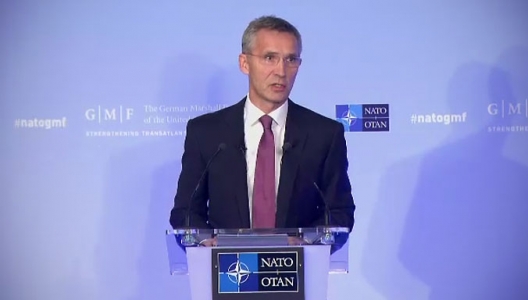 I grew up in a world that felt at the time as dangerous as the world we live in today. As a child in Norway during the Cold War, I didn't know much about Article 5 or the Washington Treaty. But I did know that NATO was there to protect us. I felt safe, because of NATO. Later as a young conscript in the Norwegian Army, we were trained to hold out. In the secure knowledge that our Allies would quickly come to our rescue. We knew that Norway could not make it alone. But we also knew that we were not alone. Through NATO, we enjoyed a level of protection that only a transatlantic Alliance of democracies could provide. Today, I see it as my duty to ensure that current and future generations feel as safe and secure as I did back then. Security is the foundation for our freedom and our open societies; for our prosperity; and for our ability to address other great challenges of our time – such as poverty and climate change. If we lose our security, we lose so much more. The nature of the challenges to our security may change. But the answer remains the same: working together in a strong NATO. This is a winning combination. Over the past 65 years, it has helped us to weather many storms. It will get us through these current turbulent times. And those we will face in the future. . . .
At the Wales Summit we took key decisions. I am determined to translate those decisions into lasting results ahead of our next Summit in Warsaw in 2016. I have set out three priorities.
First, we must keep NATO strong. Strong as a political Alliance. And strong as a military Alliance. This starts with solidarity and resolve. We are an Alliance of democracies. We may not always agree at first. But by debating, consulting and working together, we arrive at firm decisions. And together, we act on those decisions. This is the strength of our Alliance. To stay strong we must preserve and strengthen collective defence. The pledge to defend each other – Article 5 of our founding treaty – remains the bedrock of NATO. It is the basis for everything we do.This is why the implementation of the Readiness Action Plan we agreed at the Wales Summit is key. This is the biggest reinforcement of our collective defence since the end of the Cold War. We are making our forces more agile. And able to deploy quickly whenever threats emerge. From any direction. We are also maintaining a continuous NATO presence in the Eastern part of our Alliance, on a rotational basis. To reassure our Allies. And to deter anyone who might wish to challenge us. . . .
This leads me to my second priority. To work with our partners to bring more stability to our neighbourhood. Partnerships are one of NATO's greatest success stories. Enlargement is another. Our partners have worked with us to increase the space of democracy and freedom in Europe. Twelve of them have actually become Allies. And all partners have made important contributions to our operations. They have helped to enhance international security and to defend the values on which our Alliance is based. But today, Russia is trying to roll back the progress we have made in this collective effort. And some of our partners are facing great pressures. We will continue to support Ukraine and our other partners in our eastern neighbourhood. And we will continue to uphold the principle that each country has the right to choose its own path. . . .
Norway's experience as a founding member of NATO is that a strong defence, based on a strong NATO, is the foundation for a constructive relationship with Russia. It gave us the confidence to work with Russia on a range of issues. From military matters to fisheries, energy and the environment. We also signed a treaty to establish the maritime boundary between our nations in the Barents Sea and the Arctic Ocean.I believe there is a lesson here for us now. That only a strong NATO can build a truly constructive and cooperative relationship with Russia. . . .
Turning to the South, we see different threats. Many states are fragile. And extremism is fuelling instability. But there is no choice between providing for our security in the East or in the South. We have to do both. Our main responsibility is to defend and protect our Allies. . . .
And this is my third priority. Allies on both sides of the Atlantic must play their full part. North America needs a stronger Europe. And Europe needs continued strong engagement by North America. We all need to invest in our Alliance politically and financially. To make sure that NATO has the means to do the difficult jobs that it has to do. And the political will to use those means, when necessary. At Wales, we agreed to reverse the trend of declining defence budgets. And to aim to raise them over the coming decade as our economies improve. As a former Prime Minister and Finance Minister, I know how difficult this is. But I also know how important it is. And I know that, with political will, it can be done . Because the primary role of any state is to protect its citizens. I will engage personally with all NATO leaders to help us keep the pledge we made at Wales. I also intend to work closely with the new leadership of the European Union. I am encouraged that they too will seek closer engagement with NATO. Because now, we need each other more than ever.
Excerpts from speech by NATO Secretary General Jens Stoltenberg at the German Marshall Fund, Brussels, October 28, 2014.