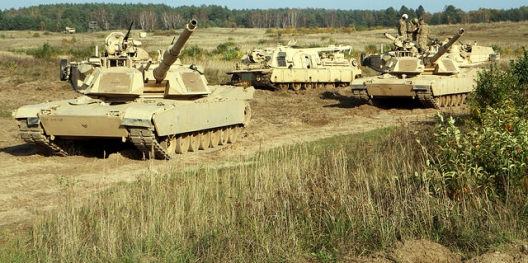 The U.S. Army intends to add at least 100 fighting vehicles to Europe by the end of next year, the commander of U.S. Army Europe told reporters on Monday.
"We are looking at courses of action for how we could pre-position equipment that we would definitely want to put inside a facility where it would be better maintained, that rotational units could then come and draw on it and use it to train – or for contingency purposes," said Army Lt. Gen. Frederick "Ben" Hodges at the news briefing. . . .
On Monday, Hodges visited a training site in Lithuania to see if it could be used to house armored vehicles, such as tanks, he said. He will also look at potential sites in Estonia and Poland, and he has already looked at training areas in Romania and Bulgaria.
Currently, the Army has an armored battalion in Germany, and now it is looking to add two additional battalions, possibly in Eastern Europe, Hodges said. U.S. Army Europe will recommend to U.S. European Command where to position an armored company or battalion. . . .
Hodges believes existing infrastructure in Eastern European NATO countries could be used for the additional armored vehicles.
"Certainly, I don't see a need to build infrastructure – a FOB if you will – or anything like that, that would be used for U.S. forces," he [Hodges} said. "I do see a great opportunity now to improve the training facilities to help modernize host nation training facilities. We want to invest in improving the playing field, not the grandstand – the bleachers. Investments are going to be on the training facilities and not into barracks and dining facilities and that sort of thing."