Are Americans more supportive of Ukraine than Congress is?
Chaos in the House of Representatives has thrown crucial US funding for Ukraine into doubt for the first time since Russia began its full-scale invasion in February 2022. On October 3, a small group of Republicans initiated proceedings to oust the Republican Speaker of the House Kevin McCarthy, a move House Democrats were all too happy to oblige. These strange bedfellows removed McCarthy from the speakership and thrust the lower house of Congress into a state of uncertainty never before seen in US history.
One of McCarthy's last acts as speaker was to exclude aid to Ukraine in last week's continuing resolution to keep the government funded through mid-November. Now, following the ouster of McCarthy—who at his core was a reasonably strong supporter of Ukraine—it's unclear when or if the House will vote to approve the Biden administration's proposed twenty-four-billion-dollar Ukraine aid package. Fortunately, the Senate has already signaled its bipartisan support for the new tranche of funding.
What's more, most Americans want to continue US support for Ukraine, a rare source of bipartisanship in our polarized politics. While it may be tempting to conflate a vocal clique of Republican opposition in Congress with falling public support for Ukraine, polling consistently suggests Americans' support for Ukraine in both parties is remarkably durable. Will new congressional leadership act against the will of most Americans to appease a lonely few isolationists in Congress?
Americans have long been more supportive of Ukraine than some headline writers in the media give them credit for. A raft of summer 2023 polling shows a more nuanced and positive picture of US support than some doom and gloom narratives in circulation: In June and July, nearly half of Americans wanted Congress to spend more money on Ukraine, 76 percent of Americans saw Ukraine's victory over Russia as "important to the United States," and approximately 80 percent were convinced by arguments in favor of helping Ukraine. Republicans did appear to support Ukraine at a lower rate than Democrats but were more open to aid Ukraine than any other foreign country.
A snapshot of what Americans think now
New polling provides further evidence that American public support for Ukraine remains robust and bipartisan, and may even be more forward-leaning than the opinions of many in Congress or the White House. A September 7-18 poll by the Chicago Council on Global Affairs (CCGA) reported that 63 percent of respondents supported "sending additional arms and military supplies to the Ukrainian government." This follows an August 10-17 survey by Change Research and Razom for Ukraine, which found that 63 percent of respondents said that they supported "continuing [US] military support for Ukraine in next year's federal budget."
Republicans in the CCGA poll supported military aid to Ukraine at a 50 percent clip, while in the Change-Razom poll, 41 percent of Republican respondents favored additional military support (compared to 77 percent of Democrats and 60 percent of Independents in the CCGA poll, and 87 percent of Democrats and 52 percent of Independents in the Change-Razom survey).
What's more, the CCGA and Change-Razom polls suggest that the percentage of Americans who say aid to Ukraine has been "worth the cost" is holding steady. In June, the Reagan Institute found that 50 percent of Americans said US aid to Ukraine was worth the cost (65 percent of Democrats, 41 percent of Republicans). Those numbers jumped significantly when respondents were informed that for 3 percent of the US military budget, Ukraine had "significantly degraded" the Russian army (an increase in 12 percentage points for Democrats, 18 for Republicans). Change-Razom asked the same question and got similar results: Overall "worth the cost" responses jumped from 46 percent to 57 percent overall; 52 percent to 62 percent for Democrats and 45 percent to 56 percent for Republicans. Most recently, the CCGA poll recorded overall "worth the cost" figures at 53 percent overall, 38 percent for Republicans and 69 percent for Democrats.
Over the course of three months, the number of Americans who believe Ukraine aid is worth the cost has held solid. While Republicans are less likely than Democrats to support military assistance, the strong plurality that does believe aiding Ukraine is worth it has not dropped beyond the polls' margin for error. And when Americans in both parties get more information on how US military aid is helping Ukraine to defeat Russia, support jumps by double digits. As such, Ukraine backers in Congress and the White House would do well to explain more clearly why US aid matters. US President Joe Biden said he will do just that in the coming days.
As long as it takes—and what that means
Polling also suggests that the ways in which leaders frame long-term support for Ukraine matters to Americans of both parties. The Change-Razom poll asked respondents if they would support ending military support for Ukraine only when "the region becomes stable and Russia leaves all Ukrainian territory," 52 percent of Independents and 50 percent of Republicans said yes (plus 71 percent of Democrats, making up 59 percent of all respondents). The suggestion that half of Republicans and nearly three quarters of Democrats want to aid Ukraine militarily until its victory over Russia is a stunning new finding.
But when CCGA asked Americans if the US should "support Ukraine for as long as it takes, even if American households have to pay higher gas and food prices as a consequence," then support was much lower. Just 47 percent of respondents said they were willing to endure such costs, including 62 percent of Democrats, 46 percent of Independents, and 30 percent of Republicans.
While the Biden administration has used "as long as it takes" to signal continued support for Ukraine, Americans may be more convinced with additional context about the end goal. The White House may see more success by presenting a clearer plan for what victory in Ukraine looks like. And while the Biden administration may not be able to win over all Republican voters, being more specific on victory may help tamp down GOP resistance to Ukraine funding.
American support for Ukraine in NATO
Interestingly, a recent study by the German Marshall Fund (GMF) adds further evidence that Americans may be ahead of their representatives when it comes to long-term US support for Ukraine. Released on September 12, GMF's Transatlantic Trends 2023 report surveyed Americans and Europeans on their perspectives of a "shifting global order." It found that the majority of American respondents want to see Ukraine in NATO (61 percent), support Ukraine's European Union (EU) membership (58 percent), and favor US financial support for Ukrainian reconstruction (57 percent). Though these figures may surprise politicians and commentators, they suggest that many Americans see Ukraine as a future ally and enduring partner.
Support for Ukraine's NATO and EU membership and reconstruction is also surprisingly strong among Republicans. A full 59 percent of Republican respondents said they support Ukraine's membership in NATO (74 percent of Democrats were in favor). Importantly, just 29 percent of Republicans said they disagree that Ukraine should be in NATO, a low proportion especially given former President Donald Trump's well-known skepticism of the Alliance and his strength among Republicans in polling ahead of next year's presidential election.
Robust, durable, and bipartisan
Taken together, the CCGA and Change/Razom polls and the GMF report suggest that many Americans want to help Ukraine defeat Russia in the near term and support Kyiv's longer-term Euro-Atlantic aspirations. These findings run counter to media narratives of falling support for Ukraine that create a negative feedback loop when parroted back by loud anti-Ukraine-aid voices in Congress. With the House in recess in the coming days, journalists and members of Congress alike should take a moment to look closely at how Americans really feel about Russia's brutal, unprovoked war against Ukraine and what they think their country should do about it.
---
Andrew D'Anieri is a resident fellow at the Atlantic Council's Eurasia Center. Find him on the website formerly known as Twitter at @andrew_danieri.
Further reading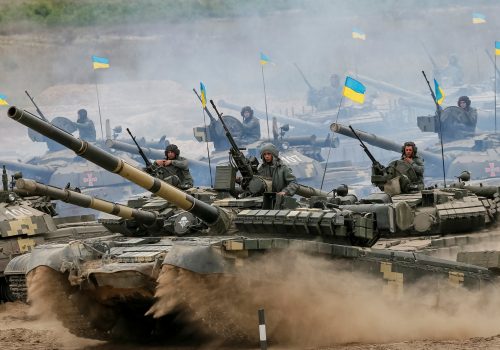 Tue, Oct 3, 2023
New Atlanticist By Andrew A. Michta
The overarching lesson from the unfolding war in Ukraine is simply the scale of what's required to fight a modern state-on-state war.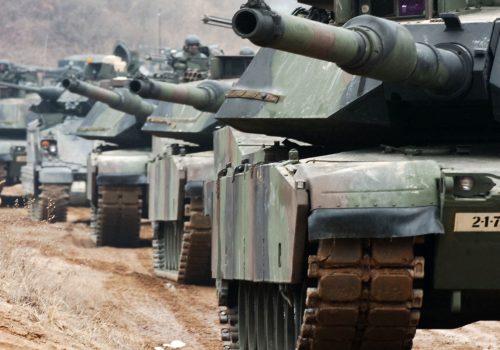 Sat, Sep 30, 2023
UkraineAlert By Olivia Yanchik
The first US M1 Abrams tanks arrived in Ukraine in late September, writes Olivia Yanchik. Will these American tanks help Ukraine to achieve a breakthrough against Vladimir Putin's deeply entrenched Russian invasion force?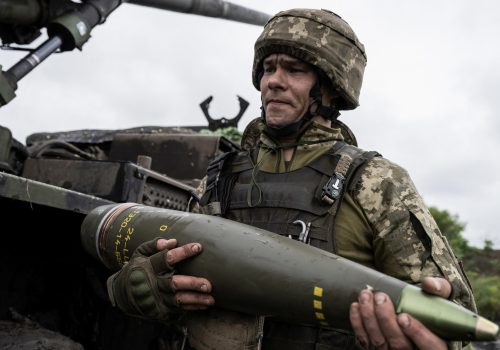 Fri, Sep 29, 2023
New Atlanticist By Thomas S. Warrick
Today's battlefield chews up ammunition and equipment at extraordinary rates. The US "arsenal of democracy" needs to start working overtime.