This article was updated on October 2, 2023, to reflect new developments in Congress.
The Biden administration continues to change its mind for the better in supplying more capable weapons to Ukraine, reportedly agreeing at last to send more precise, longer-range Army Tactical Missile System (ATACMS) ground rockets and to support other countries sending F-16 fighter-bombers. These big systems have received a lot of attention, but another aspect of the US "arsenal of democracy" should not be overlooked. The United States and its allies are sending to Ukraine a wide range of munitions, but they are not being produced or delivered as quickly as needed.
To ensure Ukraine prevails as soon as possible, the United States must ensure that the aid the Biden administration and Congress agree to send to Ukraine gets there without delay. Two aspects are critical: the speed at which weapons are produced and the speed with which they arrive on the front lines. Accelerating both is the only way to overcome the complaints by armchair generals in Washington that Ukraine's 2023 offensive has gone too slowly. The "arsenal of democracy" needs to start working overtime.
Facing battlefield realities
Today's battlefield chews up ammunition and equipment at extraordinary rates. Both Russia and Ukraine have reportedly delayed offensives because of shortages of artillery shells, drones, modern aircraft, tanks, and troops. As Ukraine was building up munitions and equipment earlier this year, postponing the start of its summer offensive, Russia took advantage of the delay to lay extensive minefields and build trenches and obstacles along Ukraine's southeastern front. Ukraine's forces have proven themselves flexible and adaptive, but they need to have sufficient ammunition and weapons.
To this end, the Biden administration, with support from Democrats and many Republicans in Congress, has proposed a $24 billion supplemental appropriations bill that includes $20.3 billion in security, economic, and humanitarian assistance for Ukraine. The fate of this proposal is important to a successful resolution of the war in Ukraine, as well as to how China views the risk of an invasion of Taiwan in the coming years.
Limited progress has been made. In August, Douglas Bush, the US Army assistant secretary for acquisition, logistics, and technology, told reporters that production of 155mm artillery shells—the high-explosive ammunition of choice for many US and Ukrainian artillery officers—would increase from 24,000 a month this year to 80,000 a month by October 2024. He explained the Army is establishing new and faster production lines using purpose-built machine tools. However, the United States has provided the Ukrainians two million 155mm rounds since February 2022 (other nations have also provided them). The resulting shortfall in 155mm rounds left the Biden administration with no real alternative this summer but to provide Ukraine with cluster rounds, which are particularly effective against infantry but get international criticism because duds can still go off after the war ends, harming civilians, especially farmers and children.
US allies are also lagging. On Tuesday, a collection of NATO allies and partners announced new contracts worth more than two billion euros for 155mm artillery, anti-tank guided missiles, and main battle tank ammunition. "Russia's brutal war against Ukraine has reminded us that a war of attrition becomes a battle of logistics," explained NATO Secretary General Jens Stoltenberg. As welcome as this news is, the first deliveries are not expected until the end of the year.
There is no doubt that if the United States found itself in a shooting war, the US Army could move faster, as Bush acknowledged in August. The Army's logistics team should treat this as a direct conflict, not least because faster delivery of munitions to Ukraine is one of the best ways to avoid the United States ending up in a shooting war with Russia. US lawmakers can make clear as they appropriate additional funds for munitions to Ukraine that they expect the Pentagon to move faster in delivering aid. Congress should also repeal, or at least not repeat, a peculiar provision—Section 102(a)(2)—in the September 30 continuing resolution that prevents increasing production rates above the levels sustained with fiscal year 2023 funds. With today's military threats, including China, delaying the ramp-up of production rates of US munitions such as 155mm artillery rounds hurts US military security and readiness and makes no strategic sense.
Facing geopolitical realities
The signs of the "arsenal of democracy" working overtime are revealed in how quickly the Department of Defense completes contracting paperwork and how many production lines are running multiple shifts. There are reports of a modest increase as of mid-2023, but goals for substantial increases are still more than a year away. Congress should ask whether faster delivery of these munitions would help bring the war to a faster resolution. A hearing or even a bipartisan letter with many signatures could have a powerful effect.
Supplying weapons to Ukraine and building up the munitions that will be necessary to help Taiwan defend itself from a possible invasion by the People's Liberation Army both enjoy bipartisan support in Washington today. However, the administration should heed the warning of Rep. Michael Waltz (R-FL), a former US Army Green Beret and a strong Republican voice on the House Armed Services Committee. Waltz recently wrote for Fox News that the White House cannot count on Congress to keep funding aid for Ukraine without articulating a better strategy.
The military strategy on the ground in Ukraine needs to be run by Ukrainians, not Americans—but the logistics strategy of how the West supports Ukraine is very much something that Washington and its allies control. Ukraine's next offensive will need to be tailored to overcome Russia's defenses in eastern Ukraine. Whatever aid the United States decides to give needs to arrive quickly, over the next few months, not gradually over the course of the next fiscal year. The current pace of the ramp-up of US munitions production and delivery of systems such as tanks and aircraft, which might be acceptable in peacetime, risks the success of the entire Western effort to support Ukraine's defense against Russian aggression. This is not peacetime. Just as President Franklin D. Roosevelt did in 1940, it's time for the "arsenal of democracy" to embrace today's reality.
---
Thomas S. Warrick is the director of the Future of DHS project at the Scowcroft Center for Strategy and Security's Forward Defense program and a nonresident senior fellow and the Scowcroft Middle East Security Initiative at the Atlantic Council.
Further reading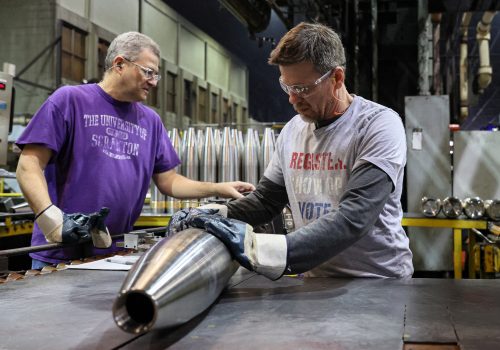 Fri, Feb 24, 2023
New Atlanticist By Thomas S. Warrick
Weapons deliveries to Ukraine are delayed because the Pentagon cannot process procurement contracts fast enough. Congress needs to get the defense industry on wartime footing.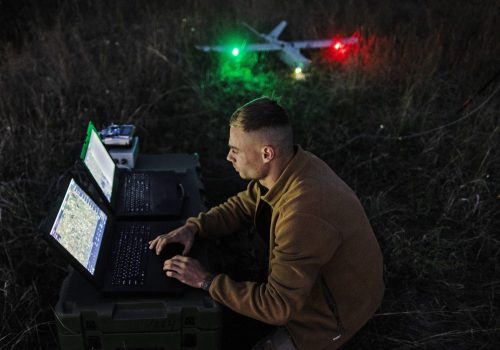 Tue, Sep 26, 2023
UkraineAlert By Mykola Bielieskov
Ukraine's increasingly formidable drone army is enabling Kyiv to bring Vladimir Putin's invasion home to Russia and strike strategic targets throughout the Russian Federation, writes Mykola Bielieskov.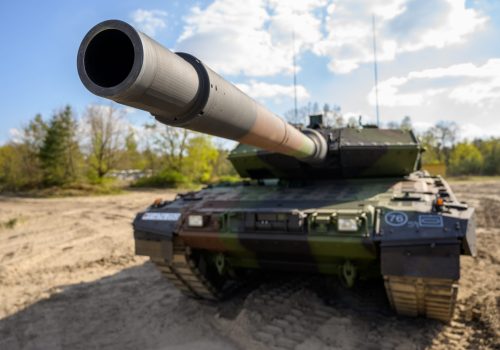 Wed, Jan 25, 2023
UkraineAlert By Jeffrey Cimmino, Shelby Magid
The decision by Germany and the United States to supply Ukraine with main battle tanks is an important landmark in international efforts to counter Putin's invasion but much more is required to defeat Russia.