On Thursday, US President Joe Biden announced that the United States will more swiftly remove unauthorized immigrants, expanding a pandemic-era restriction known as Title 42. Meanwhile, Biden expanded the use of a special authority to allow in up to thirty thousand migrants per month from Cuba, Nicaragua, Haiti, and Venezuela, so long as they have a US sponsor. We asked our experts what's behind the policy shifts from the White House and what happens next.
1. Why did Biden expand the parole program to Cuba, Nicaragua, and Haiti?
Putting in place the tools for a more orderly asylum process at the US-Mexico border is pivotal with the surge in encounters. Today's announcement of an expansion of the Venezuela parole program to Cubans, Nicaraguans, and Haitians will hopefully help to dissuade asylum seekers from risking their lives to make the trek north.
In October and November 2022, more Cubans (sixty-five thousand) and Nicaraguans (fifty-five thousand) arrived at the southwest border than in fiscal years 2020 and 2021 combined. The twelve thousand Haitian arrivals in those two months amount to one fifth of their total fiscal 2022 arrivals.
But people won't stop leaving while they have little hope for a better life in their own countries. That is the case in Cuba (where inflation is soaring and repression escalating), Daniel Ortega's Nicaragua (where democratic freedoms no longer exist), Nicolás Maduro's Venezuela (with its own soaring inflation and repression), and gang-controlled Haiti. So border policies must be accompanied by new US and partner country strategies to improve livelihoods in these migrants' countries of origin. And the United States must hold those like Ortega accountable for his actions to weaponize migration by doing things such as lifting the visa requirement for Cubans in order to more easily facilitate passage to the United States.
But the border is about more than migration. It is a vital source of commerce that promotes the creation of US jobs. Our recent work shows that just a ten-minute reduction in border wait times could have a $5.4 million annual impact on the US economy and create nearly nineteen thousand jobs in Mexico. Greater commerce translates into greater security as well. Economic growth creates jobs, making it less desirable to leave home. It is absolutely achievable to have a border that is more secure and more efficiently promotes commerce. That should be the goal.
—Jason Marczak is the senior director of the Adrienne Arsht Latin America Center.
2. What impact will this have at the border?
Biden's visit to the border ahead of the North American Leaders Summit next week is an important step toward the amelioration of a crisis that has long afflicted the US-Mexico border. Smart border policies that streamline crossing processes not only benefit issues around migration, but also help decongest communities that are regularly choked by vehicular and pedestrian traffic.
Initiatives such as the New Migration Enforcement Process for Venezuelans have already decreased the percentage of attempted migrant crossings by nearly 90 percent. The expansion of such programs to additional groups could have similar effects, thus alleviating burdens on the health care and sanitation industries, among others.
Additionally, as border agencies utilize their resources to confront surges in pedestrian traffic, wait times for vehicles exponentially increase. Subsequent carbon emissions deteriorate the air quality around ports of entry, directly affecting the health outcomes of local communities. Further, vehicles waiting in line for miles constrict local mobility, hindering residents' ability to travel back and forth between school, work, hospitals, and more.
It is important to keep people at the center of border policy, and initiatives that aim to enhance secure and efficient crossings should be celebrated by not only the United States and Mexico but the region as a whole.
—Ignacia Ulloa Peters is an assistant director at the Adrienne Arsht Latin America Center.
3. Will Biden's plan work?
The Biden administration's announcement that it will surge resources to the southwest US border and speed up processing for asylum applicants is a most welcome response to the extraordinary surge of people from troubled countries such as Cuba, Nicaragua, and Venezuela. Nothing will satisfy some critics, but those who support security, economic prosperity, values, and the US history of welcoming refugees from troubled lands should see today's announcement as good news.
One absolute essential is the need for additional resources and personnel to make this plan work. The administration needs to send Congress an urgent supplemental budget request and to invoke some of the president's extraordinary authorities to get additional personnel at the border to achieve the goal of making definitive, binding determinations of asylum eligibility in days, not weeks. The administration needs additional resources to (1) integrate legitimate asylees and their families to make important social and economic contributions to US society or (2) return ineligible people to a place of safety under existing laws. The administration and Congress now need to put forward the resources needed to satisfy US values, security, and prosperity. This would be historic, and it is achievable.
—Thomas Warrick is a nonresident senior fellow at the Scowcroft Center for Strategy and Security's Forward Defense practice and a former deputy assistant secretary for counterterrorism policy at the US Department of Homeland Security.
4. What should happen next?
The American people have a right to expect secure borders. Crucial to this is a fair, orderly, and efficient process for those seeking to come and for determining who may stay. Unfortunately, the United States' current system is utterly broken, and this is particularly true of the asylum system—weighed down by a 1.6 million-case backlog, with each case taking years to resolve. This has encouraged thousands with marginal claims to make dangerous journeys to the US border every month, expecting that the United States will not only let them in but also allow them to stay and work during the years it will take for their asylum claims to be resolved.
The measures announced today by Biden are the latest in a series of efforts aimed at gaining control over this untenable situation—establishing orderly processes for those with legitimate asylum claims; providing opportunity for those desiring to escape repressive or criminal regimes in Venezuela, Cuba, Nicaragua, or Haiti; and working with Mexico and other nations to strengthen enforcement against those choosing not to use these legal processes and, instead, trying to sneak in.
These are excellent steps, but band-aids. Congress needs to get involved—not only to provide the resources and legal fixes needed to expedite the resolution of asylum claims and better secure the border, but also to reform the immigration system more broadly, giving lawful status to those who have been here a while, expanding lawful channels for those wanting to come, and creating more efficient mechanisms for employers to hire the workers the US economy needs. Biden and Department of Homeland Security Secretary Alejandro Mayorkas deserve great credit for muddling through with the limited tools they have, but to truly get control of the border, Congress needs to put politics aside and fix the broken system.
—Seth Stodder is a nonresident senior fellow in the Scowcroft Center's Forward Defense practice and a former assistant US secretary of homeland security for borders, immigration, and trade policy.
Further reading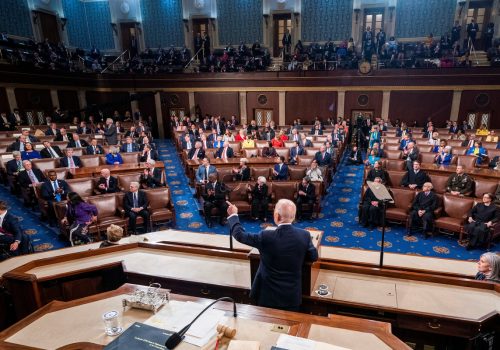 Wed, Nov 16, 2022
Experts react By Atlantic Council experts
The next two years of US President Joe Biden's term will likely look markedly different from the first two. We asked our experts what's in store.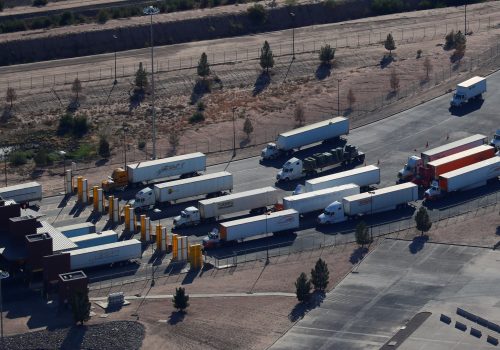 Tue, Sep 27, 2022
Report By Alejandro Brugués Rodríguez, John Byrd, Noé Arón Fuentes Flores, David Gaytan, John Gibson, Camila Hernández, Mayra Maldonado, Jason Marczak, Jorge Eduardo Mendoza Cota, Roberto Ransom, and Ignacia Ulloa
Improvements in border management and the adoption of new technologies at the US-Mexico border have the potential to enhance border security and generate economic benefits for the United States and Mexico through expedited flows of goods and people.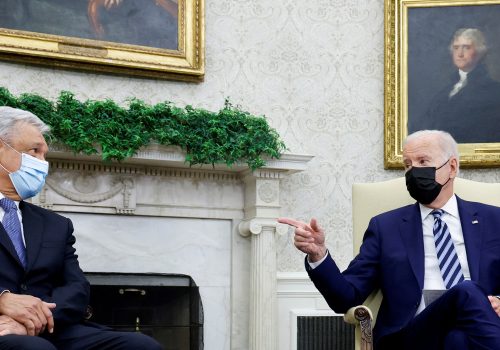 Tue, Jul 12, 2022
New Atlanticist By Jacob M. Kaufhold
Many of the landmark trade deal's best opportunities remain untapped. The US and Mexico have a golden opportunity to build on their trade successes and overcome differences.