There is little doubt that small- and medium-sized enterprises (SMEs) play an outsized role in most economies. They are employers, producers, service providers, and innovators who power integrated supply chains, driving global economic growth and job creation. SMEs comprise some 90 percent of businesses and employ more than half the world's workers. In emerging and developing markets, formal SMEs contribute roughly 40 percent of national income (GDP) and generate at least seven out of ten jobs; and these estimates rise substantially if you take informal business into account.
Beyond their sheer employment power, SMEs are pivotal because of who they are as much as how many there are. Across countries of all income levels, a large—if not dominant—share of SMEs are owned by women and minorities, or employ them. Critically, entrepreneurship has become a key path out of unemployment for millions of youth facing historical crises. A focus on supporting SMEs is vital for economic recovery, and it's time for governments and international institutions to step up.
Given their dominance of the market, SMEs—especially those owned and operated by women, youth, people with disabilities, or other minorities—absorbed a large share of the economic fallout from COVID-19. In large part, economic recovery will depend on SMEs' ability to rebound despite tight labor and credit markets that will likely last for months, if not years, to come. In a World Bank, Facebook, and Organisation for Economic Co-operation and Development survey of 30,000 small-business operators across fifty countries, at least a quarter—and more than half in some countries—reported closing between January and May 2020. Of those that were still operating, a third had made employee cutbacks, and nearly two-thirds said sales were lower than the same period in the prior year. Female-led businesses were at a disadvantage—at least 7 percent more likely to be closed than male-led ones. Looking ahead, recent International Monetary Fund staff research warns that SME insolvency could hinder economic recovery across twenty countries in Europe and the Asia-Pacific region, putting twenty million jobs—more than a tenth of total SME workers, including nearly 40 percent of workers in accommodation and food services—at further risk.
To build back better, a strategic recovery should start with SMEs. Successful efforts by national governments and multilateral institutions should soften the range of supply, demand, information, and administrative constraints and focus on SMART strategies: Skills, Money, Adaptation/Adoption, Regulatory environment, and Trade.
While public health and vaccines remain the priority for containing the pandemic, there is no time to waste in making near- and longer-term investments in SMEs to stave off further economic collapse and put recovery on track—especially in low- and middle-income countries, where SMEs dominate the employment landscape. Targeting SME support to women, youth, persons with disabilities, or racial or ethnic minority business owners (and employees) will make for a more inclusive recovery and better, sustainable growth outcomes for millions of people across the globe.
Further reading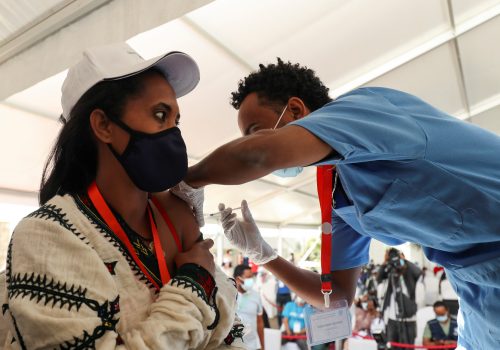 Wed, Apr 21, 2021
The international community has delivered important progress in combating the impact of COVID-19, but much more is needed to assist low-income countries. While the IMF's Special Drawing Rights are a good start, G20 nations must help restructure the debts of developing nations and fund vaccine distribution.
New Atlanticist by Jeremy Mark and Vasuki Shastry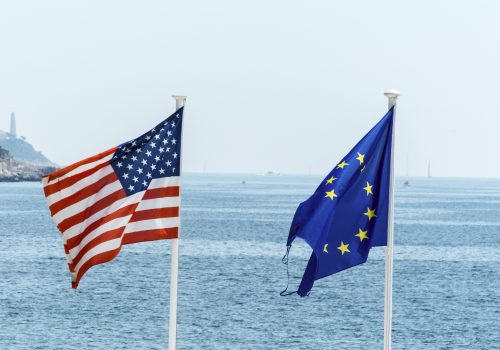 Fri, Feb 12, 2021
Trade tariffs continue to pose a threat to a transatlantic economy weakened by COVID-19, but there may now be some light at the end of the tunnel. Keen to rebuild transatlantic ties, Washington and Brussels must walk the talk to reach an agreement on aircraft subsidies and move the US-EU trade agenda forward.
EconoGraphics by Ole Moehr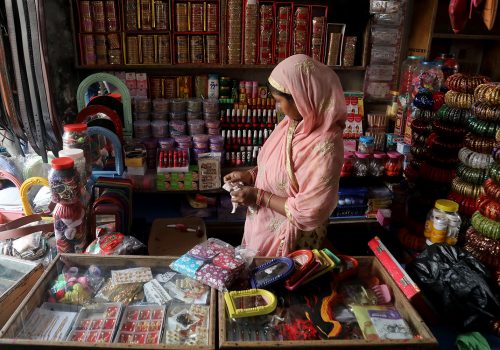 Mon, Mar 8, 2021
The fallout from the COVID-19 pandemic has been especially damaging to the economic well-being of women—worsening gender inequality by crippling women's employment and earning opportunities while exacerbating household challenges such as violence against women.
New Atlanticist by Nicole Goldin