As world leaders descended on New York to discuss the most pressing challenges facing the international community at the United Nations General Assembly, President of the Republic of Chile Sebastián Piñera argued that the time for discussion on one issue was over. "Each generation has its own challenges," Piñera explained, "but no generation has had such an urgent and formidable challenge as climate change and global warming."
Amidst the backdrop of the UN Climate Action Summit and a series of demonstrations around the world calling for more concerted action to limit greenhouse gas emissions and slow global warming, Piñera argued that the existence of climate change is no longer up for debate. "We know too much to remain skeptical…This is not a matter of opinion, politics, ideology, or faith: it is a matter of science."
On September 23, Piñera was honored by the Atlantic Council with its Global Citizen Award for his ground-breaking leadership in addressing climate change and his pragmatic approaches to policy and economic revitalization during a period of outsized regional uncertainty. Speaking at the Global Citizen Awards ceremony in New York City on September 23, Piñera explained that world leaders have two options to address climate change: "Wait and see what happens…[or] act now, face this challenge, and change history." Earlier that day, Piñera told global leaders at the UN Climate Action Summit that thirty countries, including his own, had pledged to reach net-zero emissions by 2050.
In accepting his Global Citizen Award, Piñera detailed how his country is taking further steps to combat climate change, striving for "total decarbonization of our energy matrix" by 2040. Chile, Piñera said, will also replace the use of fossil fuels in the public transportation system, set higher energy efficiency standards for all economic sectors, and continue to pursue widespread reforestation.
Under Piñera's leadership, Chile became the first South America country to enact a total ban on the commercial use of plastic bags, and it will host the United Nations' Conference of the Parties (COP) climate change summit in Santiago in December 2019.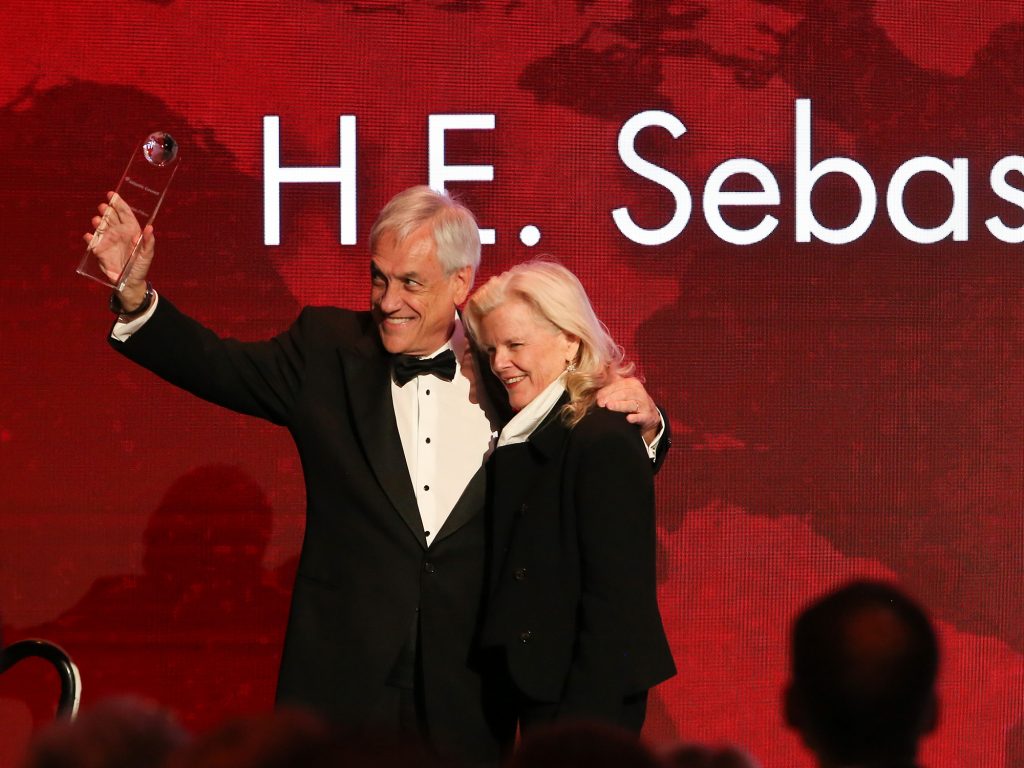 Each generation has its own challenges. But no generation has had such an urgent and formidable challenge as climate change and global warming.
Photo caption: President of the Republic of Chile Sebastián Piñera and Kristine Tompkins, president of Tompkins Conservation and UN Patron of Protected Areas speaking at the tenth annual Atlantic Council Global Citizen Awards. Photo by Hechler Photographers.
Chile shows the way
The Atlantic Council Global Citizen Award is given out to "recognize global citizenship at its best while also underscoring the Atlantic Council's global mission of shaping the future together with friends and allies," according to Atlantic Council President and CEO Frederick Kempe. In its tenth year, the Global Citizen Awards have honored leaders from around the world, US policy makers, philanthropists, artists, visionaries, and humanitarians.
It is fitting to honor Piñera as a global citizen because Chile "has shown that it is possible" to take steps to combat climate change and "become a world leader to conserve key habitat, while also minding the store of its economy," according to Kristine Tompkins, president of Tompkins Conservation and UN patron of protected areas, whose conservation work has included the creation of huge nature reserves in Chile and South America. Piñera's award, Tompkins said, "invites us to think: what else can we do to face the crisis."
Protecting "our nature, our biodiversity, and our planet is not only an environmental obligation," Piñera argued. "It is a moral obligation. We have that obligation with ourselves, our children, our grandchildren, and those who will come, who have…a right to inherit a better world than the one we received from our parents."
While many global policy makers have shirked from taking action on combat climate change due to the potential economic or political costs, "political leadership is about doing what is right for your people, for your country, and for the world, even when it is unpopular or when you have to face great difficulties," Piñera said.
Piñera conceded that the challenge may seem daunting and action too late: "We are the first generation to suffer the consequences of global warming and climate change," but, he added, "we are the last generation that can do something to change the course of history and avoid a tragedy."
"The time for action has come," Piñera declared. "Let's move."
David A. Wemer is associate director, editorial at the Atlantic Council. Follow him on Twitter @DavidAWemer.