His Excellency President Sebastian Piñera Echenique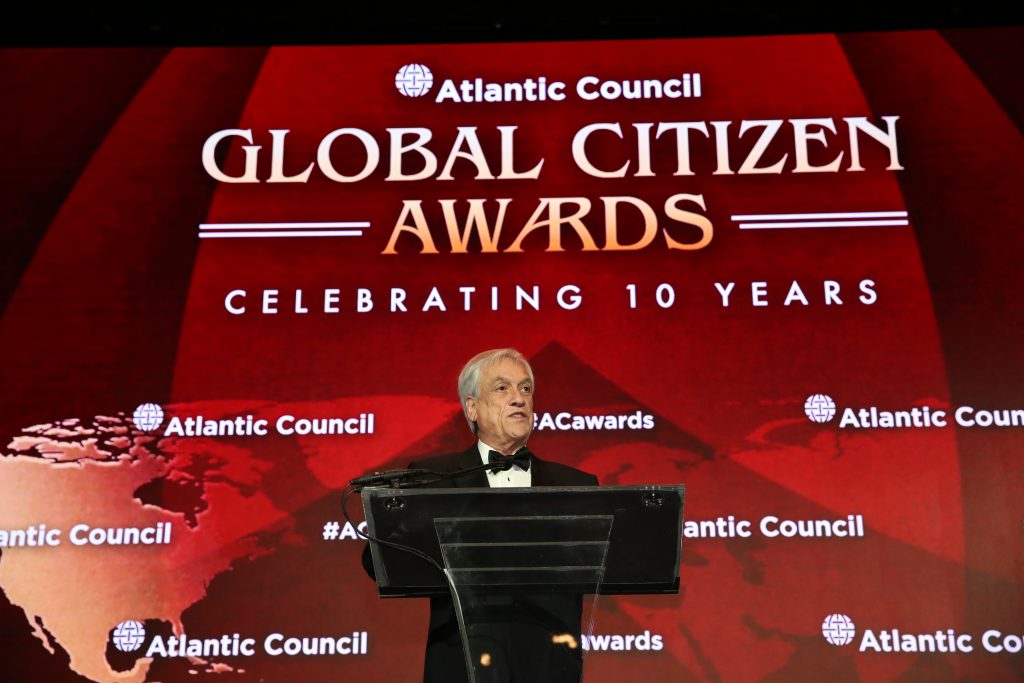 The tenth annual Atlantic Council Global Citizen Awards honored President of the Republic of Chile Sebastián Piñera.
About President Sebastian Piñera
President Sebastian Piñera accepts his award
Twitter coverage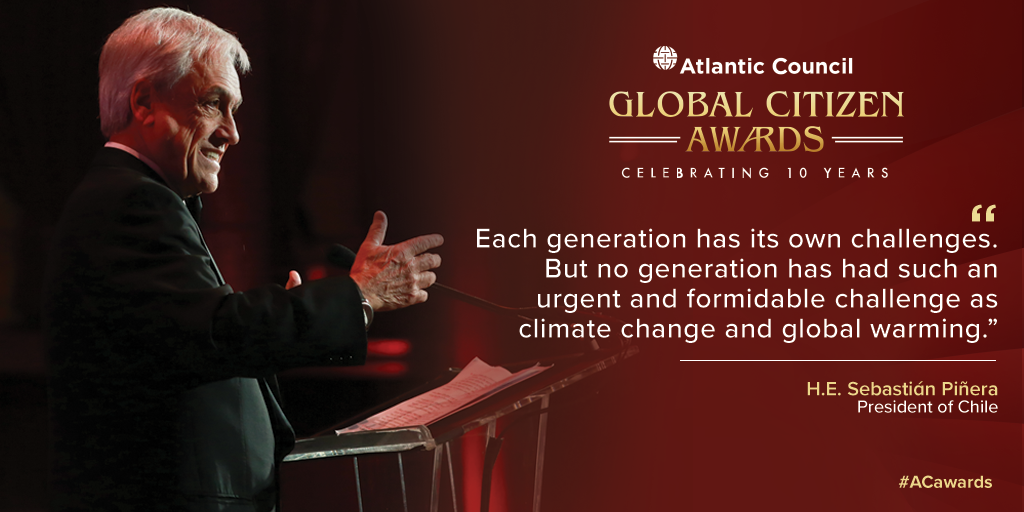 More about President Sebastian Piñera
Born in Santiago, Chile on December 1, 1949, Piñera is serving his second term as president of Chile (2018 – 2022) after a first successful period in office in 2010 – 2014. Piñera graduated from the Pontifical Catholic University of Chile as a commercial engineer with a major in economics and also has a Master and Doctorate degree from the University of Harvard.
In this administration, President Piñera has vowed to work on boosting investments and economic growth; a comprehensive plan to reduce poverty, protect the middle class, and lead Chile towards becoming a developed economy; increasing national security; setting up a broad reform to step up the protection of children; promoting health and pension reforms; building a gender equality agenda; providing wider access to education from the early stages with focus on quality; and strengthening international ties.
His previous government allowed Chile to continue at a steady pace its progress in the construction of a society of real opportunities, real assurances, and strong values; a society where every Chilean citizen could have the same opportunities to achieve their personal fulfillment and to have the assurance to safely take the risks that foster entrepreneurship; and innovation. Also, Piñera contributed to building a country where values such as respect for life, liberty, personal and family responsibility, diversity, and environmental care are guaranteed.
Piñera was a professor on the economics faculty of the Pontifical Catholic University of Chile, the University of Chile, Adolfo Ibañez University, and at the Valparaíso Business School, as well as a consultant for the Inter-American Development Bank (IDB), a consultant for the World Bank, and he worked for the United Nations Economic Commission for Latin America and the Caribbean (ECLAC).
In the early eighties he created Bancard, granting Chilean people access to this new payment and credit system. He also became a major shareholder in companies such as Lanchile, Chilevisión, and Blanco y Negro (a sports club), among others. He created several foundations, such as Mujer Emprende and Futuro, to help develop women entrepreneurship and foster education. He has also created Tantauco Park (295 acres) on the southern shores of Chiloé Island to protect and develop the environment.
After leaving office in 2014, he mostly dedicated his time to Avanza Chile Foundation, which contributes to the debate of ideas and public policies to expand the opportunities of all Chileans and move towards a more democratic, plural, fraternal, and fair society.
He is married to Cecilia Morel. They have four children and eleven grandchildren.