Chinese leader Xi Jinping's whirlwind diplomatic offensive has returned to national soil. After putting Russia's new status as a vassal state on display during his trip to Moscow, Xi gathered experts and representatives from around the world at the "Second International Forum on Democracy: Shared Human Values" in Beijing—a spurious imitation of US President Joe Biden's Summit for Democracy—the China Development Forum, and the Boao Forum for Asia Annual Conference in Hainan—a riposte to the yearly World Economic Forum conference in Davos.
Now, the flurry of diplomatic activity is reaching Europe. On April 4, French President Emmanuel Macron will travel to Beijing, accompanied by President of the European Commission Ursula von der Leyen, as German Chancellor Olaf Scholz and President of the European Council Charles Michel did before them (in November and December 2022, respectively). But the first invitation for a meeting following Xi's trip to Moscow was extended to Spanish Prime Minister Pedro Sánchez, following his participation in the Boao Forum on Thursday. This meeting, which coincides with the fiftieth anniversary of diplomatic ties between China and Spain, is marked by three areas of interest: first, the steep trade imbalance that characterizes bilateral commercial relations; second, the rotating presidency of the European Union (EU) that Spain will assume in July—along with a range of challenges facing the bloc; and third, Madrid's acquaintance with the "Position on the Political Settlement of the Ukraine Crisis" proposed by Xi, in light of its active role in NATO and its domestic history.
Last week, upon confirming his meeting with Xi, Sánchez—who, significantly, faces a contested national election later this year—heralded his visit as an opportunity to "to know [Xi's] position on peace in Ukraine and to convey to him that it will be the Ukrainians who establish the conditions for that peace," echoing the EU's principled position of support for Ukrainian President Volodymyr Zelenskyy's "peace formula." That same day, in what represented an abrupt about-face, government sources clarified his statement by indicating that the prime minister would not be representing the EU or discussing China's peace plan for Ukraine; rather, he would be focusing on his country's bilateral ties with Beijing.
Spain—unlike its neighbors Portugal and Italy—never joined China's Belt and Road Initiative, nor did it allow Beijing undue influence in critical sectors of its economy. Yet, ties with China seem to only be getting tighter. In a historic shift, China overtook Germany last year as Spain's most important supplier, representing the source of almost 11 percent of the country's imports. But the relationship is severely lopsided, with Madrid's deficit compounded by an increase in imports and a decrease in exports. This is against the backdrop of a challenging economic climate, exacerbated by a severe energy crisis, that has also affected a country dependent on importing liquefied natural gas. In light of this, Sánchez may look for opportunities to recover what before the pandemic had been a strong base of deep-pocketed Chinese tourists and to improve conditions for Spanish (and, more broadly, European) investors.
While Spain's active presence and traditional leadership in Latin America and its focus on the Mediterranean have shaped EU foreign policy, Madrid's stance toward China has been framed within the broader posture of the bloc—a posture that is increasingly fragmented. In this sense, one of the biggest challenges Madrid will face during its term at the helm of the European Union is growing divisions among the twenty-seven member states vis-à-vis Beijing. Contradictions are reflected at the highest levels: while von der Leyen expressed willingness to join Biden's efforts to contain the Asian giant after their meeting earlier this month, Michel appears reluctant to take any action that could put the Sino-European relationship at risk. A European Council official, speaking to Politico on condition of anonymity, confirmed that "[w]e believe that we must not completely decouple from China." And there is growing talk of a possible resuscitation of the EU-China Comprehensive Agreement on Investment, which the European Parliament had frozen ratification of in May 2021—a divisive issue, considering the EU's push for so-called "strategic autonomy."
With Ukraine in focus, what the EU can agree on—with the exception of Hungary, which has expressed its support—is the flawed nature of Beijing's twelve-point peace plan, which rewards the aggressor in an obvious push for Ukraine ceding territory. Sánchez, while praising China for assuming a leading role and actively searching for a solution, has been clear about his differences with respect to Xi, seeing through Beijing's thinly veiled support for Russia and unambiguous criticism of the West.
Madrid's posture on the war has been fundamentally premised on its robust and dependable membership in the EU and NATO. But it must also be understood within the context of its historically modest ties to Kyiv and the fact that, unlike the countries of the former Warsaw Pact, it never had a history of confrontation with Moscow. Early in the conflict, it struck a cautious tone and limited itself to the provision of defensive equipment only. Then, ahead of hosting the NATO Summit in Madrid in June 2022, Spain announced it would send "offensive military material." Sánchez was the first international leader to raise the issue of sending tanks to Ukraine—an effort subsequently held up on account of maintenance issues—culminating Wednesday with the announcement made by Spain's defense minister that the first tanks would be dispatched after the Easter holidays.
The evolution of Spanish public sentiment is also relevant. For decades, Spaniards—not sensing any palpable threat from the Russian bear—saw the country through the reductionist lens of Doctor Zhivago or the works of Tchaikovsky. The brutality of the war and the moral clarity it provided have changed all that, however: according to a survey conducted by the Elcano Royal Institute in February 2022, with the invasion looming, the Spanish public considered Russia to be the top security threat to their country. This assessment is in line with the official NATO position: the declaration from last year's Madrid Summit presents Russia as "the most significant and direct threat to Allies' security and to peace and stability in the Euro-Atlantic area."
All of this will be in the back of Sánchez's mind as he meets with Xi this week. The visit is, undoubtedly, both significant and symbolic. And its outcome may very well give clues in bilateral terms, but also on Spain's position within the EU and NATO. Xi's sweeping diplomatic offensive has reached Spain. How Spain responds will be revelatory of trends that extend well beyond Madrid.
---
Ana Palacio is a former minister of foreign affairs of Spain (2002-2004) and former senior vice president and general counsel of the World Bank Group. She is also a member of the Atlantic Council's Board of Directors.
Further reading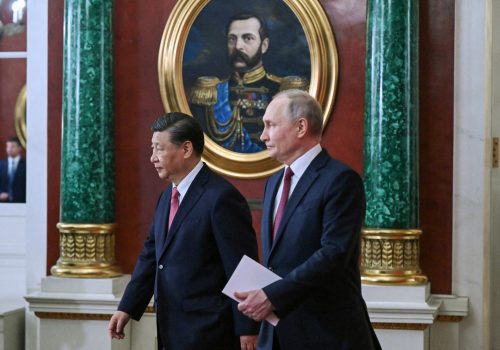 Sat, Mar 25, 2023
Inflection Points By Frederick Kempe
At the three-day meeting this week in Moscow, the Russian president's desperation met the Chinese leader's opportunism. The visit marks an inflection point for global order.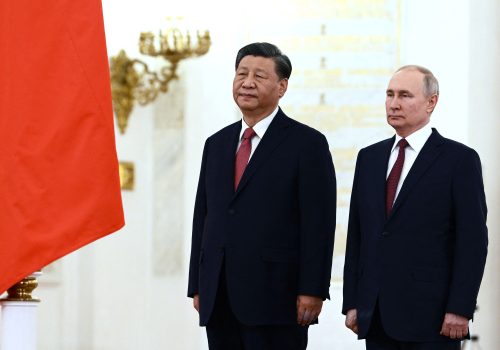 Wed, Mar 22, 2023
Experts react By Atlantic Council experts
The Chinese leader left Russia on Wednesday after three days of talks with the Russian president. Atlantic Council experts share their insights on the state of the so-called no-limits partnership.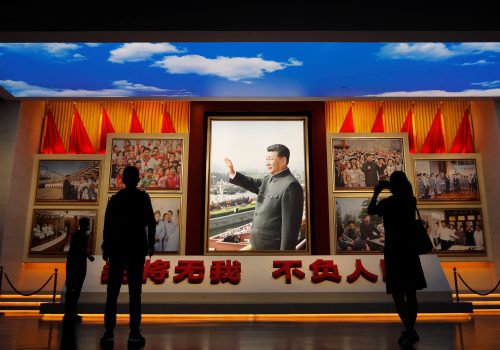 Fri, Oct 7, 2022
Issue Brief By Michael Schuman
It has been widely believed for some time, both inside and outside of China, that current Communist Party General Secretary Xi Jinping will break with modern precedent and extend his reign into a third, five-year term. Xi, who also serves as the country's president, has been working toward this outcome for years.