Xi and Putin just wrapped up talks in Moscow: What does it mean for the war in Ukraine and China's global standing?
It's a friendship testing the limits. Chinese leader Xi Jinping left Russia on Wednesday after three days of talks with Russian President Vladimir Putin, in which Putin endorsed China's "peace plan" for Ukraine and the two leaders stressed the need to "respect legitimate security concerns of all countries" to end the war—a talking point Russia has used to blame NATO and legitimize its war of aggression. What did this visit do for Putin's international standing? What role might China play in the war? How should Washington view this partnership? Below, our experts cut through the pageantry and diplomat-speak.
Click to jump to an expert reaction:
David O. Shullman: China has doubled down on relations with Russia
John Herbst: Putin won't even take the first step to legitimize China's sham 'peace plan'
Michael Schuman: Putin and Xi are building an alternative world order—with Russia as the vassal state
Kimberly Donovan: Economic sanctions bring Putin and Xi closer together
Dexter Tiff Roberts: Mutual antipathy for the US defines this relationship
Hans Binnendijk: It's possible to exploit the differences emerging between Russia and China
Colleen Cottle: The substance was lacking, but the symbolism was a win for Xi and Putin
Rama Yade: Alongside his China push, Putin is making inroads in Africa
Brian Whitmore: Putin gets a lifeline, but less than he probably hoped
China has doubled down on relations with Russia
Xi's meetings with Putin and the joint statements released on Tuesday should dispel any remaining doubts that Xi has doubled down on relations with Russia over the past year even as Putin has unleashed his punishing war on Ukraine. Xi, intent upon preventing Russian failure in Ukraine, is supporting Putin's continued ability to prosecute the war in numerous ways short of sanctions violation while deepening the countries' military and economic ties.
At the same time, Xi is calling for peace and parroting Kremlin narratives about US and NATO culpability for "fanning the flames," underscoring his belief that China can capitalize on this moment to bolster China's claims to responsible global leadership. To that end, Beijing's so-called "peace plan" is a gambit to remain faithful to Russian interests in maintaining control over illegally occupied territory in Ukraine while claiming neutrality and building China's burgeoning reputation as a peacemaker following its brokering of an initial rapprochement between Saudi Arabia and Iran earlier this month. These efforts dovetail nicely with Xi's Global Security Initiative, a vague framework for global cooperation and security designed to offer a Chinese alternative to the US-led global order and rooted in principles repeated in yesterday's joint statement such as opposition to "blocs" like NATO. Xi seems to view Russian partnership as essential not only to China's bid to revise the global order but to girding for an expected protracted strategic competition with the United States as US-China ties grow ever more fraught. In particular, Russia is viewed as critical to mitigating the People's Republic of China's vulnerability to US actions in the event of a war over Taiwan and devising an alternative to the US-centric global financial system.
As the limits to the "no limits" partnership grow harder to discern, the United States and its allies must reconcile themselves to dealing with an authoritarian entente that will complicate mutual security interests in Europe and Asia, distort global narratives, and undermine the liberal underpinnings of multilateral institutions in the years ahead.
—David O. Shullman is senior director of the Global China Hub at the Atlantic Council and former US deputy national intelligence officer for East Asia on the National Intelligence Council.
Putin won't even take the first step to legitimize China's sham 'peace plan'
Putin's faltering war on Ukraine was the backdrop of Xi's long state visit to Moscow this week, but it suited both parties not to single out the conflict. While the international community and media were paying particular attention to this issue, the visit was scripted to cover a broad array of bilateral and international issues of which Ukraine was simply one. The reason for this is simple. Moscow's failures on the battlefield and its international isolation are problems that neither Putin nor Xi wants to highlight. They are, however, also problems that both leaders need to manage—even as their interests are overlapping but not identical.
Putin is in a difficult spot and would like more support from China—political, economic and even military. Xi would like to strengthen Putin's hand, but does not want to risk Western sanctions, nor international criticism by explicitly endorsing Russian aggression. These considerations provided the drama before Xi ever boarded a plane for Moscow. The news reported that Washington believed China was considering sending arms to Russia and that doing so would lead to major sanctions. China denied these reports. But there is growing evidence that at least some Chinese weapons—rifles—and components for drones have been sent to Russia. Beijing may well be probing for what it can do without provoking a strong US response. In any case, this issue did not factor in the public discussion of the visit by either China or Russia.
The big Ukraine development at the summit was Putin's general endorsement of China's twelve point approach to peace in Ukraine. Putin thought the Chinese document was "consistent" with Moscow's policy and could serve as a "basis" for negotiations when Kyiv and the West were ready to talk. This was hardly a ringing endorsement. That is no surprise because the Chinese plan contains elements—such as respect for territorial integrity—that Moscow has already violated and has no intention of respecting. China's peace proposal is meant to help Moscow while enabling Xi to posture as a neutral party. But despite his failures on the battlefield, Putin still holds maximalist aims that makes him reluctant to take the one step that might give the Chinese peace initiative something to build on—announcing his readiness for an immediate ceasefire in place. It was precisely this possibility that prompted warnings from Washington and others about the dangers of the Chinese proposal. But Putin's ongoing intransigence rendered this concern irrelevant—at least for now.
Plans are apparently underway now for a Xi phone call to Ukrainian President Volodymyr Zelenskyy. This is part of Beijing's charade that it is neutral and a logical mediator in a crisis that it refuses to call a war. If it comes off, little will come of it because Ukraine will insist, as National Security Chief Oleksiy Danilov said this week, that the plan's reference to territorial integrity means the war must end with either the withdrawal or capitulation of Russian troops.
Perhaps the big winner this week of grand diplomacy was not Xi or Putin, but Japanese Prime Minister Fumio Kishida. While Xi was giving a big hug to recently indicted war criminal Putin, Kishida visited Kyiv and Bucha to pay homage to the victims of those war crimes.
—John Herbst is senior director of the Atlantic Council's Eurasia Center and former US ambassador to Ukraine.
Putin and Xi are building an alternative world order—with Russia as the vassal state
The Xi-Putin summit is a continuation of the ongoing process through which both China and Russia are decoupling from the West, politically and economically, and replacing those ties with a deeper bilateral relationship. The main aim of that partnership is to reduce their vulnerabilities to, and ultimately roll back, US global power. For both, this has been and continues to be a conscious choice. Putin chose to sacrifice his ties to the West when he invaded Ukraine. Xi has convinced himself that the United States is implacably opposed to his country's rise, and he is therefore seeking to ensure China's "national rejuvenation" by forging an foreign policy focused on confronting Washington, with a partnership with Russia as a key feature.
In light of that, both sides got what they wanted out of the summit. Putin continues to benefit diplomatically and economically from closer ties to China as he pursues his Ukraine war. Xi got to play the grand international statesman, carrying a purported "peace plan" in his pocket, all the while deepening ties to Russia and making the country more dependent on China.
There are risks for both as well. By taking this course, Putin is turning Russia into, in effect, a vassal state of China. Over time, as the power imbalance in the relationship continues to widen in China's favor, Moscow will find itself less and less able to chart an independent foreign policy or deviate from alignment with Beijing's interests. That, of course, suits Xi just fine, since he gets greater leverage over Moscow. For Xi, the love-fest with the man who started the worst European war in eighty years will further consolidate the view among the United States and its democratic allies that China is a threat, tightening a coalition against Xi, and thus bringing about the very scenario he fears he must counter. In the process, Xi is turning against key sources of trade, investment, and technology (the United States and European Union) in favor of a relationship with Russia that cannot replace what is potentially being lost. That doesn't bode well for China's already struggling economy.
I'd be very, very, very cautious about the talk of negotiations to end the Ukraine war that was a feature of the summit. Putin's comments expressing interest in peace talks strikes me as a throwaway statement, something any leader at war would say. As for Xi, if he sincerely reaches out to Zelenskyy and tries to mediate a settlement, I wish him all the best. More likely, Xi's supposed interest in diplomacy is a cynical public-relations stunt to make it appear that China is a responsible world power while deepening ties to Russia. The two autocrats are using China's "peace plan" to create an alternative narrative that blames the United States for causing and perpetuating the war. In my view, the outcome of the summit makes peace in Ukraine less likely. With such strong backing from Xi, Putin is unlikely to feel much pressure to make concessions to the West.
Xi's approach to Russia is representative of his changing foreign policy overall. First, Xi has fully embraced anti-Americanism and that has become the primary driver of its foreign policy. Secondly, writing off the United States and its partners as inherently hostile, Xi is reorienting China's foreign policy to focus on the developing world, where which Beijing believes is more fertile ground for building support for Chinese interests. There China can create unequal relationships which it dominates politically and economically, as with Russia. In Beijing's planning, those relationships will form the basis of an alternative world order centered on China and controlled by Beijing. Russia is key to that vision.
—Michael Schuman is a nonresident senior fellow at the Atlantic Council's Global China Hub and a contributing writer for the Atlantic magazine.
Economic sanctions bring Putin and Xi closer together
The outcomes of Xi's visit to Moscow are not surprising. We have observed increased economic collaboration between China and Russia over the past year and following this visit we should expect to see more. Russia is severely cut-off from the global financial system as a result of Western sanctions and other economic measures imposed on the country in response to Russia's brutal invasion of Ukraine. Russia has nowhere else to turn.
Russia and China are both sanctioned by the West for very different reasons and at very different levels of impact. However, these economic sanctions bring them closer together and provide Xi and Putin with a common objective to shape a new world order, by countering the West and hoping to challenge the primacy of the US dollar and euro in the global economy.
Xi's visit solidifies China's position and intent for Russia to succeed in its war against Ukraine. As Xi and Putin enjoyed their elaborate state dinner, Russian missiles rained down on Ukraine, killing and injuring more Ukrainians and destroying more infrastructure. While there is not yet evidence that the Chinese government is directly providing lethal aid to Russia, Iran is supplying Russia with lethal unmanned aerial vehicles for use against Ukraine. The Treasury Department's Office of Foreign Assets Control recently sanctioned Chinese companies that are providing Iran with the components required to make them. Following promises of increased cooperation between China and Russia, expect to see more economic sanctions on China-based individuals and companies that facilitate Russia's ruthless war on Ukraine.
—Kimberly Donovan is the director of the Economic Statecraft Initiative within the Atlantic Council's GeoEconomics Center.
Mutual antipathy for the US defines this relationship
While Chinese officials heralded Xi's visit to Russia and meetings with Putin as a "mission of peace," there was nothing remotely resembling a breakthrough or even progress made on resolving the war in Ukraine. Instead, the visit has had everything to do with the two sides strengthening ties defined by their mutual antipathy towards the United States and their shared desire to see US global power diminished. In a commentary penned by Xi and published in Russian media on the eve of the visit, China's leader wrote that Beijing and Moscow aimed to strengthen their partnership against "hegemony, domination and bullying." Who was responsible for that bad behavior was made clear earlier in the month, when in a speech in Beijing, Xi singled out the United States as responsible for a campaign of "containment and suppression." The world is experiencing "changes unseen in a century," and "we are the ones driving these changes together," Xi reportedly said to Putin at the end of a banquet Tuesday night. "I agree," Putin responded.
Along with an agreement on strategic cooperation, showcasing that mind meld between the two authoritarian countries' leaders, a second agreement on economic cooperation was signed highlighting China and Russia's fast-growing and complementary business ties. Over the course of the last year, trade between the two countries has soared, with Russia's oil exports to China doubling. That agreement calls for expanding natural gas cooperation and other business ties even as other countries around the world shun Russia for its brutal invasion of Ukraine.
—Dexter Tiff Roberts is a nonresident senior fellow at the Council's Indo-Pacific Security Initiative, within the Scowcroft Center for Strategy and Security. He is a fellow at the University of Montana's Maureen and Mike Mansfield Center and a former China bureau chief and Asia News editor at Bloomberg Businessweek.
It's possible to exploit the differences emerging between Russia and China
Their partnership has no limits. They are dear friends. Their economic partnership is enduring. At least that is what they say.
Xi's visit to Moscow did provide a significant political boost for the beleaguered Russian leader, who had just been indicted for war crimes by the International Criminal Court and whose military is on the defensive in Ukraine. The two autocrats sought through deeper economic relations to further insulate each other against Western sanctions.
But the partnership has limits. Xi appears unhappy with the course and consequences of Putin's war. Xi provided some rhetorical support, but not the major flow of weapons that Putin needs. Xi reminded Putin not to threaten the use or to use nuclear weapons in the war. The first point in Xi's twelve-point peace plan is respect for a nation's sovereignty, which Putin has so clearly violated.
Zelensky appears to see an opportunity. So should the United States. But the opportunity is not to bring China into a peace process. It would just press for a cease-fire that is disadvantageous to Kyiv. And the time is not yet ripe for peace talks. Rather, the opportunity lies in trying to create greater limits to the so-called limitless partnership. The United States should seek to exploit the differences that are emerging between Russia and China over Ukraine. Supporting Zelensky's effort to talk with Xi is a good place to start.
—Hans Binnendijk is a distinguished fellow at the Atlantic Council's Scowcroft Center for Strategy and Security.
The substance was lacking, but the symbolism was a win for Xi and Putin
The Xi-Putin summit was short on substance but long on symbolism and messaging, and by the latter metric—which was always the more important of the two—it was indeed a success for the two leaders. The three-day visit afforded the two leaders all of the pomp of a state visit and a high-profile platform for demonstrating the strength of their partnership and for reaffirming each other's respective positions on issues like the war in Ukraine and Taiwan. The two leaders continued to take aim at the United States and NATO, echoing their long-standing rhetoric for the need to respect the sovereignty, security, and interests of other countries. They also added AUKUS—a security pact comprising Australia, the United Kingdom, and the United States—to their list of targets. On the substantive front, no tangible progress was made on ending the war in Ukraine, despite China's much-touted twelve-point plan. And even on the economic front, where the two leaders signed numerous bilateral agreements to deepen their ties in areas like finance and trade, specifics on these deals were sparse, and substantial progress on a key Russian energy priority, the Power of Siberia 2 gas pipeline, appeared elusive.
Xi and Putin probably face an uphill climb as they try to take their vision for creating a counter to the US-led, rules-based international order on the road in the Global South, a focus for both leaders as their relations with advanced economies continue to sour. One such corner of support they might look to court is with fellow BRICS members (an economic grouping of Brazil, Russia, India, China, and South Africa). Even as BRICS remains a grouping largely in name only, with minimal and narrow overlapping interests, each of its members enjoys sizable regional influence in parts of the Global South. China and Russia will have ample outreach opportunities with these countries, such as Brazilian President Luiz Inácio Lula da Silva's expected visit to China this month and the BRICS summit that South Africa is hosting in August. However, fellow BRICS countries will also be pulled in other directions. India, for example, is hosting the Group of Twenty (G20) Summit in September—and a series of ministerial meetings in the run-up to it—and will be looking to showcase its leadership and convening skills by balancing competing interests among G20 members. While Xi and Putin are both increasingly comfortable with breaking from the US-led international order, they will need more than symbolism, messaging, and economic promises to convince large swaths of the Global South to do likewise.
—Colleen Cottle is the deputy director of the Global China Hub and former Central Intelligence Agency analyst covering East and South Asia.
Alongside his China push, Putin is making inroads in Africa
While Xi's visit to Moscow dominated headlines, China's was not the only foreign delegation to visit Russia over the past few days. Forty delegations from African countries took part in a parliamentary conference called "Russia-Africa in the Multipolar World" hosted by the State Duma of the Russian Federal Assembly. Coming ahead of July's Russia-Africa Summit in Saint Petersburg, this parliamentary gathering shows that Putin is preparing very carefully for his next meeting with African leaders.
Putin addressed the conference in a speech Monday that lauded Russian investment on the continent, although Russian trade with African countries amounted to only $16 billion compared with $254 billion of Chinese trade in 2021. Putin ended his speech by recalling the words of Nelson Mandela, an African hero supported by the Soviet Union when he was struggling against the racist apartheid regime, "nothing should divert us from the road to freedom, and we should not allow anyone to stand in our way." Putin also announced that Russia would supply grain to Africa for free if the Black Sea Grain Initiative isn't renewed, a good way to attempt to absolve himself of all responsibility for the food crisis that is hitting African nations hard.
West African nations are also facing dire security concerns, particularly in the Sahel, where the Russians have dived in. Insurgents are overrunning territory—and Russian support often comes quicker, cheaper, and with less attachments than support from others. The Kremlin is trying to use Africa to offset the limitations of Russia's power that have been brought on by its war. Deals are opaque, but Russia can source key minerals, support, and military bases for a relatively low cost.
Nineteen African nations abstained from voting in the United Nations (UN) General Assembly to condemn Russia's illegal annexations of Ukraine. Russian Foreign Minister Sergei Lavrov has taken multiple trips to the continent to bolster support, and Western nations have taken notice. Next week, US Vice President Kamala Harris will travel to Ghana, Tanzania, and Zambia, following similar trips by Treasury Secretary Janet Yellen (Senegal, Zambia, and South Africa), UN Ambassador Linda Thomas-Greenfield (Ghana, Mozambique, and Kenya), First Lady Jill Biden (Namibia and Kenya), and Secretary of State Antony Blinken (Ethiopia and Niger). That's thirteen African countries in less than three months. Europe is also ramping up its diplomacy in Africa. Earlier this month, French President Emmanuel Macron did a whirlwind tour that was widely seen as serving to counter to Russia's rising influence in Africa. The upcoming BRICS conference, chaired this time by South Africa, will be a key indicator of the alternative geopolitical order that Russia (and China) are trying to shape.
These big diplomatic moves clearly accelerate the competition between global powers on the African continent: The Western answer should not be limited to African tours, but rather by taking more compelling actions. That should include the strategic reform of international bodies (the Bretton Woods Institutions, the G20) and wider access to financial capital (private and public), all of which is critically important for African development needs.
—Rama Yade is the senior director of the Atlantic Council's Africa Center.
Putin gets a lifeline, but less than he probably hoped
The body language said it all. In one joint public appearance this week, Xi confidently leaned back in his chair, relaxed, and smiled. Putin in contrast, appeared nervous and anxious as he bent forward and fidgeted. Xi's meetings with Putin may have taken place on the Russian president's home turf, but it was clear as day just exactly who was in charge. A self-assured Xi, who just brokered a rapprochement between Iran and Saudi Arabia, was seeking to bolster his image as the leader of an anti-Western coalition. Putin, who is losing his war in Ukraine and who had just become the world's most famous and most wanted accused war criminal, was desperately looking for a lifeline.
And he got one—sort of—but it was likely less than Putin had hoped for. Xi gave Putin moral and economic support in the form of increased trade, but no offensive weapons—at least not yet. The joint statement backed off from the language of "limitless friendship" that marked the two leaders' last meeting weeks before Russia launched its full-scale invasion of Ukraine last year. Instead, it stressed that the Sino-Russian partnership was "not the kind of military-political alliance" that existed "during the Cold War" and that Beijing and Moscow sought to "advance the trend toward a multi-polar world."
Xi's three-day visit to Russia served Putin's interests insofar as it eased the Kremlin leader's international isolation. But it also illustrated just how dependent on China that Russia has become since being cut off from the global financial system, Western markets, and Western technology. And while China is willing to toss the Russian economy a lifeline, softening the effect of Western sanctions, Beijing is not willing to go all in with Putin's war against Ukraine despite his parroting of Moscow's talking points about how the West is to blame for the war. The Sino-Russian relationship is developing on Beijing's terms and Putin has no choice but to accept that. He is now Xi's junior partner.
—Brian Whitmore is a nonresident senior fellow at the Eurasia Center, assistant professor of practice at the University of Texas-Arlington, and host and founder of the Power Vertical Podcast.
---
Further reading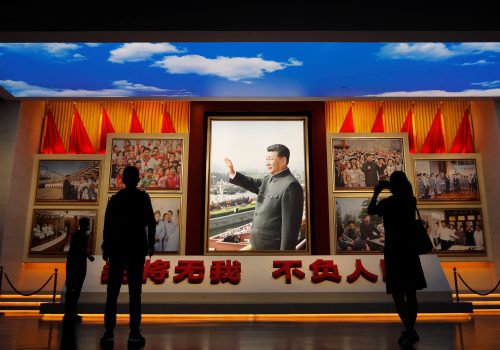 Fri, Oct 7, 2022
Issue Brief By Michael Schuman
It has been widely believed for some time, both inside and outside of China, that current Communist Party General Secretary Xi Jinping will break with modern precedent and extend his reign into a third, five-year term. Xi, who also serves as the country's president, has been working toward this outcome for years.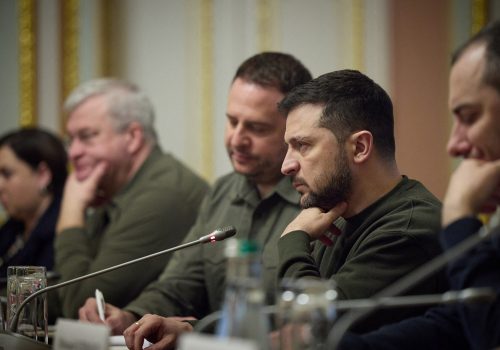 Thu, Mar 16, 2023
New Atlanticist By Gabriel Alvarado
If Zelenskyy withholds his honest assessment of Beijing's peace plan, he may risk giving Beijing the perfect cover to refute questions about its alleged neutrality—and do little to ensure an outcome to the crisis that actually works for Ukraine.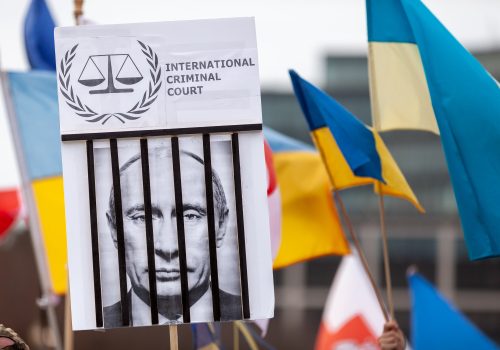 Fri, Mar 17, 2023
New Atlanticist By Atlantic Council experts
The Russian president and the Russian commissioner for children's rights stand accused of the war crime of abducting Ukrainian children, and more charges may follow.