Watch the event
Don't be fooled by China's efforts to cover up its oppression of the Uyghur people and other Turkic minorities, warned Belén Martinez Carbonell, managing director for multilateral affairs of the European External Action Service.
At an Atlantic Council in New York discussion last week on the margins of the United Nations (UN) General Assembly, Martinez Carbonell argued that China is promoting economic development and tourism in Xinjiang as part of its switch to using "more refined and perhaps less visible means to oppress and control."
Although there have been changes on the ground in Xinjiang due to international scrutiny and criticism of Beijing's activities, some of those changes are "very cosmetic," argued Rayhan Asat—a nonresident senior fellow for the Atlantic Council's Strategic Litigation Project. "Maybe some of the so-called reeducation camps are closed down, but the prison camps are expanding," she explained.
The discussion—hosted by Atlantic Council's Strategic Litigation Project, Human Rights Watch, and Amnesty International—captured the attention of the Chinese mission to the UN, which issued a letter to other UN missions telling them not to attend the panel.
"Any government that's going to go out of its way to bother doing this… has no business sitting on the UN Human Rights Council," said Sophie Richardson, China director at Human Rights Watch, adding that by writing the letter, "[China is] essentially confirming that it's got a lot to hide."
Zeid Ra'ad Al Hussein, a former UN high commissioner for human rights, rejected China's characterization of the event's three hosting organizations and of human-rights leaders as entirely anti-China. The organizations and human-rights leaders, he said, stand with Chinese people "who have been removed from their basic access to their rights."
Below are more highlights from the event, moderated by Gady Epstein, senior editor of the Economist.
On the ground
Last month, Chinese leader Xi Jinping visited Xinjiang, where he told officials to maintain "hard-won social stability" in the region following what China calls a campaign against terrorism and extremism. To Richardson, that is essentially an assertion "that he intends to continue committing crimes against humanity."
Amnesty International Secretary General Agnès Callamard expressed concern about a recent rise in arbitrary detention and the movement of individuals into formal prisons.
Asat, whose brother Ekpar was detained in 2016 and has been imprisoned ever since, called the pain China has inflicted upon Uyghur communities "immeasurable," adding that it is "guaranteed to reverberate for generations to come."
Despite such pain, Asat said, the Uyghur people are resisting, even inside camps, particularly by using poetry written by Uyghur authors to communicate their pain to the international community. And "they're surviving," under extremely harsh conditions, she said. "That for me is a form of resistance."
The Uyghur diaspora "is still subject to China's long-arm reach," Asat added. "They are using… our families, our loved ones, their lives" to compel silence, she said. Peter Loeffelhardt—head of division for the German Federal Foreign Office's Directorate for Asia and the Pacific—reminded the audience to ensure that victims and activists "can enjoy their fundamental rights in our own countries without interference or intimidation by foreign entities."
What governments can do
Asat implored governments to offer "fast-track" entry to Uyghurs who have been forcibly deported. She acknowledged that while immigration is a "sensitive subject," it is important for countries to "wear [their] values" to fight the perpetration of crime and genocide.
Civil society has taken a leading role in advocating for Uyghurs, using open-source databases to gather information on what is happening in the region, explained Richardson. But "governments have the ability to access and obtain certain kinds of information that we don't," she added, calling upon governments to gather information from businesses and other governments who have recently been to or maintain a presence in the region.
Lawmakers have implemented some policy solutions. US Ambassador-at-Large for Global Criminal Justice Beth Van Schaack pointed to the US Uyghur Forced Labor Prevention Act, which prohibits imported goods made by forced labor in Xinjiang; Loeffelhardt cited the German Supply Chain Due Diligence Act, which requires companies to conduct a risk analysis to identify any potential or actual risks (including human-rights violations) in their supply chains. The European Commission has adopted or proposed similar measures.
Asat proposed that governments include survivors and advocates in their bilateral meetings with Chinese officials. "We don't want mere words," Asat said. "We want real action."
Next steps at the UN
Last year, a report from the Office of the United Nations High Commissioner for Human Rights (OHCHR) detailed China's human rights violations and conveyed witness testimonies of sexual and gender-based violence. And yet, "there has been no real improvement in the human rights situation in Xinjiang," said Martinez Carbonell.
Zeid said the OHCHR needs to follow through on its pledge to create a commission of inquiry to further investigate the violations. "The pain you feel when you're letting down your main community—that is the community of rights holders—is far in excess" of pain any government, including China, could cause, he said.
Callamard said the OHCHR is "reflecting global politics" and the fact that many governments "have no desire, no guts, no courage, [and] no willingness to do anything on China."
In October 2022, the UN Human Rights Council voted to reject a draft decision to hold a debate on the violations happening in Xinjiang. Asat said that behind the scenes, countries expressed support, but when it came to the vote, they experienced a "collective action problem" as they were hesitant to stand up to China's pressure alone. Asat said she wants to see a vote put back on the floor in the next Human Rights Council session.
Callamard argued that China's ability to escape accountability is a reflection of a multilateral human rights system that is "on its deathbed." She called for a "reimagining" of international justice mechanisms with options that don't require such large coalitions of member states to approve: For example, International, Impartial, and Independent Mechanisms that assist with investigations.
Watch the full event
Further reading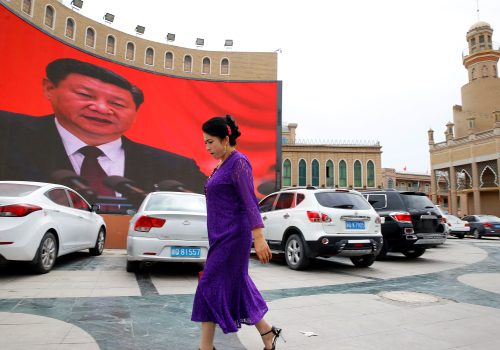 Fri, Jul 28, 2023
New Atlanticist By Rayhan Asat
The United States should demonstrate its unwavering support for the Uyghur community and a staunch commitment to safeguarding global human rights standards.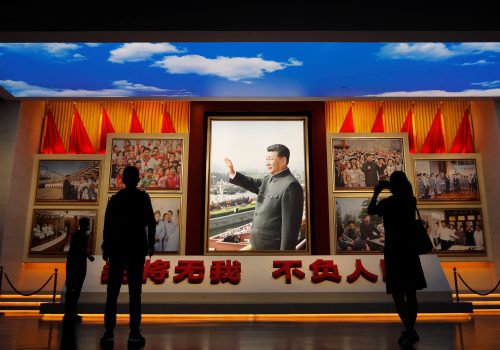 Fri, Oct 7, 2022
Issue Brief By Michael Schuman
It has been widely believed for some time, both inside and outside of China, that current Communist Party General Secretary Xi Jinping will break with modern precedent and extend his reign into a third, five-year term. Xi, who also serves as the country's president, has been working toward this outcome for years.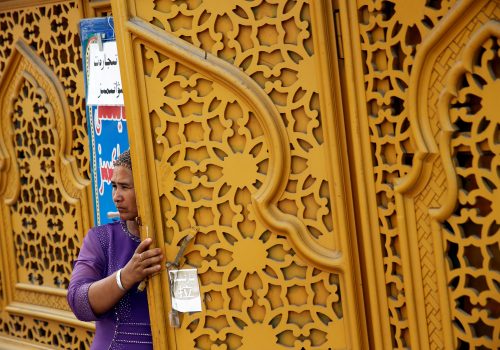 Tue, Dec 21, 2021
New Atlanticist By Rayhan Asat
Moral arguments have been unable to sway global firms—so it's time for the full force of the US government to step in.