What does an election reveal if not the winner? Since the end of Guatemala's Civil War in 1996, no candidate has won a presidential election in the first round. The election on Sunday held to this pattern, although abstention and null votes (a blank ballot or write-in for an ineligible candidate) were the clear winners.
Sandra Torres, a well-known but polarizing figure in her third bid for the presidency, and Bernardo Arevalo, a congressman, first-time presidential hopeful, and former diplomat with a strong anti-graft message, have advanced to the second round, which will be held on August 20. The low voter turnout of 60 percent and high percentage of null votes—four times as high as in the last elections, making up nearly a quarter of all votes—reflect a prevailing sense of apathy among Guatemalan voters and an erosion of confidence in an electoral process that, to date, has been marred by seemingly arbitrary court decisions on candidates' eligibility to run. For this cycle, political parties brought a record number of legal actions against each other, with at least three presidential candidates and other candidates for congress barred from running.
Nonetheless, Guatemala's runoff election to replace term-limited Alejandro Giammattei will have far-reaching implications, both for the region and beyond. For one, Guatemala's next president will be less ideologically conservative than the last three administrations in Central America's most populous country. The emergence of more left-leaning governments is in line with trends from other recent elections in the region (Honduras, Chile, Colombia, and Brazil, for example).
The next president's decision to align with China or maintain relations with Taiwan will reverberate beyond Guatemala's borders. The outcome could determine whether the Biden administration has a reliable partner for its strategy in Central America—which is designed to help quell the surge of migrants on the US-Mexico border and to combat graft and corruption. And the economic challenges facing the country, including poverty, inequality, and fiscal deficits will require comprehensive policy measures and hard reforms from whoever takes office in 2024. That's a tall order when considering the two candidates for the August runoff.
Geopolitical implications
Guatemala is host to one of the last two Taiwanese embassies in Central America (the other is in Belize), and one of only seven in Latin America and the Caribbean. The outcome of the runoff election has the potential to tip the region's balance toward China once and for all, thus shaping the future trajectory of not just Guatemala but also the broader interests of the United States and the rest of the Western Hemisphere. China has been calling on Guatemala to make the "right choice" and has overtly increased its footprint in the region in the last few months—first through Honduras' decision to break off ties with Taiwan in March and then with reports of late-stage talks for the establishment of a Chinese military training facility in Cuba. Despite this, leading candidate Torres has vowed to maintain diplomatic ties with Taiwan. Arevalo's position is less clear. He has stated that Guatemala's sovereignty and interests are most important and that there is no reason to "jump trains." After all, China is Guatemala's second-biggest commercial partner, behind the United States.
Closer to home, the runoff election results may determine the extent to which the next Guatemalan government is willing to collaborate with the United States to address matters such as irregular migration, corruption, and transnational crime. As a political insider whose party has been embroiled in several corruption investigations, Torres is seen as unlikely to take strong measures against suspected corruption within the party system. On the other hand, Arevalo is known as the anti-corruption congressman. His party—Movimiento Semilla—is all but a symbol of the 2015 "Guatemalan Spring," which resulted in the resignation and arrest of then-president Otto Perez Molina. Arevalo announced on Monday that if he were to win the election, he would convene former judges and prosecutors to create a national anti-corruption advisory group. With increasingly unreliable allies across the region, the Biden-Harris administration's ability to carry out its strategy toward Central America hinges upon the election of a trustworthy and dependable leader in Guatemala.
Economic implications
Guatemala is the largest economy in Central America, but with some of the highest rates of poverty and inequality in the region, as well as the lowest rate of tax collection in Latin America. While Torres would likely continue with a more conservative economic agenda focused on macroeconomic stability, market-oriented reforms, attraction of foreign investment, and fiscal discipline, less is known about Arevalo's plan. The next president will also have to deal with a growing fiscal deficit and continued social demands. The president will need to work with a split Congress to pass budgets—the country failed to do so in 2020 and 2021, when protestors set the Capitol on fire—to support the population's needs and continue to improve the country's basic infrastructure. To address the low rates of tax revenue in relation to the size of the economy, the next administration will also have to undertake important reforms on the fiscal front.
Should Torres win in August, she would likely pursue a robust social domestic agenda—she's already promised bags of basic food items for the most vulnerable and cuts in taxes on basic foods. Meanwhile, Arevalo has floated the idea of a public hospital for cancer treatment and a state-owned enterprise that would create a network of pharmacies with medicines at "fair prices." But his economic plan, which will need some refinement over the next six weeks, depends on the creation of "jobs, jobs, jobs"—the lack of which is a main driver of migration in Guatemala. Arevalo has laid out plans to bring Guatemala's citizens into the formal economy while vowing to eradicate poverty and boost quality education. With increasingly few resources to finance the robust social programs these center-left candidates are proposing, breaking ties with Taiwan in favor of China could just make economic sense. This would be especially attractive if a landmark infrastructure project accompanied the announcement. For example, Costa Rica received a national stadium in 2011. More recently, El Salvador received a stadium and a library in 2019, and, following President Xiomara Castro's announcement of breaking diplomatic ties with Taiwan this year, Honduras received a pledge for Chinese investment in a major hydroelectric dam project.
Guatemala's voters will likely be most concerned with their pocketbooks when they head to the ballot box in August. Urban centers want a leader who will work to root out corruption—which could give Arevalo an edge. But their choice will reverberate far beyond the country's borders and could reshape the geopolitical map in the hemisphere.
---
María Fernanda Bozmoski is the deputy director of programs at the Adrienne Arsht Latin America Center.
Eva Lardizábal is an assistant director at the Adrienne Arsht Latin America Center.
Further reading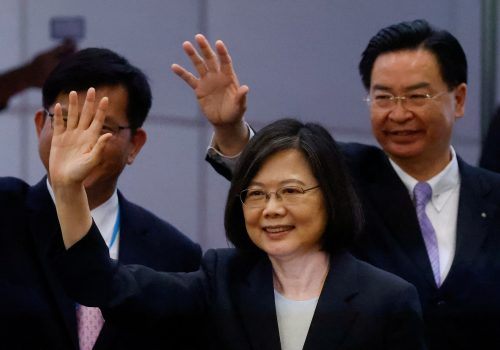 Thu, Mar 30, 2023
New Atlanticist By Atlantic Council experts
President Tsai Ing-wen's trip comes as US tensions with China are nearing a boiling point, and Taiwan is hustling to hang on to its allies in Latin America.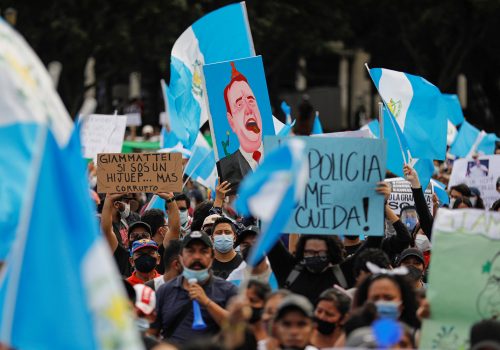 Thu, Dec 3, 2020
New Atlanticist By María Fernanda Bozmoski
The Guatemalan Congress went up in smoke, literally, on November 21, when massive protests broke out against a draft budget that was negotiated behind closed doors, with limited input from civil society, and that proposed cuts in funding for COVID-19 and human rights agencies as the country battles the virus, unemployment, and corruption.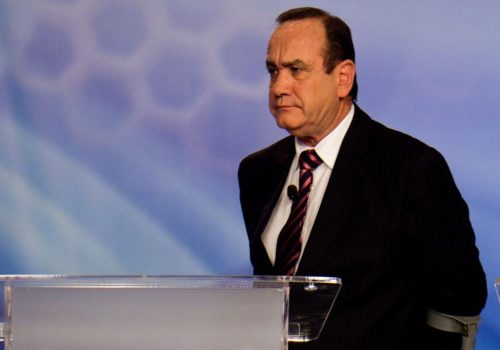 Mon, Jan 13, 2020
Issue Brief By María Fernanda Bozmoski, Domingo Sadurní
Guatemala will begin a new chapter with the presidential inauguration of Alejandro Giammattei Falla. At the center of the incoming pro-business administration: ushering in a new era of economic growth and job creation. With 59 percent of Guatemalans living in poverty, Central America's largest and most populous country is also one the poorest and most unequal nations in Latin America.