Watch the full event
Amid global crises and great-power competition, there is a renewed urgency to trade cooperation between the United States and the European Union (EU).
"If we can align and have our industries working together, it means that we don't cede the economic ground to competitors who are undermining our value system and our way of life," said US Deputy Secretary of Commerce Don Graves at the EU-US Defense & Future Forum on Wednesday.
He was joined by European Commission Deputy Director-General for Trade Denis Redonnet, who said there has been "a tremendous upgrade" in EU-US contacts and cooperation in recent years. "We've turned the page on some issues we have had in the past," said Redonnet, which has "enabled the transatlantic relationship to turn its sights to the long-term, toward trade and technology issues."
Below are more highlights from this discussion on transatlantic trade policy, supply chain resilience, sanctions coordination, and other crucial aspects of the US-EU relationship.
Trade and industrial policy
"Frankly, the EU had been ahead of us" on technological investments to combat climate change, said Graves. Now, he said the United States is working toward building a "clean tech green-oriented industrial base." This does not mean, however, that the United States should "make everything here" he said. "It's why we have to partner with our friends in the EU."
"The concerns [from the EU] that had been in place when the Inflation Reduction Act passed," said Graves, "we've mitigated a lot of those concerns." He said this is an example of "why we have to have these bilateral and multilateral conversations on an ongoing basis, so we reduce concerns" and "make the necessary investments at the right time."
Redonnet said there was a need to act against "distortions generated, in a large part, from nonmarket policies," from countries such as China. This is why, he said, the EU launched an anti-subsidy investigation against China for its importation of electric vehicles. "This is not protectionism," said Redonnet. "This is a leveling of the playing field that is, in our view, legitimate."
Supply chain resilience
Graves acknowledged that US and EU work to build supply chain resilience will take "a significant amount of time." For example, he said, given China's control of 90 percent of critical minerals, "it's going to take some time to strengthen and refocus our supply chains around those issues."
Graves also highlighted the importance of US and EU engagement on supply chain issues beyond the bilateral partnership. "A lot of the supply chains are outside of our countries, and so we have to be engaging with our partners around the globe as well to rebuild these supply chains."
Redonnet said the fact that the United States and EU have yet to reach agreements over critical minerals, the steel and aluminum sectors, and state subsidies for green tech "should not overshadow" the areas of agreement on those issues. "On steel, I think there is a lot of agreement on the challenges that are thrown at us by nonmarket excess capacity," he said. He also said there was "an increasing understanding on why we want to support decarbonization of the steel and aluminum sectors."
Sanctions against Russia
"We are, crucially, working on the export side of the equation," said Redonnet on the upcoming twelfth EU sanctions package against Russia for its invasion of Ukraine. "By depriving Russia of a number of technology items and industrial items," he said, "we are degrading Russia's capabilities on the battlefield" as well as beyond it.
"We are also coordinating very, very intensely now on the question of evasion, circumvention, backfilling," said Redonnet of an area where US-EU cooperation is essential to successfully "tightening the screw on Russia through sanction regimes and making sure that the impact increases over time."
Graves said the United States and EU are working on more closely aligning their sanctions enforcement on Russia, including on tariff codes targeted to hurt Russia's ability to wage its war on Ukraine. "If we can tackle those, then it's going to create real problems" for the Russian military to be able to prosecute the war, he said.
Graves reiterated that the United States and EU are cracking down on third-party sanctions evasion. "If you're a third-party actor," he said, "be on notice that we are after you, we will find you, we will shut you down, and you will face pretty severe consequences."
---
Daniel Hojnacki is an assistant editor on the editorial team at the Atlantic Council.
Watch the full event
Further reading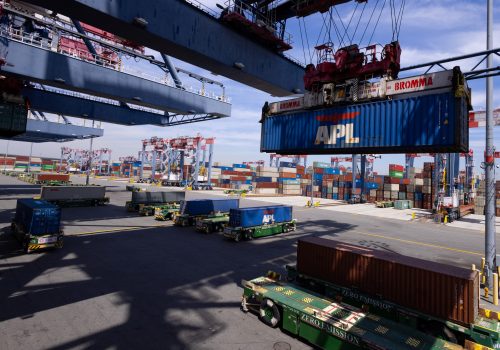 Wed, Oct 18, 2023
Issue Brief By Erik Brattberg, Frances Burwell, Jörn Fleck, Charles Lichfield, Zach Meyers, James Batchik, and Emma Nix
Both sides of the Atlantic are confronting the geopolitical necessity of adapting trade and industrial policies to be fit for purpose in an increasingly competitive world. To avoid competition between Washington and Brussels, policymakers must recognize each side's priorities and commit to further cooperation to bridge the transatlantic economic relationship, not widen it.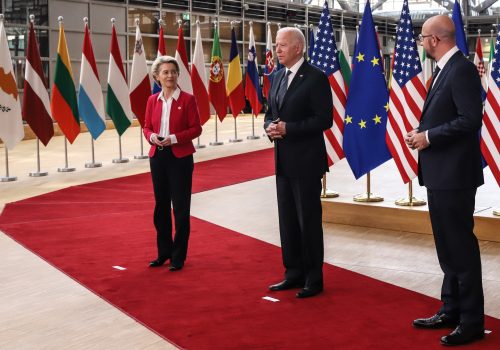 Wed, Oct 18, 2023
New Atlanticist By Frances G. Burwell and Georg Riekeles
Faced with an increasingly hostile and divided world, US and EU officials must make the most of the upcoming summit in Washington DC.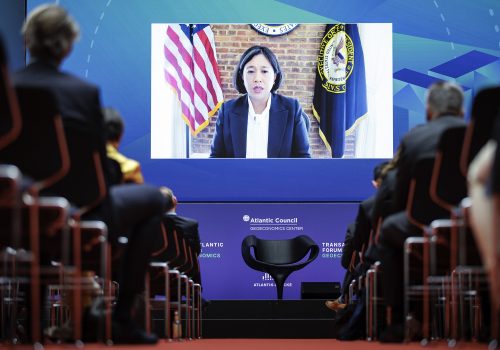 Fri, Sep 22, 2023
New Atlanticist By Nick Fouriezos
US Trade Representative Katherine Tai reiterated the importance of managing the US-China relationship at the Transatlantic Forum on GeoEconomics.