The US-EU Summit: Time to focus on geopolitics
The last summit between the European Union (EU) and the United States, in June 2021, focused on reaffirming the transatlantic partnership after some difficult years. At the summit in Washington, DC, this Friday, the United States and Europe must address the geopolitical challenges they face in an increasingly hostile and divided world. Transatlantic diplomacy can no longer be solely about the now strengthened partnership itself. Instead, its primary task must be to build joint efforts to ensure a more secure and resilient place for US and European citizens, in keeping with the transatlantic partnership's democratic values.
The 2021 summit faced a relatively peaceful world. At this 2023 summit, the United States and the EU must demonstrate their determination and close coordination in their responses to Hamas's strike on Israel and Russia's invasion of Ukraine. Most immediately, this will require holding Israel to the standards of international law as it justifiably seeks to remove the threat of Hamas. Russia's war on Ukraine has been a key catalyst in energizing the US-EU partnership, fostering transatlantic cooperation on sanctions, export controls, and supplies of armaments. This summit should leave no doubt about the continued willingness of the United States and the EU to work together to supply weapons and financial support to Ukraine for as long as needed.
These are not the only conflicts and tensions challenging the United States and the EU. This geopolitical summit must also show unity in the face of threats from Iran and other countries that encourage terrorism and foster extremism. The United States and the EU must also look beyond physical threats to focus—both domestically and abroad—on disruptive perils online, from cyberattacks to state-sponsored disinformation.
As the United States and the EU seek to make their own economies more secure, they should ensure that developing economies are not collateral damage.
The summit cannot just be about defending against aggression, however. It should also be an opportunity for the EU and United States to begin building a strategy based on a positive case for democracy and the rule of law, and for the critical nature of these values in making societies and economies prosperous and resilient. The United States and the EU have already reached out to other like-minded countries—Japan, South Korea, Australia, and others—that share these values. Now it is time to address other democracies, such as India, Brazil, and other regional powers, as well as those developing countries that are much more ambivalent toward democratic principles. In today's tense geopolitical moment, such outreach is an essential part of making the United States and Europe more secure and resilient. Such a strategy will also require genuine assistance to developing countries, especially in helping them weather the green and digital transitions. The small projects that have been initiated under the US-EU Trade and Technology Council (TTC) can only be a beginning.
Much of the summit will be focused on how to make the transatlantic economies stronger and more competitive, especially when faced with the challenges of nonmarket economies, such as China. The United States and the EU need to use this summit to make progress in their negotiations on critical raw materials and greening the global steel market in the face of Chinese overcapacity. But they should also think about how to include others in these arrangements. As the United States and the EU seek to make their own economies more secure, they should ensure that developing economies are not collateral damage.
Technology offers another avenue for engaging these countries. The United States and the EU have started a very necessary conversation over the risks involved in generative and frontier artificial intelligence (AI). Indeed, leaders may adopt more initiatives in this area at the AI Safety Summit at Bletchley Park in the United Kingdom, which will be held in November. But there are many uses of AI that offer opportunities, including in agriculture, research, health care, and public services. Used with care and training, these can help many developing countries. Will China provide these opportunities, perhaps in a new version of the Belt and Road Initiative, or will the United States and the EU, as well as their partners, provide the systems and training that could make a real difference? The summit this week in Washington provides a opportunity to demonstrate transatlantic willingness to assist others in a safe, positive, and open digital transition.
Finally, with the United Nations Climate Change Conference, known as COP28, just a few weeks away, the United States and the EU must use the summit to demonstrate their commitment to climate goals. This is not only about assistance for climate mitigation, but also about the openness and accountability of US and EU climate policies, ensuring that subsidy schemes and clean energy standards are fair and do not create additional challenges for developing countries. For Europe especially, its southern neighbors could be a huge source of renewable energy. Any US-EU arrangements on clean tech that may emerge at the summit should be constructed to encourage this trade and engage developing countries with initiatives designed to build greener energy markets.
The EU-US relationship has come a long way since 2021. The TTC, which was created at the June 2021 summit, has proven to be an innovative and productive mechanism for addressing bilateral transatlantic tensions and for building consensus and relationships among officials. While focused mostly on emerging tech and supply chain issues, it has also organized real cooperation on critical issues such as export controls against Russia. The United States and the EU should now begin to consider how to make the TTC an even stronger, more legitimate, and perennial mechanism of transatlantic cooperation, for instance, through a small permanent team and parliamentary dialogue. But more broadly, the United States and the EU must look beyond their own relationship to cooperate on building a broader coalition to address today's geopolitical challenges. This October summit is the place to start.
---
Frances G. Burwell is a distinguished fellow at the Atlantic Council's Europe Center and a senior director at McLarty Associates.
Georg Riekeles is associate director and head of Europe's political economy programme at the European Policy Centre.
Further reading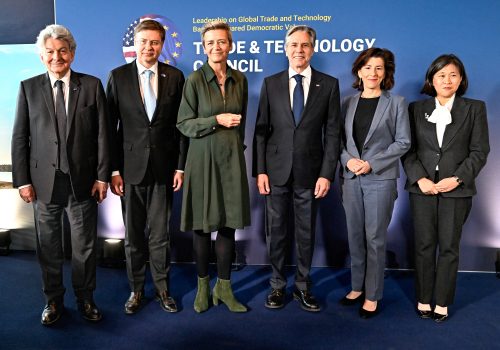 Mon, Aug 7, 2023
New Atlanticist By Olga Khakova and Annika Hedberg
The US-EU Trade & Technology Council must work to align climate efforts with geoeconomic goals and leverage new technologies to drive the green transition.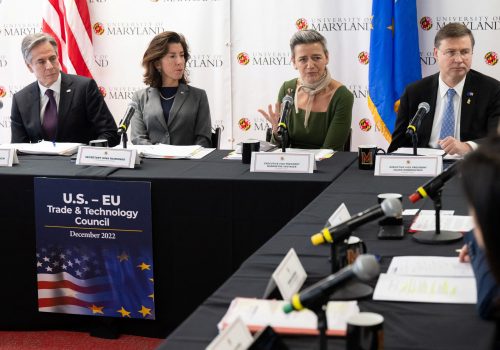 Thu, Apr 20, 2023
Issue Brief By Frances Burwell and Andrea G. Rodríguez
The TTC must keep its forward-looking gaze, but also take steps to address challenging regulatory issues, either by oversight or direct discussion, or it will lose the essential support among stakeholders that can keep US engagement in the TTC alive.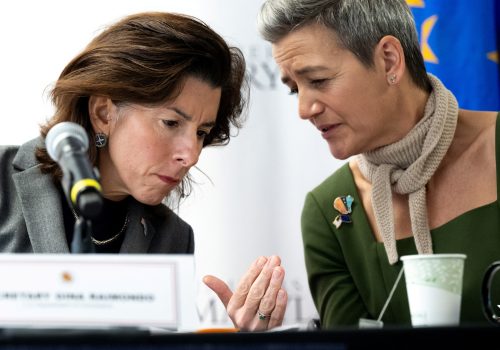 Fri, May 26, 2023
New Atlanticist By Atlantic Council
At an upcoming two-day meeting in Luleå, the US and EU may announce joint action on some of their biggest common challenges in trade and technology.