Gender-based violence is a problem in the Caribbean. Here's how local leaders in Jamaica and Guyana are addressing it.
Few gender challenges have more urgency in the Caribbean than gender-based violence (GBV)—violence targeted at a woman because she is a woman, or violence that disproportionately affects women. The prevalence of GBV in the Caribbean stands out in international comparisons. In 2019, five of the top twenty recorded rape rates worldwide were in the Caribbean. Moreover, surveys compiled by UN Women suggest that 46 percent of women in the Caribbean have experienced at least one form of violence in their lifetime. Particularly critical are the cases of Guyana and Jamaica. In Guyana, 55 percent of women reported having experienced at least one form of violence, including intimate partner violence and non-partner sexual abuse. Jamaica has the second-highest rate of femicide in the world.
Surveys on GBV in the Caribbean show that many cases go unreported. Often, the blame is assigned to the victim. To address this severe problem, civil society organizations (CSOs) have been among the most vocal and effective actors on the ground. From building shelters for victims and staging awareness campaigns to working with governments to pass comprehensive legislation, CSOs are at the forefront of the fight against violence against women.
As part of the Adrienne Arsht Latin America Center's partnership with UN Women, Atlantic Council experts met with local CSO leaders to understand the challenges and opportunities they face on the ground. Below, CSO leaders from Guyana and Jamaica share how they view the crisis and why addressing it requires an approach that includes communities, government officials, and the private sector.
How do you view the problem of gender-based violence in your country?
We are quite concerned about the levels of gender-based violence occurring in the country. A recent prevalence survey indicated that one in two women had experienced some form of violence in Guyana. It can be said that this speaks to the permissiveness of society to accept violence as a response option. We see the problem of gender violence as being rooted in societal attitudes, norms, and power dynamics that perpetuate inequality and discrimination. It is not just a private matter; it has broader social, economic, and health implications.
—Renata Chuck-A-Sang is the chief executive officer of Guyana Women and Gender Equality Commission.
Gender-based violence, femicide, and teenage as well as unintended pregnancies are leading issues facing women and girls in Jamaica. Social and cultural attitudes, such as sexism and misogyny, significantly contribute to the maintenance of entrenched gender roles within society leading to a significantly high level of intimate partner violence faced by women and girls. There is a normalized culture of sexual harassment with which women must contend, and this is compounded by high teenage pregnancy rates, childhood violence, and early cohabitation with male partners.
—Sannia Sutherland is a program coordinator at the Caribbean Vulnerable Communities Coalition, Jamaica.
What are some of the existing policy efforts or interventions that governments and the private sector have implemented to address gender-based violence?
In Guyana, the existence of a Sexual Offenses Act—with a second Domestic Violence Act being reviewed—is commendable. Moreover, under the Spotlight Initiative (a United Nations initiative to eliminate violence against women and girls), the Ministry of Human Services and Social Security has been working to implement several programs to protect women from GBV. The ministry has also conducted training for women in an effort for them to start their own small businesses, a crucial step toward allowing financial independence, which is intimately linked with GBV. Finally, the establishment of a police academy where candidates are required to take courses on how to respond to GBV is a step in the right direction. Nonetheless, these programs need to improve their monitoring and evaluation to register their effectiveness.
—Rosemarie Ramitt is a senior program officer at the Women with Disabilities Network, Guyana Council of Organisations for Persons with Disabilities.
The Jamaican government recently established the first two government-owned shelters for survivors of domestic violence, a necessary program to offer immediate support to women escaping abusive relationships. These shelters were also supported by private companies, showing a case of successful private-public cooperation. On the legislative front, the recent passing of the Sexual Harassment Act—which offers women employees protection in the workplace—is a positive development, although the legislative process was subject to excessive delays.
—Joyce Hewet is executive director of Woman Inc., Jamaica.
What is needed to create sustainable public policy to prevent and eradicate gender violence in your country?
In Guyana, we require more stringent penalties for perpetrators, improved enforcement mechanisms, and streamlined processes for obtaining restraining orders or timely judicial responses. Accessible and sensitive support services for survivors, such as shelters, counseling, and legal aid, continue to be essential for helping individuals escape abusive situations and rebuild their lives. Recognizing that gender violence is not just a women's issue, more efforts to engage men and boys in discussions about healthy masculinity and the prevention of violence can have a positive impact on reducing gender-based violence, too. Finally, it is crucial to access accurate data on the prevalence and types of gender violence to understand the scope of the problem and to design effective interventions.
—Renata Chuck-A-Sang
In Jamaica, some concrete first steps to create a sustainable public policy would be to involve GBV survivors and advocates in public policy decision-making processes, as well as accompanying these processes with the necessary financial support. The government should prioritize effective communication campaigns (i.e., highlighting personal stories in multimedia formats) to showcase the wide-ranging impacts of GBV on individuals, families, and society at large. Moreover, any effective policy to address gender-based violence needs to include policy mechanisms that promote independent income generation and enhance women's economic empowerment.
—Judith Wedderburn is the director of WMW JAMAICA.
---
Martin Cassinelli is a project assistant at the Atlantic Council's Adrienne Arsht Latin America Center.
This article is part of the Adrienne Arsht Latin America Center's partnership with UN Women Multi-Country Office—Caribbean.
Further reading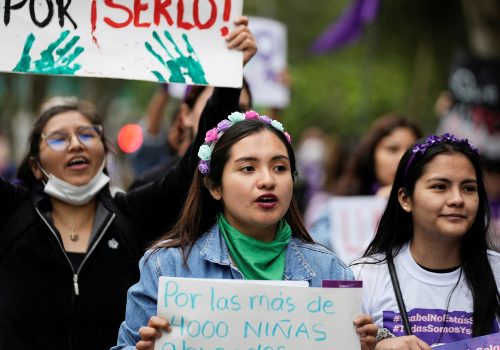 Thu, Apr 20, 2023
New Atlanticist By Willow Fortunoff and Diana Paz García
Partnerships are a crucial part of advancing the United States' women, peace, and security agenda. Mayors and governors are already forming these important partnerships.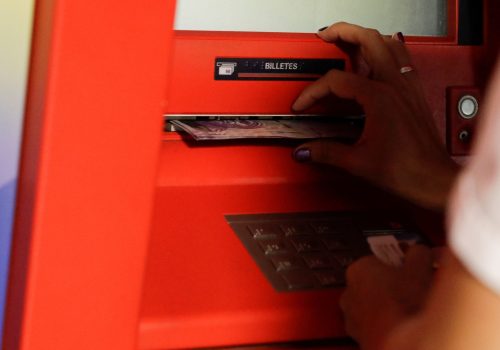 Wed, Sep 6, 2023
Issue Brief By Wazim Mowla
To bolster financial inclusion in the Caribbean, the United States must treat corresponding banking relationships as a public good.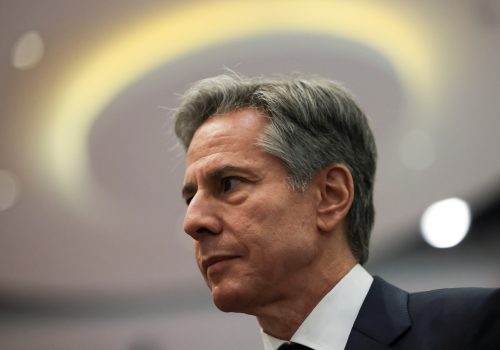 Fri, Jun 30, 2023
New Atlanticist By Wazim Mowla
The US secretary of state heads to Trinidad and Tobago and Guyana, building on recent Biden administration outreach to the region. But if he arrives with little to announce, frustration is likely to brew.